Booker Opposes Wire Act Opinion, Supports Online Gambling
By
April 17th, 2019 | Last updated on April 17th, 2019
Home
»
Poker News
»
Booker Opposes Wire Act Opinion, Supports Online Gambling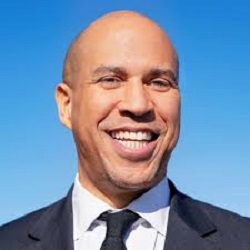 The run-up to the United States presidential election in 2020 began in late 2018, and there are now nearly 20 candidates vying for the Democratic nomination to run against the incumbent.
Most of them are only beginning to reveal their views on major issues. Online poker and other forms of internet gaming are not typically in that category, and candidates' views on this are rarely known unless they are asked by a reporter.
Enter the Nevada Independent reporters. When candidates hold rallies and give speeches in Nevada, the Nevada Independent is there with questions. And they have been starting to ask the candidates' views on internet gaming, especially in light of the fight taking place between states and the Department of Justice over the most recent interpretation of the Wire Act.
The latest to face a Nevada Independent reporter was US Senator and presidential candidate Cory Booker. On February 1, 2019, he announced the start of a campaign to run for the Democratic nomination, and he is heading to Nevada this week for a three-day trip individuals and groups from Las Vegas to Reno.
Representing New Jersey
The Nevada Independent conducted a phone interview with Booker ahead of his trip, and he commented on numerous topics. From the death penalty to criminal justice reform, and from marijuana legalization to nuclear waste disposal, Booker confronted many issues.
Ahead of his upcoming trip to Nevada next week as part of his 2020 presidential campaign, I talked with Sen. Cory Booker about the death penalty, legalizing marijuana, online gaming, Yucca Mountain and more. https://t.co/0bbChtZjMl

— Megan Messerly (@meganmesserly) April 13, 2019
One of those issues, of course, was internet gaming. Nevada was the first state to offer legal and licensed online poker in the new US gambling market, and the addition of more states – in addition to New Jersey, Delaware, Pennsylvania, and West Virginia – to an online poker network is key to creating a profitable and sustainable market.
As he commented on marijuana legalization, Booker's words could easily apply to online gaming as well. "The federal government should be consistent with the laws of states, and right now, it's not," he said. "Our federal government should allow states to do what they want… and that would allow states to operate and design the systems that work for them and not run afoul of federal law."
When specifically asked about the Justice Department's opinion regarding the Wire Act, Booker was quick to say he didn't agree with it. He believes it jeopardizes the future of online gaming. Further, he accused the federal government of purposefully trying to undermine an industry that is important to states like Nevada and New Jersey.
Booker told the reporter, "I support online gambling, and I'm a little frustrated that the federal government is doing things to inhibit the ability for gaming towns like Las Vegas and Atlantic City – and Reno – to conduct gambling in a safe and legal way."
As a native of New Jersey, former Newark mayor, and now US Senator representing New Jersey, Booker is very aware of the millions of dollars of revenue generated monthly by the internet poker and casino sites. In little more than five years, the operators have worked closely with land-based casinos to develop mutually-beneficial relationships and bring in more than $1 billion thus far. That translates into substantial tax revenue for New Jersey and a boost for the state's overall gambling industry, which had been struggling for years until internet gaming helped boost it back to health.
Mr. Booker, Call Ms. Warren
Just last week, the same publication asked fellow presidential candidate and US Senator Elizabeth Warren about the same topic. Her answer, however, was quite different.
As a representative of Massachusetts, Warren was painfully unaware of the studies done by her state's gambling commission regarding the benefits of online gaming. She said it presents new challenges and can undercut traditional gambling protections, though if she would look at states like Nevada and New Jersey to see how they maintain their systems, she would know that there are more protections online than in many land-based casinos.
However, Warren did say she wanted to hear more from stakeholders on the issue before commenting further, which would be a smart move. She could learn a lot from Booker on this issue.
Presidential candidate Booker calls for death penalty repeal, opposes Justice Department opinion on online gaming https://t.co/hGoo5Mca5i @TheNVIndy @meganmesserly

— Howard Stutz (@howardstutz) April 13, 2019
Related Articles