Could Wyoming Legalize Skill Games and Sports Wagering?
By
February 16th, 2020 | Last updated on February 16th, 2020
Home
»
Poker News
»
Could Wyoming Legalize Skill Games and Sports Wagering?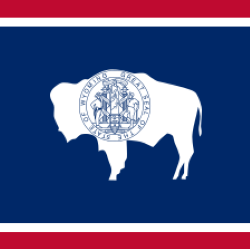 When thinking of states that might welcome more poker rooms and perhaps consider online poker, most people don't consider Wyoming in that group.
For the record, though, most people didn't consider Kentucky to be an online poker possibility or Nebraska to find a poker ally in its legislature.
Wyoming is not there yet. But some interesting bills put forth in the month of February 2020 offered some insight into lawmakers' thoughts.
There were numerous gambling-related bills proposed and/or introduced. Sports betting is, of course, in the mix, but there is also a push to legalize and regulate skill games. The designation appears to relegate skill games to those in the "amusement" category, but the definition could be expanded to include games like…for example…poker.
Gambling Today in Wyoming
There are several casinos in Wyoming, though they are all in small towns on the Wind River Reservation. They are as follows:
–Little Wind Casino in Ethete: slot machines

–Shoshone Rose Casino in Lander: slot machines

–Wind River Hotel & Casino in Riverton: slot machines, table games including poker (cash games and tournaments)
There are also several horseracing tracks in the state that offer pari-mutuel betting. Some of them house slot machines, too.
Wyoming also permits charitable gambling for fundraising purposes and lottery options, through its state-run lottery and via participation in interstate lotteries like Powerball and Mega Millions.
Gambling-Related Bills Listed for 2020
Lawmakers proposed numerous gambling-related bills at the beginning of the 2020 legislative session. Overall, the purpose is to expand gambling options for residents of Wyoming and as another way to increase tourism and revenue.
–HB.153:  Gambling exception – skill contest amendment (Feb. 14: not considered for introduction vote)

—HB.171:  Wyoming Gaming Commission (Feb. 12: introduced, referred to Appropriations Committee)

–HB.185:  Lottery games – keno (Feb. 13: failed introduction)

—HB.225:  Gaming governance (Feb. 14: introduced, referred to Appropriations Committee)

–HB.234:  Gaming regulation (Feb. 14: introduced, referred to Appropriations Committee)
The gambling skill games bill was interesting because it offered a definition as follows: "bona fide contests of skill, speed, strength or endurance conducted contemporaneously between not fewer than two (2) live contestants in which awards are made only to entrants or the owners of entries." This could very well have included poker.
In HB.234, skill games are addressed as amusement-related games that are played on a "fixed, commercial electrical gaming device." This is a more focused bill that would not include card games of skill like poker.
The second on the list above simply provides for the establishment of a Wyoming Gaming Commission. It would go well beyond the scope of the current commission dedicated to pari-mutuel wagering, thereby opening a regulatory body to oversee a wider range of gambling, including contests of skill, gambling, bingo, and charitable gambling. This will be considered in a committee meeting on February 17.
The bill garnering the most attention is HB.225, which has a broad title but singles out online sports wagering in its description. It also specifically excludes fantasy contests (DFS). This bill was not added to the schedule for a committee hearing but remains in the committee for consideration.
A bill would essentially expand the state's 10-year-old Pari-Mutuel Commission to regulate all for-profit gambling in Wyoming, covering everything from games of skill to other for-profit models like bingo halls and pull tabs. https://t.co/0OvCjHFnKJ

— Casper Star-Tribune (@CSTribune) February 6, 2020
Some Paths Forward
This wasn't the first year that Wyoming took a look at a gambling commission or expanding gambling options, but this was the first time that the Northern Arapaho tribe supported them. The tribe that runs the state's casinos was especially open to the gaming commission to help reign in some of the unregulated gambling in the state and to build consumer confidence in the industry.
Of course, Northern Arapaho representatives were not supporting the bills unconditionally, according to the Casper Star Tribune. The legislation did open the doors for discussions, though.
A subsequent Casper Star Tribune report noted that "almost everyone" on the Appropriations Committee wants 2020 to be the year of gambling regulation in Wyoming in some form. "Even those previously opposed to regulated gaming have eventually come to support it."
The February 17 hearing will reveal if there could be amendments to current bills that made it through the introduction phase. The overall level of gambling expansion that lawmakers are open to will also become clearer.
Related Articles