Nebraska Poker Bill Set for February 10 Hearing
By
February 1st, 2020 | Last updated on February 1st, 2020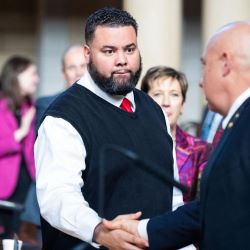 The Midwestern US state of Nebraska is not exactly known for its gambling establishments. There is no place in Nebraska that anyone would call a gambling destination. Even so, it is now a state to watch for its lawmakers who might legalize poker this year.
There are four casinos in Nebraska, but the games offered are limited. All of the casinos are located in the northeastern part of the state and on tribal lands pursuant to an agreement under the Indian Gaming Regulatory Act (IGRA). The casinos are as follows:
–Ohiya Casino & Resort in Niobrara, offering bingo and video bingo and slot machines

     (owned and operated by Santee Sioux Tribe)

–Lucky 77 Casino in Walthill, offering video bingo and slot machines

     (owned and operated by Omaha Tribe of Nebraska)

–Iron Horse Bar & Casino in Emerson, offering video bingo and slot machines

     (owned and operated by Winnebago Tribe of Nebraska)

–Native Star Casino in Winnebago, offering video bingo and slot machines

     (owned and operated by Winnebago Tribe of Nebraska)
There are also several keno parlors around Nebraska.
One lawmaker wants to expand those options.
Senator Wayne Wants Games of Skill
Nebraska State Senator Justin Wayne is somewhat new to the legislature, just having been elected in 2016. The Democrat from Omaha was previously the Omaha Public Schools board president before running for and winning a Senate seat.
On January 14, 2020, Wayne introduced LB.990, the Games of Skill Act, to the General Affairs Committee.
According to the Grand Island Independent, Wayne planned to introduce three bills to expand gambling in his state. One was supposed to be to allow casinos and sports betting, another to redefine the lottery to include sports betting, and the other one to officially declare sports betting, fantasy sports, and poker as games of skill to make them legal.
While Wayne will admit that gambling expansion bills have not typically done well in the Nebraska legislature, he plans to try. "If we're serious about long-term tax relief, he said, "we have to look at new revenue sources."
Wayne ended up introducing two bills. LB.971 is the one to redefine the lottery to include sports wagers. But LB.990 is the one to designate several games as ones of skill instead of games of chance.
Thank you Senator for including poker as a game of skill*. I am an online player and would like to be able to once again play a legal game of poker from the comfort of my home. I'm sure there is a route to a State revenue stream somewhere in online gaming (lower prop tax too).

— Mick McCard (@mick_mccard) January 16, 2020
Details of the Poker Bill
The Games of Skill Act aims to revise Nebraska statutes and legalize poker, sports betting, and fantasy sports. As for poker, the bill specifies:
"Certain poker games…require knowledge and skill. While poker does have a random component in the cards that are dealt to participants, there is more skill than chance necessary for successful participation in a game where strategic decisions influence the other participants and ultimately the outcome of the game."
The bill then defines poker and singles out these games:
–Draw poker, including five-card draw

–Community card poker, including Texas Hold'em and Omaha Hold'em
Any operator that wants to offer poker will have to register with the state and file an application along with a registration fee of $10,000. Renewals will cost 6% of the operator's gross gaming revenue for the preceding 12-month period but will not exceed $10,000, and it must be paid annually.
Profits from the registration and renewal fees will be allocated to the Games of Skill School Property Tax Reduction Fund.
All games of skill in Nebraska will be overseen by the Charitable Gaming Division of the Department of Revenue. The new law will actually create this division.
Hearing Set for February
The bill has been awaiting action in the General Affairs Committee and is now slated to be a part of a February 10 hearing.
There is only one house in the Nebraska legislature. A bill must pass by a three-fifths majority, which is 30 votes in the current 49-person body.
Fantasy, Sports Betting, AND Poker?!?!? (Just quit it Nebraska. You ain't passin no bills.) https://t.co/n9ekCe740E

— Steve Brubaker (@SteveBrubaker) January 14, 2020
Related Articles