WPT Seminole Sets Another Final Table for May
By
April 30th, 2021 | Last updated on May 4th, 2021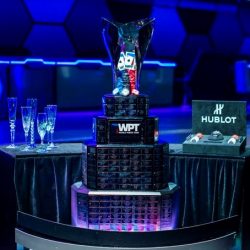 The World Poker Tour's current season of tournaments has been going since July 2019. Typically, a season of the WPT lasts one year, but we know how 2020 created chaos for just about everything. The latest stop on the main tour appears to be the last one of Season XVIII. After quite a few normal, live tournaments, a pandemic full of postponed events, some online series, and a few more recent live events, it looks as if Season XIX may be ready to begin.
Before we get to that, let's look at the action that just wrapped at the WPT Seminole Hard Rock Showdown, its pending final table, and the other final tables set to play out in May.
Seminole Players Leave Guarantee Far Behind
It cannot be understated that poker players missed their live action and have been very anxious to get back to the tables. The WPT stops since US casinos reopened at the end of 2020 and beginning of 2021 have the numbers to show it.
—WPT Lucky Hearts Poker Open in Florida: 1,573 entries = $5,033,600 prize pool ($1M GTD)

—WPT Venetian in Nevada: 937 entries = $4,333,625 prize pool ($1.5M GTD)
So, the World Poker Tour and Hard Rock Seminole Hollywood set a festival for April 15-28. The preliminary events started on April 15 with big crowds. So, when the Main Event began on April 23, there was little doubt that they would meet the $2M guarantee.
The World Poker Tour provided live updates along the way in Florida.
The first of two starting days brought in 1,047 entries for the $3,500 buy-in WPT Seminole Hard Rock Poker Showdown Main Event. That took the prize pool already over $3.35M. That night ended with 330 players holding chip stacks. Day 1B added another 1,434 entries to exceed expectations and set a record for the largest field in any WPT stop in main tour history.
By the time Day 2 began, thy had the official player count and prize pool information:
-Total entries: 2,482

-Total prize pool: $7,942,400 (nearly 4x the $2M GTD)

-Total paid players: 311

-Minimum payout: $6,195
The #WPTShowdown numbers are in!

2,482 entries, $7.942 million prize pool, and $1.261 million for the 🏆

🎸https://t.co/Gb5FREtJim pic.twitter.com/orWZWA99ee

— World Poker Tour (@WPT) April 25, 2021
Finding a Final Table
Day 2 of the Main Event brought 847 back to their seats, but the field thinned quickly. Just a few levels into the day, the money bubble burst to push the last 311 players into the money. That night finally ended with 106 players still in action and Selim Oulmakki in the chip lead.
Some of the recognizable (but masked) faces to bust early on Day 3 included Jerry Wong, Sam Panzica, Christian Harder, Alex Keating, Mukul Pahuja, and Andrew Moreno. Oulmekki fell from the top quickly and busted in 81st place for $11,675. Others who followed included Farid Jattin, Leif Force, Eric Afriat, Aaron Massey, David Pham, and WPT commentator Tony Dunst in 52nd place. Kyle Cartwright and Donald Maloney busted later in the evening, as did Sergio Aido.
The final 21 players bagged their chips, with Albert Calderon needing the biggest bag. Payouts were then at $34,865.
Raj Vohra was the first to depart on Day 4. Ray Henson left with $49,165 for 17th place, Blair Hinkle in 12th place for $84,905, and ultimately Erik Cajelais in seventh place for $203,405 on the final table bubble.
Final Table Set for Vegas
As happens with some of the WPT events, the action stops when the field thins to just the final six players. They then stop and play out at a different location at a later date for television cameras. This was one of those tournaments.
The final six of the WPT Seminole Hard Rock Poker Showdown were, in chip order:
-Sonny Franco (31.9M chips, 80 BB)

-Brekstyn Schutten (31.35M chips, 78 BB)

-Steven Snyder (15,975,000 chips, 40 BB)

-Ken Aldridge (10.6M chips, 27 BB)

-Albert Calderon (5.35M chips, 13 BB)

-Viet Vo (4.15M chips, 10 BB)
And the payouts awaiting them will be:
-1st place: $1,261,095

-2nd place: $899,295

-3rd place: $593,140

-4th place: $438,500

-5th place: $326,750

-6th place: $261,700
The players will reconvene at the PokerGO Studio at the Aria Casino in Las Vegas on May 18 to play for the win.
One of these 6⃣ players will win $1.26 million on May 18 in Las Vegas 🔥 #WPTShowdown

🎸https://t.co/Gb5FREc7TM pic.twitter.com/5yQ2I28TUF

— World Poker Tour (@WPT) April 29, 2021
Three Final Tables in May
There are two other final tables, both having been set prior to the pandemic, that will finally play out at the PokerGO Studio in May as well. One already played in March, which was the WPT Gardens Poker Championship from January 2020. They played on March 10, and Markus Gonsalves took the title and $554,495 in prize money.
On May 16, the players from the WPT Borgata Winter Poker Open will gather at the PokerGO Studio. They originally played at the end of January 2020, and their ending chip stacks were:
-Veerab Zakarian (11.99M chips, 100 BB)

-James Anderson (10.04M chips, 84 BB)

-Brian Altman (9,865,000 chips, 82 BB)

-Bin Weng (8.89M chips, 74 BB)

-Andrew Hanna (6.73M chips, 56 BB)

-Nathan Russler (3.99M chips, 33 BB)
And the payouts awaiting them are:
-1st place: $674,840

-2nd place: $449,904

-3rd place: $333,012

-4th place: $248,913

-5th place: $187,900

-6th place: 143,264
Meet the #WPTBorgata final table headlined by Brian Altman who is playing for back-to-back titles and his 3rd career WPT win. The final table takes place on April 1 at @HyperXESALV with $674,840 for the 🏆

6⃣https://t.co/Qkm2yQcYIM pic.twitter.com/ax2Q235ITZ

— World Poker Tour (@WPT) January 31, 2020
Then, there was the WPT L.A. Poker Classic that wrapped at the start of March 2020. That will play on May 17 at the PokerGO Studio with these players and their corresponding chip stacks:
-Balakrishna Patur (6.32M chips, 158 BB)

-Matas Cimbolas (4.31M chips, 108 BB)

-James Carroll (5,125,000 chips, 103 BB)

-Ka Kwan Lau (2.25M chips, 56 BB)

-Scott Hempel (1.67M chips, 42 BB)

-Upeshka De Silva (930,000 chips, 23 BB)
And they will be playing for:
-1st place: $1,015,000

-2nd place: $600,060

-3rd place: $431,585

-4th place: $323,485

-5th place: $243,330

-6th place: $185,330
Then, the aforementioned WPT Seminole final table will play out on May 18.
New Jersey quantitative analyst Balakrishna Patur leads the #WPTLAPC final table. The @CommerceCasino 6⃣ resume play at @HyperXESALV on April 2 to play for $1 million. https://t.co/FOQmsrNz1N pic.twitter.com/TnTrPHJKfs

— World Poker Tour (@WPT) March 5, 2020
Three days in May, three new WPT champions, and quite a lot of television footage will emerge from Las Vegas in just a few weeks. And that should put the cap on the longest season of the WPT.
Related Articles