WPT Crowns Two New Champions in One Week in Vegas
By
March 12th, 2021 | Last updated on March 12th, 2021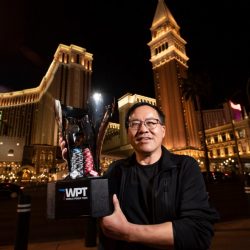 The World Poker Tour has some catching up to do. Three factors allowed it to do so after a year-long live poker hiatus due to the pandemic: vaccine distribution, abundant testing, and serious sanitation protocols in place in many Las Vegas casinos.
As we just discussed a few days ago, the road back to live poker has been a long and arduous one. It was probably more than a little frustrating, too.
However, perseverance took the WPT to Las Vegas last week. By the end of this week, it had crowned two new champions.
Better yet, it feels as if live poker is on a steady road back, at least to a new normal.
WPT Venetian Finds a Final Table
When the WPT headed back to the Venetian in Las Vegas in late January, it was for a $1,600 buy-in WPTDeepStacks Main Event with a $500K guarantee. That tournament tallied 812 entries for a $1,161,160 prize pool. It was an unqualified success.
With that under their belts, WPT executives had high hopes for the WPT Venetian on the main tour. That event kicked off on March 5 on the Las Vegas Strip. There were two starting days and very late registration into Day 2. It, too, attracted the poker players in huge numbers.
–WPT Venetian: $5K buy-in

–Total entries: 937

–Total prize pool: $4,333,625 (nearly 3x the $1.5M guarantee)

–Paid players: 118

–Minimum payout: $8,365
Day 2 whittled the field down to just 32 players with longtime pro James Carroll holding the most chips. And the following day started with exits of players like Dustin Dirksen and Nick Schulman. Later in the day, former WPT champions Sam Panzica and Tony Sinishtaj busted, Aaron Massey followed, and James Carroll exited in 13th place for $47,420.
The final table bubble eliminated Jared Jaffee in eighth place for $93,630. The final seven then moved to a single table to play for the six official final table spots. Trace Henderson held the lead with Qing Liu in second chip position, followed by former WSOP Main Event champion Joe McKeehen.
#WPTVenetian is at seven players going to six headlined by WPT Champion Jack Hardcastle and four-time WPT final tablist Joe McKeehen. #TheCupAwaits

🦁https://t.co/Zayi456ELg pic.twitter.com/xfz2yU8FZ9

— World Poker Tour (@WPT) March 9, 2021
Sergio Aido was the shortest stack going into this portion of the tournament. He struggled for more than 50 hands on that short stack before doubling to 5.7M chips through Henderson. The latter quickly took a lot of that back, though, and he continued to struggle. On the 98th hand of seven-handed play, he pushed with A-6, and McKeehen called with A-J. While a six appeared on the turn, McKeehen made a flush on the river. Aido left with $120,140.
One Winner at Two Final Tables
The WPT Venetian final table started on March 9 with these chip counts:
-Joe McKeehen = 10,850,000

-Roland Rokita = 8,450,000

-Trace Henderson  = 5,925,000

-Qing Liu = 5,725,000

-Kou Vang = 3,550,000

-Jack Hardcastle = 3,025,000
Play started in the mid-afternoon with McKeehen aggressive and increasing his lead to 14.1M over the first couple dozen hands. Vang doubled his short stack through Rokita, while Liu picked his spots and ultimately busted Henderson in sixth place.
McKeehen sent Vang home in fifth place on the 79th hand of the night. That put McKeehen up to 18.5M chips, but his subsequent bust of Hardcastle in fourth place put McKeehen up to 23.8M chips.
Rokita started three-handed play as the shortest of the three stacks, though he did eventually double through McKeehen and then jumped into second in front of Liu. From there, however, it was a roller coaster for all three players. On the 152nd hand of the night, McKeehen and his J-8 did eliminate Rokita and his pocket fives when the board delivered a straight. Rokita exited in third place.
McKeehen went into heads-up play with 24.7M chips against the 12,825,000 of Liu. But only a few hands into it, Liu took a substantial pot to climb to 22.9M and the lead. Liu kept climbing, at one point relegating McKeehen to less than 5M chips. On the 175th hand of the final table, McKeehen pushed his last 3.3M all-in with K-7, and Liu called with K-4. But the latter flopped a four and gave Liu the win.
-1st place: Qing Liu ($752,880)

-2nd place: Joe McKeehen ($491,960)

-3rd place: Roland Rokita ($363,235)

-4th place: Jack Hardcastle ($271,050)

-5th place: Kou Vang ($204,430)

-6th place: Trace Henderson ($155,865)
Qing For a Day 👑 WPT Gardens TV final tablist Qing Liu wins #WPTVenetian for $752,880 at @VenetianPoker 🏆

🦁https://t.co/n3CuxehX52 pic.twitter.com/QgNr6Rnhfc

— World Poker Tour (@WPT) March 10, 2021
Oddly enough, though, Liu wasn't done. He had a seat at the WPT Gardens Poker Championship final table, the one that came from a January 2020 tournament. And that tournament was to play out on March 10, 2021.
Pandemic Delay Finally Over
That delayed final table was tough for the players. The original delay from the WPT Gardens Poker Championship was to bring the players to the HyperX Esports Arena Las Vegas in March 2020 to play for the win in front of television cameras.
Obviously, the pandemic put that – and a million of things – on hold indefinitely.
Enter 2021, and the WPT set this final table to happen on March 10 at the PokerGO Studio at Aria on the Las Vegas Strip.
Qing Liu was one of the final six at that WPT Gardens final table, though he was fifth place in chips going into the long-awaited action. However, he had just overcome a significant chip deficit to a WSOP Main Event champion to win a WPT title the day before. Anything could happen.
The starting chip counts for the six players on March 10 were:
-Chance Kornuth = 2,995,000

-Markus Gonsalves = 2,370,000

-Tuan Phan = 2,070,000

-Jonathan Cohen = 1,615,000

-Qing Liu = 795,000

-Straton Wilhelm = 435,000
Longest Tournament Finally Ends
The six remaining players in the WPT Gardens Poker Championship all tested negative for Covid-19 and took their seats to play for the title, the one for which they waited nearly 14 months.
The #WPTGardens TV final table is live! Follow the action on https://t.co/zvkOqhind0 to see who becomes the next WPT Champion 🏆 #TheCupAwaits

📺https://t.co/mcQG4KQobx pic.twitter.com/ZFzmTlKrd9

— World Poker Tour (@WPT) March 11, 2021
Within five hands, Gonsalves took the lead from Kornuth, though Kornuth retook it a few hands later. While Wilhelm worked on his short stack without much progress, Liu pushed his all-in with 5-3 on a Q-5-3 flop. Phan called with pocket kings, though, which sent Liu out without a second win in two days.
On the very next hand, Wilhelm pushed with A-10, but Phan called with pocket aces to oust Wilhelm in fifth place. That put Phan in the lead, though Kornuth took it back on the next hand.
Gonsalves took charge and started to extend a lead by putting Kornuth on the shortest stack. A couple dozen hands later, Gonsalves climbed over the 5M-chip mark as Kornuth sunk below 1M. Kornuth then pushed with pocket sixes, but Gonsalves called with A-5 and flopped an ace to bust Kornuth in fourth place.
At the dinner break, Gonsalves had nearly 7.5M chips, leaving 1.55M for Phan and 1,245,000 for Cohen.
On the 85th hand of the night, Cohen pushed with pocket nines, but Gonsalves called with pocket tens, leaving Cohen out in third.
Heads-up play began with Gonsalves holding 8.57M chips against the 1.71M of Phan. A few hands in, Phan doubled and played with heart, never giving up over dozens of hands that followed. And just when Gonsalves ground Phan down again, Phan doubled to stay alive. At one point, eighty hands into the duel, Phan even took the lead. When he built up that lead, Gonsalves doubled through Phan to retake it. Gonsalves buckled down and got more aggressive. Phan pushed all-in with 5-3 on a 9-5-3-Q board with three hearts, but Gonsalves flipped over the 10-4 of hearts for the flush to win the tournament.
-1st place: Markus Gonsalves ($554,495)

-2nd place: Tuan Phan ($359,650)

-3rd place: Jonathan Cohen ($263,090)

-4th place: Chance Kornuth ($195,085)

-5th place: Straton Wilhelm ($146,655)

-6th place: Qing Liu ($111,794)
The champ is here in Las Vegas!

Congratulations to Markus Gonsalves for winning #WPTGardens for $554,495, a @Hublot watch, @Baccarat Crystal, and his name engraved on the Mike Sexton WPT Champions Cup 🏆

📺https://t.co/mcQG4KQobx pic.twitter.com/X2gyAnZoIt

— World Poker Tour (@WPT) March 11, 2021
Thanks to the World Poker Tour for play-by-play updates.
Related Articles