Ilyas Muradi: From ICE Detention to WPT Champions Club
By
January 29th, 2021 | Last updated on January 29th, 2021
Home
»
Poker News
»
Ilyas Muradi: From ICE Detention to WPT Champions Club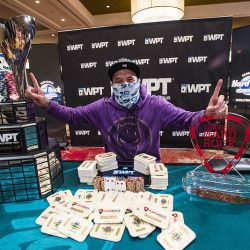 The story of the WPT Lucky Hearts Poker Open Main Event had everything.
The first foray of the World Poker Tour back to the live poker realm in the United States had millions in prize money, tons of masked poker players, and quite a few poker pros. It had an exciting final table. There was a was a poker pro and reality television star among the final three players. And the winner did more than turn a $400 satellite into $809,515 in just a few days; he also overcame many challenges to get to that winner's circle.
Every poker tournament has a story. Every tournament winner has a story.
WPT Lucky Hearts Poker Open Main Event champion Ilyas Muradi just happens to have a special one. It started in Afghanistan and took him to America for a better life. He started a family, unwittingly became a voice for unheard and tortured immigrants, and emerged on the other side as a true winner.
WPT Returns from Pandemic Hiatus
The World Poker Tour executives hadn't been on vacation for the past nine months. They, like most other people around the world, were working from home and trying to find ways around a global pandemic.
Their main product depended on live poker tournaments, with people seated close together at poker tables in casinos – not exactly known for their pristine environment – touching the same chips and cards hand after hand. Players mingle with dealers and tournament staff, and they often walk through casinos and cardrooms breathing recycled air.
The WPT had some options. Through a longtime good working relationship with PartyPoker, the WPT was able to quickly put some tournaments online. As the year progressed, they added more series and events, both in the global market and in the small US market (New Jersey). The WPT plugged its subscription site ClubWPT and offered more promotions there.
Toward the end of 2020, despite a raging second wave of Covid-19 cases, Florida casinos began reopening. They put plexiglass barriers between the seats at the poker tables and welcomed players. One of those casinos was the Seminole Hard Rock in Hollywood, Florida.
WPT executives monitored the situation and decided to schedule a tournament there. It was perfect timing, as the previous Lucky Hearts Poker Open was in January 2020. That one recorded 843 entries and a $2,697,600 prize pool. Brian Altman won it for the second time and collected $486,636.
With all of the proper precautions in place, they set it up and cautiously put a $1 million guarantee on the prize pool.
WPT Champions are back in action at #WPTLuckyHearts 🏆

Follow Day 1a at @HardRockHolly with 480 entries in the field.

♥️https://t.co/FlpuUaAusF pic.twitter.com/iWaEHQ7M0l

— World Poker Tour (@WPT) January 22, 2021
Who knows how many players will come to a tournament in the middle of a pandemic, right?
Impressive Turnout
The 2021 WPT Lucky Hearts Poker Open offered two starting days, one reentry, and a $3,500 buy-in. It started on Friday, January 22.
Day 1A started with 313 entries, which already pushed the prize pool past the guarantee. By the end of the night, the board showed 705 entries, though only 231 survived with chips. Art Peacock was the chip leader, and a young man named Ilyas Muradi was 87th in chips.
Day 1B delivered another 868 entries to create a massive field. When action stopped that night, David Lee led the pack of survivors.
The final tournament numbers were:
–Total entries: 1,573

–Total prize pool: $5,033,600

–Total paid players: 197
The third-largest field in WPT history! #WPTLuckyHearts 🎸🤘 pic.twitter.com/mw1b01vRMc

— World Poker Tour (@WPT) January 24, 2021
Seeking Final Table Seats
Day 2 brought 567 players back to the tables. Fewer than half of them would make the money, so there was bound to be some heartbreak in the first few levels.
By the dinner break, just over 200 players took that break and returned to play for the 197 paid spots. And when Chris Carey busted in 198th place, everyone else could look forward to at least $6,150 waiting for them at the cashier cage.
Some of the eliminations that followed included Sam Panzica, Mike Sowers, Kevin Eyster, Shankar Pillai, Joe McKeehen, Femi Fashakin, Alex Rocha, Jim Collopy, Will Failla, David Lee in 113th place, and Art Peacock in 100th place. Johnnie Moreno, Jerry Wong, and Lee Markholt also hit the rail before the end of the night. Only 69 players survived, and Richard Pyne sat atop the leaderboard. Ilyas Muradi was 32nd.
Players like Joshua Beckley and Tony Sinishtaj busted early on Day 3, followed a bit later by Nick Yunis, Aaron Mermelstein, and Scott Baumstein.
Only 16 players remained at the dinner break, with Muradi holding his own but far behind chipleader Ronnie Bardah. Andy Hwang swung into action and eliminated several players, like Darren Elias in tenth place. But Muradi was making moves, too, ousting the day's chipleader Pyne in 12th place and Esther Taylor in 11th, and he ultimately busted Albert Barney Jr in eighth place.
Tune in for live updates of the #WPTLuckyHearts final table at @HardRockHolly 🎸$809,515 for the 🏆

♥️ https://t.co/FlpuUaAusF pic.twitter.com/vK0WDx3AgW

— World Poker Tour (@WPT) January 26, 2021
Muradi Behind Margaglione for Final Day
On Tuesday, January 26, the seven remaining players returned with these chip stacks:
–Francis Margaglione = 12,875,000 chips

–Ilyas Muradi = 11,425,000

–Andy Hwang = 10,600,000

–Jesse Lonis = 9,150,000

–Ronnie Bardah = 8,675,000

–Tsz Shing = 5,250,000

–Robel Andemichael = 3,350,000
Very quickly, Andemichael doubled through Muradi. And then the action slowed. All seven players made it to the first break of the day. A few rounds into the next level, Lonis doubled through Bardah, who had been second in chips. Hwang was short-stacked when he challenged Margaglione, and Hwang lost to accept seventh place and $115,630.
The full final table was then set as:
–Francis Margaglione = 18,575,000 chips

–Robel Andemichael = 11,225,000

–Ilyas Muradi = 9,675,000

–Ronnie Bardah = 8,850,000

–Jesse Lonis = 8,600,000

–Tsz Shing = 4,400,000
Margaglione started things off by chipping up over 20M chips. Bardah ousted short-stacked Shing in sixth place and then taking a big pot from Andemichael. The latter did double through Bardah to stay alive, so Bardah decided to bust Lonis in fifth place.
When the final four returned from their dinner break, Bardah continued to climb above the 22M mark. Muradi, on the other hand, lost ground until he doubled through Bardah to take over the lead. Andemichael doubled through Margaglione to put the latter on a short stack, and Bardah eventually busted Margaglione in fourth place.
Three-handed play saw Andemichael behind his competitors but chipped up slowly and steadily. Eventually, he relegated Bardah to the short-stack position, and Andemichael also moved ahead of Muradi. The three then exchanged chips and the lead. Bardah eventually busted in third place, courtesy of Andemichael.
Ronnie Bardah's incredible run ends in third place 👏

Robel Andemichael and Ilyas Muradi are heads up for the #WPTLuckyHearts title and the 🏆

♥️ https://t.co/VNcVtFY9zb pic.twitter.com/vIcOLM2Djj

— World Poker Tour (@WPT) January 27, 2021
For the Win
Andemichael took 31.4M chips into heads-up against Muradi, who wasn't far behind with 29.9M. Andemichael started strong, but Muradi jumped into the lead and kept going. He climbed above 45M and stayed aggressive, though Andemichael did eventually even the stacks.
That seemed to light a fire under Muradi, who got aggressive and left Andemichael with few choices. He moved all-in with A-6 suited, and Muradi called with pocket fours. The board of 10-9-8-3-Q blanked, and Andemichael accepted second place.
The official final results were:
-1st place:  Ilyas Muradi ($809,515)

-2nd place:  Robel Andemichael ($529,690)

-3rd place:  Ronnie Bardah ($392,430)

-4th place:  Francis Margaglione ($293,510)

-5th place:  Jesse Lonis ($223,895)

-6th place:  Tsz Shing ($168,990)
Emotional Muradi Ready for More
Muradi won the cash, his largest tournament win by far and as a result of playing a $400 satellite at the Seminole Hard Rock. He also won a seat (worth $15K) in the next WPT Tournament of Championship presented by Baccarat Crystal. And his name will be engraved on the Mike Sexton WPT Champions Cup.
Not only did Muradi win a satellite to play, that only happened because he missed a flight to leave.
He told the WPT after his victory, "This is amazing; it's making me want to cry." He also added, "Anyone's dream can come true. … This is just the beginning. You guys will be hearing a lot more from me."
An incredible underdog story comes true for Ilyas Muradi who wins #WPTLuckyHearts and turns $975 in career earnings into a place in history on the Mike Sexton WPT Champions Cup 🏆

♥️ https://t.co/FlpuUaAusF pic.twitter.com/6ivMVxE9J7

— World Poker Tour (@WPT) January 27, 2021
There is more to the Muradi's story, though.
An American Story
Several years ago, Muradi was held in a solitary detention cell in a US immigration center. He was at the ICE South Texas Detention Complex for four months, in a mostly-dark small room with one tiny window above for light. He described it as a cage, like he was in a nightmare.
He explained to a reporter that he was born in Afghanistan. His father was killed by a bomb when he was young, so he and the rest of his immediate family fled to the United States as refugees. Muradi was 12 years old. As the years passed, he went to school in America and became a truck driver. He started a family and had two children.
Meanwhile, Muradi extended his permanent resident card in 2017.
That didn't stop US immigration officials from flagging Muradi on a trip from Mexico back to the US later that year. Officials claimed that his paperwork wasn't in order, scolded him for traveling to Mexico, and arrested him. He waited in the dark cell to find out what might happen next, hoping he wouldn't be deported back to Afghanistan.
The International Consortium of Investigative Journalists released the information about Muradi as a part of a more intensive investigation into the matter of ICE (Immigration and Customs Enforcement) putting thousands of people into solitary confinement without just cause. Muradi's case and many others garnered attention because of Ellen Gallagher, a whistleblower from the Department of Homeland Security who wanted the public to know about ICE violations and torturous treatment of detainees.
Eventually, ICE did release Muradi, and he continues to live in the US.
All he wanted was freedom, the opportunity to live in a free country and raise his children in America.
And this week, Ilyas Muradi became a World Poker Tour champion, winning a sum of money that has the potential to change his life.
(Kudos to Ryan Depaulo for drawing attention to the story on Twitter and the WPT for confirming it.)
This kid is 1 of 3 of the WPT $3,500 main (I believe he sattied in) and playing for $809K as I type this. Met him and saw him throughout the week. Super cool dude. So hyped to be there. The poker gods don't f around. This is a good ass story. LFG https://t.co/9IptqPEgNk

— Ryan Depaulo: Degenerate Gambler (@depaulo_ryan) January 27, 2021
Related Articles