Warner Wants US Online Gambling Banned
By
July 12th, 2017 | Last updated on September 26th, 2018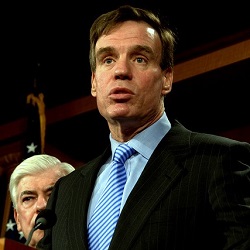 US Senator Mark Warner uninformed about online gambling facts
A new threat to legalized online gambling in the United States was revealed this week. The Hill reported that US Senator Mark Warner, a Democrat from Virginia, is not only opposed to online gambling but requested that Attorney General Jeff Sessions review the 2011 Department of Justice ruling on the Wire Act, which allowed states to legalize and regulate online gaming as they choose.
The report of Warner's position and request to Sessions comes at a time when online gambling is under scrutiny from several directions at once, on both the state and federal levels.
US Representative Charlie Dent is rumored to be working on a version of the Restoration of America's Wire Act, a piece of legislation strongly supported by online gambling opponent and casino billionaire Sheldon Adelson. After years of failed attempts, recent reports suggest that Dent is prepared to put RAWA-type language into an amendment that will be attached to a congressional appropriations bill this week. While the move has yet to materialize, the situation remains fluid.
Meanwhile, while numerous states consider the benefits and drawbacks of online gambling for their constituents, three states have not yet ruled out its legalization in 2017. Pennsylvania is on the verge of passing a gambling expansion bill that includes online poker and casinos, Michigan is reviving an online gambling bill that has solid support in the State Senate, and Illinois has yet to give up on its attempt to use online gambling as a new revenue source for its cash-strapped budget.
Warner Request Falls on Recused Ears
The Hill article of July 11 claimed that Warner's letter to Sessions was dated July 5 and requested that he review the 2011 DOJ opinion. His letter stated that online gambling sites "are especially fertile platforms for the facilitation of money laundering, collusion and other illegal activities." He went on to say that the "potentially predatory nature of online gambling represents a heightened threat to economically vulnerable populations."
It should be noted that numerous studies, especially from the thriving online gambling market in New Jersey, show that those claims are patently false. The FBI findings cited in Warner's letter are antiquated and predate the newest technology that allows for in-depth surveillance of online gambling transactions, as well as many methods for preventing online gambling from negatively affecting vulnerable populations.
Warner asked that Sessions will "restore the department's longstanding practice of enforcing the Wire Act against online gambling by revoking the opinion." And it wasn't the first such request. Senators Diane Feinstein and Lindsey Graham have requested the same of Sessions. And just days after the Trump administration won the November 2016 election, a group of 10 state attorneys general wrote to Vice President-elect Mike Pence to ask that the Trump administration act to reverse the 2011 DOJ opinion.
There is a problem with all of these requests, however. Sessions chose to recuse himself from the online gambling issue. The recusal language was vague and came from a spokesperson for Sessions, but the news came in response to newly-uncovered information showing Sessions' close ties with Adelson. The turning point for Sessions was the discovery that his personal lawyer and longtime friend Charles Cooper was also hired this year by the Adelson-funded Coalition to Stop Internet Gambling lobbying group.
Reasons Warner May Be Out of Luck
The most important reason that a reversal of the 2011 DOJ decision is unlikely is that Sessions may be recused from the issue for the aforementioned reasons. In addition, however, any move made to ban online gambling on the national level will be vehemently opposed by numerous conservative and libertarian groups, not to mention it will be scrutinized due to Adelson's many ties to legislators in Congress who are most likely to support a reinstatement of the original Wire Act interpretation.
The tougher complication for the issue comes into play when debating states' rights. Not only are states highly protective of their rights to make decisions on issues like online gambling, three of them have already chosen to legalize and regulate the industry. And while New Jersey, Nevada, and Delaware may be willing to go to court to defend their rights, new states like Pennsylvania seem ready to legalize the online games as well.
Obstacles abound. Yet the chorus of language to ban online gambling remains strong from Republicans and Democrats, most of them not possessing enough technology know-how to understand the protections put in place by regulation and legalization. They also usually are only familiar with the few horror stories from unregulated environments of an occasional underage gambler or money being laundered through underground connections. These incidents don't happen via legal and regulated sites, however.
It is important that online gambling advocates now keep their eyes on Sessions as we try to ascertain if he truly recused himself from decisions on that particular issue or if his spokesperson was only asserting a possibly and not a reality.
Related Articles