Illinois Plays Games with Online Gambling Bill
By
June 30th, 2017 | Last updated on July 18th, 2018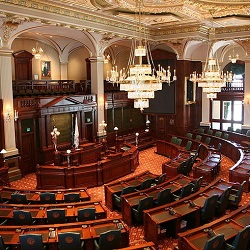 Illinois continues to ignore online gambling as budget solution
Earlier this week, Illinois was in the spotlight for online poker players and fans. An online gambling bill was not only in play, but Poker Players Alliance Executive Director John Pappas was asked to testify before the House Executive Committee. Hope lived.
However, days later, online gambling supporters are back in limbo. The hearing never took place, Illinois seems to have emerged from its special session no closer to a state budget, and the online gambling possibility somehow lives to see another day.
It's a bit confusing, so we talked to Pappas. Here's the scoop.
Hearing Scheduled, Rescheduled, and Cancelled
When we asked Pappas about his trip to Springfield, Illinois, to testify for members of the House Executive Committee, his initial response was simple: "It was a complete waste of time."
Wheels have come off in IL for #iGaming & #DFS bill. Folks are regrouping and may try this again in a few weeks. -jp

— PokerPlayersAlliance (@ppapoker) June 28, 2017
The hearing that was scheduled for Tuesday afternoon, June 27, so Pappas flew to St. Louis and then drove several hours to Springfield, at which point he was informed that the hearing was rescheduled for first thing the next morning. After postponing his flight, securing a hotel room, and buying necessities for the overnight stay, he went to the House on Wednesday morning. There, he was told about an hour-long delay before finally receiving word that the hearing was cancelled.
"The problem is that there are differences of opinion with regard to online gaming and daily fantasy sports in Illinois," Pappas said. "Some want to proceed with DFS only, others believe it should be done comprehensively, and we fall into the latter category. Some lawmakers just aren't comfortable doing that."
He explained that he hoped the hearing would provide an opportunity to talk about the differences and any chances for compromise. "We don't have a problem with DFS," Pappas explained, "but we know multiple bites at the apple are unlikely. If there's a chance to include online gaming in a budget package, the House should do it, just like the Senate did when it passed their bill."
Bill Still in Play
According to Pappas, all of the casinos in Illinois are supportive of online gambling. The one establishment expressing extreme opposition is Arlington Park horse-racing track, which has been fighting for the right to offer slots and table games for nearly a decade. The only stepping stone at this point seems to be that various legislators want to attach DFS and online gambling, while others solely want DFS.
"If they decide to go with DFS only, I'll still want to testify to explain how it makes no sense from a consumer standpoint. We have an unregulated marketplace for online gaming where consumers are vulnerable, and to simply address a very small segment of that with DFS leaves a whole host of other online gaming enthusiasts at risk," said Pappas, and then continued. "And the revenue is not even comparable. Online gaming, over the next three years, will produce somewhere around $300 million in new revenue for Illinois, whereas it's unclear whether regulated DFS will produce anything more than $5 million in that same time period. If we're talking about this in terms of the state budget, it's a total head-scratcher to think they'd move forward with only DFS and not address online gaming at the same time."
With that said, there is the possibility that online gambling and DFS are both ignored completely.
It seems unlikely that the budget problems will be resolved this week, before the holiday break, as lawmakers have been unable to resolve the problems for nearly three years. Members of the legislature will likely return in July to that same budget deficit and the need to fix it. Pappas noted that not a single person to whom he spoke in Springfield felt the issues could be resolved this week.
That means there is more time to push for a hearing to put online gambling forth as a possible solution, explain the many benefits that would accompany the new industry, and encourage legislators to include it in the budget.
Pappas expects to make the trek to Springfield again. "It's likely that I'll be out there again at the end of July," he told us. "Hopefully, that time, I'll actually get to testify."
What Are the Chances?
Pappas didn't care to speculate on the chances of online gambling legalization happening in 2017.
What is known is that the bill that includes online gambling and DFS is still pending. It is officially still listed as sitting with the House Executive Committee. That means H.0479 is alive.
It is also clear that the budget problems in Illinois will persist until legislators can agree on some remedies, of which online gambling is one. The bill's sponsors will likely continue to push it after returning from their holiday. It has as good of a chance to pass as it did in the past few months.
While states like California and New York have officially killed their online poker chances for 2017, Illinois remains a possibility. Stay tuned.
Related Articles