US Online Gaming Safe for the Moment
By
June 30th, 2017 | Last updated on July 3rd, 2018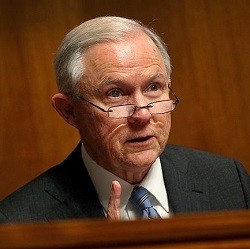 US Attorney General Jeff Sessions Recuses Himself
United States Attorney General Jeff Sessions will recuse himself from the issue of online gambling. This includes any activity surrounding the 2011 Department of Justice ruling that reinterpreted the 1961 Wire Act to allow states to legalize and regulate online gambling.
Bloomberg reported the news on June 30, barely weeks after Sessions' close ties with anti-online gambling billionaire Sheldon Adelson became too clear for officials to ignore. This is good news for states that have already legalized or are considering laws to legalize online poker and gambling, as they no longer have to fear Sessions will reverse the DOJ decision at the behest of Adelson.
Was Sessions a Threat?
Many in the US gaming industry felt that Sessions was a threat, mainly as a result of his ties to Adelson through the Republican Party. His testimony during the nomination process for his Attorney General position raised eyebrows even further, though.
When then-President-elect Donald Trump nominated Sessions to leave the Senate to head the Department of Justice, he was subjected to hours of questioning from colleagues in Congress before their vote to approve the promotion. During said hearing at the beginning of January, he faced questions from Senator Lindsey Graham, a known beneficiary of previous Adelson campaign donations. While other Senators asked questions about important and timely issues, Graham took minutes of his allotted time to ask Sessions about the Wire Act.
Sessions responded that he was "shocked" at the DOJ decision in 2011 and criticized it at the time. When Graham asked if he would reconsider the decision, Sessions said, "I will. I would revisit it, and I would make a decision about it based on careful study, and I haven't reached, I haven't gone that far to give you an opinion today."
The Poker Players Alliance quickly issued a statement from Executive Director John Pappas at that point in January, noting that a reversal of the 2011 decision would be a "radical departure from the precedent given to the independent and legally based opinions generated by DOJ's Office of Legal Counsel (OLC)." Pappas continued by citing the numerous supporters of the 2011 decision by groups like Campaign for Liberty and Fraternal Order of Police, and he cautioned Sessions not to "cower to special interests" as promised in Sessions' opening statement at the hearing.
Should Sessions have decided to overturn that 2011 ruling, states that already allow online gambling – Nevada, Delaware, and New Jersey – would've had to file injunctions in order to continue offering those services, ensuring an expensive and lengthy legal battle. Further, no other states would then have the option to legalize and regulate online gambling within their borders going forward.
Scrutiny May Have Saved the Day
Many members of the Trump administration have been under strict scrutiny in the past several months due to investigations regarding Russian interference in the 2016 presidential election. Sessions was one of the people under a microscope, at least enough so that he was pressured and did eventually recuse himself from any matters regarding said investigations.
The attention paid to Sessions' movements and business/political relationships led to the revelations in the Bloomberg article by Ben Brody and Christopher Palmeri this week.
The article first noted the donations to the Trump campaign and inaugural fund that tallied in the millions, as well as the private dinner Adelson shared with Trump at the White House in February. As Adelson is the founder of the Coalition to Stop Internet Gambling lobbying group that spent $50,000 on the issue in the past year alone, it was important that his influence on members of the administration be monitored, as journalists tend to do.
Further ties were unveiled by Bloomberg. Adelson's CSIG lobbying organization hired Charles Cooper last month to talk to officials in the Department of Justice, and Cooper is a longtime friend of Sessions. And this month, the ties became even more convoluted when Sessions hired Cooper as his personal lawyer due to the ongoing Russia investigations. The pieces of the puzzle came together after Cooper filed a federal disclosure about his lobbying work in mid-June.
In consideration of those direct conflicts of interest, a spokesperson for the Justice Department told Bloomberg that Sessions will recuse himself from anything pertaining to the Wire Act and online gambling issues.
Is Online Gambling Completely Safe?
The short answer is no. Another official in the DOJ could review the Wire Act decision and reverse it. However, anyone without close ties to Sessions or Adelson would be unlikely to take up the issue out of the clear blue sky.
The other danger looming is the Restoration of America's Wire Act, better known as RAWA. The bill has been introduced by Adelson friends like Graham as a way to outlaw online gambling on the federal level and take the rights away from the states entirely. All attempts to garner support for RAWA have thus far been stunted almost immediately, but there are numerous ways to sneak a bill onto must-pass legislation, as was done with the 2006 Unlawful Internet Gambling Enforcement Act (UIGEA).
Online poker and gambling supporters in the US cannot let their guard down completely, but they can rest easier knowing Sessions won't be acting on the whims of Adelson any time soon.
Related Articles