Tsoukernik-Kirk Lawsuit Settled but Kirk Loses
By
May 8th, 2018 | Last updated on October 19th, 2018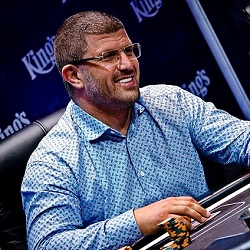 King's Casino survives high-stakes lawsuit unscathed
Last year, the 2017 World Series of Poker ended with many interesting stories of winners and losers, but one of the most discussed among them was the lawsuit filed against King's Casino owner Leon Tsoukernik by high-stakes poker pro Matt Kirk. The millions of dollars in question were eye-catching, and it brought to light the problems with poker pros lending money and making deals on the fly with only their word as bond.
The legal challenges and accusations continued throughout the fall of 2017 and into the first few months of 2018… until the two came face to face for the Big Game hosted by PartyPoker during a live series at Playground Casino in Montreal at the end of April. Millions of dollars were again in play, Kirk lost several million, and all seemed cordial enough. And if a mysterious forum post is to be believed, the lawsuit between Tsoukernik and Kirk was settled amicably and out of court.
A real treat for you all. 2000/4000 PLO, with the odd 8000 and 16000 straddle thrown in. Rob Yong, Sam Trickett, Matt Kirk and Leon Tsoukernik. With 3 stacks around $1m, could we see a $2m pot?https://t.co/vuIiFZaIKu

— MY PP LIVE UK (@MYPPLIVE_UK) April 29, 2018
How It Started
In late May 2017, Kirk and Tsoukernik were playing high-stakes cash poker at ARIA in Las Vegas. The late-night action found Tsoukernik drunk and on the losing end of the game, and Kirk continued to loan money to his opponent, eventually to the tune of $3 million. Tsoukernik lost all of it, and texts between the two revealed that he had no intention of repaying the money.
Several days later, Tsoukernik paid $1 million, but Kirk then filed a lawsuit for the other $2 million. The case filed in Clark County, Nevada, also requested punitive damages. Tsoukernik's attorney filed for a dismissal based on a "void and unenforceable" debt made via chips, not cash.
What made the situation all the more awkward was that Tsoukernik, owner of King's Casino in Rozvadov, Czech Republic, was the face of the new 2017 WSOP sponsorship of the high stakes poker room at the Rio during the summer games, as well as the WSOP Player of the Year leaderboard.
Twists and Turns
By October 2017, Tsoukernik was able to claim his first victory in the case, as a judge ruled verbal gambling debts nonenforceable. Neither party was operating as a licensed entity, which rendered part of Kirk's claim as a moot claim. That left Kirk with two pending counts – fraudulent inducement and unjust enrichment based on the texts from Tsoukernik indicating no intention of repayment.
Barely weeks later, WSOP Europe got underway at King's Casino in Rozvadov, and Tsoukernik took that opportunity to file a countersuit against Kirk for an amount in excess of $10 million. Tsoukernik claimed he suffered from extreme fatigue in the late-night game, and his intoxicated state rendered him unable to play properly, at which point Kirk took advantage of him in the game. He also claimed that ARIA staff served too much alcohol and forced him to stay in the poker room.
Over the next months, others in the industry weighed in on the saga, most notably Dusk Till Dawn Casino owner Rob Yong, who tried to broker an amicable outcome to the dispute. Kirk's attorneys filed a motion to dismiss Tsoukernik's counterclaim, and he claimed victory in February when the judge dismissed Tsoukernik's countersuit against Kirk and ARIA. Tsoukernik was ordered to pay Kirk's legal fees stemming from the dismissed claim.
Kirk and ARIA didn't conspire against Leon Tsoukernik says district judge https://t.co/a5W01J4DNo

— Lee Davy (@Chingster23) March 1, 2018
All's Well that Ends Well?
Grinders gotta grind, it seems.
When PartyPoker took its LIVE MILLIONS tour to Playground Casino in Montreal at the end of April, the Big Game was set to run and broadcast live on the internet. NLHE and PLO were on the menu, and Tsoukernik and Kirk both had an interest in playing. So, the two met in Canada prior to the games and reportedly settled the outstanding matter. According to a Two Plus Two forum post, the mysterious poster said the two men settled out of court, cleared up their "disagreement," and resumed friendly terms.
Tsoukernik and Kirk both participated in several Big Game episodes, and the outcome was the opposite of the situation that began the legal wrangling in the first place. Tsoukernik ended the games with approximately $3.5 million more than was in his pocket when they began play, and Kirk was down nearly $4.7 million in total.
Leon Tsoukernik won a $763,000 Pot off Sam Trickett ($500/$1,000/$2,000/$4,000 PLO 4-handed) https://t.co/2HYZsNEnsf

— PokerNews (@PokerNews) May 7, 2018
It seems the case is settled, the high-stakes poker world is again operating without court cases in the way, and any broader implications for a community that relies heavily on verbal agreements and financial loans are left unresolved.
Related Articles