Poker Pro Sues Owner of WSOP Sponsoring Casino
By
July 18th, 2017 | Last updated on October 23rd, 2017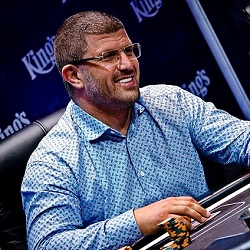 Lawsuit claims $2 million owed in heads-up poker debt
The timing was inopportune for the World Series of Poker. A new sponsor for the high stakes poker room and Player of the Year leaderboard had just been announced, and days later, news leaked of a significant lawsuit involving that sponsor. It could have made for an awkward summer at the Rio in Las Vegas.
Australian poker player Matthew Kirk filed a lawsuit against Leon Tsoukernik, owner of King's Casino in Rozvadov, Czech Republic. Kirk claimed Tsoukernik owed a debt of $2 million, plus punitive damages, in the lawsuit initially dated June 5, 2017.
King's Casino was the new WSOP sponsor, extending a partnership that already associated the two poker entities for WSOP Europe. And the owner of that casino was suddenly under scrutiny by a high stakes poker pro for a hefty unpaid debt.
A Story as Told by a Lawsuit
The news of the lawsuit emerged as a new poster on the Two Plus Two forum opened a new thread with no comments, only screenshots of 11 pages of court documents. The thread was titled, "Leon Tsoukernik subpoenad (sic) – stiffed Aussie Matt for $2mil."
The documents show a case filed in Clark County in Nevada by Matthew Kirk as an individual plaintiff. He is represented by David Chesnoff and Richard Schonfeld, the former a past law practice partner of Oscar Goodman. Chesnoff is also famous in the poker industry for representing Doyle Brunson, Phil Ivey, Johnny Chan, Mike Matusow, and Shawn Sheikhan. The defendant in this case is listed as Tsoukernik, and additional defendants are listed only as "Doe Individuals 1 through X, and Roe Corporations 1 through X."
All details have been confirmed and expounded upon by the Las Vegas Review-Journal.
The basis for the case was a high-stakes cash game that took place in ARIA's poker room in Las Vegas in late May. Kirk and Tsoukernik were both in the game, during which Kirk claims he loaned Tsoukernik a total of $3 million – first two loans of $500K each, followed by two loans of $1 million each. The money was dispatched so the two could continue playing a heads-up game.
While Tsoukernik initially vowed to repay the money, he allegedly changed his mind within 12 minutes after the final $1 million loan and refused to pay. Numerous requests for repayment were met with a partial compensation of $1 million several days later, but that left $2 million outstanding. Kirk filed the suit in search of the $2 million, as well as interest, attorney fees, court and filing costs, and punitive damages.
Kirk claimed that two other people were in the high stakes area of the poker room, known as Ivey's Room, when the loans took place. There were also text messages that indicate Tsoukernik did not intend to repay the monies. And video footage from ARIA also document the actions.
Tsoukernik's attorney attempted a dismissal of the case based on a misunderstanding of the use of the chips and "not evidenced by a 'credit instrument' at the time the debts were created," thus rendering them "void and unenforceable."
Relationships Built and Broken
Rumors have swirled in past years about Tsoukernik's willingness to pay debts to poker players, but none have been substantiated, and accusers have not gone on record with their claims.
The situation at hand is significant not because of speculation but for the action of a lawsuit itself. Poker players very often borrow and loan money to others on the basis of verbal promises of repayment. Especially in the world of high-stakes poker, millions of dollars change hands on a regular basis, but debts are eventually settled in one way or another due to reputations and future cash availability being put on the line. Very few situations go to court, and even fewer proceed with the type of expediency that Kirk filed his case.
The other important aspect of this case is that the game and loans in question happened just days after the WSOP announced its prominent deal with Tsoukernik's King's Casino. The Rozvadov-based property became a sponsor of the summer WSOP games, complete with a cash game section at the Rio in Las Vegas named the "King's Cash Game Lounge." Not only did it serve the WSOP cash game players throughout June and the first two weeks of July with 15 special tables in an upscale lounge-type setting, it offered a unique setting for high rollers. In addition, King's sponsored the Player of the Year race and leaderboard for the 2017 WSOP games.
The partnership between Tsoukernik and WSOP actually began in 2016 when an announcement revealed the WSOP Europe would return to the schedule and take place in Rozvadov at King's. Every two years, the European games would take place at King's, starting in 2017, then in 2019, and finally in 2021 as part of the current agreement. The WSOP Circuit would also make stops in Rozvadov as well.
As the WSOP wraps up in Las Vegas this week, the action will be paused only until mid-October when WSOP Europe begins at King's Casino and runs through November 10. The POY race will also conclude at that time.
As it stands, the allegations against Tsoukernik seem to have had no effect on the WSOP sponsorship agreement. Some say Tsoukernik is no longer welcome in some of the high-stakes cash games in Las Vegas, but attempts to verify those claims have been unsuccessful thus far.
Related Articles