RunGood Poker Series to Return in June
By
April 26th, 2021 | Last updated on April 26th, 2021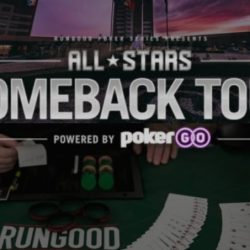 It affected RunGood as it did so many other poker companies that depend on live tournament poker.
The RunGood Poker Series was running as well as ever in early 2020. It had just won the Global Poker Award the previous year for the best mid-major poker tour, and things were moving right along in 2020. Action wrapped at the Horseshoe Tunica in Mississippi, and the next official tour stop was at the Horseshoe Bossier City in Louisiana to start March 31.
RunGood had also just recently partnered with Poker Central and PokerGO, the entities partnering to qualify players for a televised tournament. The 2020 year was shaping up to be bigger than ever.
Meanwhile, the pandemic hit America and spread quickly. As the federal and state governments began shutting down all nonessential businesses – casinos among them – the RunGood Poker Series suspended its action, too.
The RunGood Poker Series at Horseshoe Bossier City March 31st – April 5th will be suspended until a later date can be scheduled. We will be monitoring the situation closely for later tour dates this season. #PlayersFirst pic.twitter.com/BDJahT5POo

— RunGood Poker Series (@RGPokerSeries) March 12, 2020
Some people in the poker community came together to help RunGood founder Tana Karn and his family's restaurants, all of which had to close. Lance Bradley started an impromptu fundraiser to order meals from those restaurants in Tulsa and send them to local fire stations.
Thank you. ♥️ Typing, deleting, and typing to find the right words to explain the impact of this. Going to take some time tonight and make sure every word counts. Gestures like this in times like these is how I know we will all be ok & our story doesn't end here. #OnePokerFamily https://t.co/nC1dadZ5GX pic.twitter.com/pch2VsT8Ip

— Tana Karn (@tkarn421) March 25, 2020
Meanwhile, Karn and RunGood partner Hayley Hochstetler did what they could for charities like the United Way. At the same time, the coronavirus news continued to worsen for the poker tour. RunGood had to cancel its April tournament series set for Harrah's North Kansas City and Hard Rock Casino Tulsa.
Behind the scenes, Karn worked on a project to match his #OnePokerFamily hashtag spreading across Twitter for the past month. He partnered with Global Poker and Poker Central to start a poker streaming pledge drive to raise money for his new campaign called Keep the Lights On. The goal was to help people in the poker media who lost their jobs amidst the pandemic shutdowns, to pay a utility bill or two for them, to keep their lights on.
Very quickly, small and large donations added up to thousands upon thousands of dollars. From livestreaming pledges to dedicated Keep the Lights On gear at the PokerGO online store, and through straight donations, everyone banded together to help the poker media.
The "Keep The Lights On" initiative is LIVE. We've challenged @PokerCentral and @official_glp!

Help us give the individuals behind the scenes a hand in getting through this together. #OnePokerFamily ♠️♣️♥️♦️

Learn more how you can help and pledge here: https://t.co/59sW9LeTIv pic.twitter.com/w8rCFDhQpu

— RunGoodGear.com (@RunGoodGear) April 23, 2020
When the official campaign ended, there was approximately $30K in the fund.
At the same time, though, RunGood had to cancel its June series at the Grand Casino in Oklahoma City. The summer months saw casinos and cardrooms in some cities begin to reopen, testing the waters with plexiglass barriers, mask mandates, and short-handed tables.
We haven't given up on a Fall season 🍁. Making things as safe as possible to come back and finish what we started. That being said, rooms are beginning to open. So remember…

Wear a mask, stay home if you're unwell, and tip your dealer. Last thing, eat your vegetables. 🥦 pic.twitter.com/tKRGgBVKqj

— Tana Karn (@tkarn421) June 30, 2020
RunGood partnered with PokerGO to host an online freeroll tournament to a seat to a PokerGO live tournaments, swag, and prizes. Poker players continued to donate to Keep the Lights On. And RunGood hosted another online freeroll to raise money for One Step Closer Foundation's holiday toy drive.
RunGood hoped to host a live tournament before the end of 2020, but it didn't happen. Casino openings and protocols were iffy in most states, many just throwing poker tournaments at the wall to see what stuck. But RunGood never gave up, even launching a new website for RunGood gear. And the first massive image on that website hails the "one poker family" concept.
Karn and Hochstetler got into the box break world to stay busy, and they streamed some RunBoxBreaks. But many poker players wanted their poker back, full stop.
It's Time
A lot more goes into hosting a live poker tournament series than most people understand. And the RunGood team wanted to make its comeback just right.
Last month, the hints began on social media.
#BestMidMajor 🏆 pic.twitter.com/9uSXt6TDvd

— RunGood Poker Series (@RGPokerSeries) March 16, 2021
Save the dates arriving soon. #BestMidMajor 🏆 pic.twitter.com/57rKvUp57p

— RunGood Poker Series (@RGPokerSeries) March 23, 2021
San Diego. 👀 #ComeBackTour 🏆 pic.twitter.com/96xIl4nZlw

— RunGood Poker Series (@RGPokerSeries) April 3, 2021
And…they're back. The RunGood Poker Series is set to make its official return to the live tables at Jamul Casino in San Diego June 8-13 and then head to Horseshoe Casino Iowa in Council Bluffs June 22-27. Just a few days ago, they also added a stop at the Horseshoe Casino Tunica July 6-11.
Details will follow in the coming days and weeks.
Three stops confirmed. More to come. Where will you be playing?

Jamul Casino San Diego June 8-13
Horseshoe Council Bluffs June 22-27
Horseshoe Tunica July 6-11

SEE YOU SOON. 🔥#AllStars #ProAm #BestMidMajor 🏆 pic.twitter.com/WuP0JS9xO5

— RunGoodGear.com (@RunGoodGear) April 24, 2021
Related Articles