PokerStars Sets Prize Pool High with Pennsyl-Mania
By
May 19th, 2020 | Last updated on May 19th, 2020
Home
»
Poker News
»
PokerStars Sets Prize Pool High with Pennsyl-Mania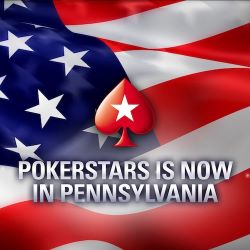 The history of online poker in Pennsylvania – as regulated by the state – is quite short. Though lawmakers legalized this type of online poker in 2017 and numerous casinos opted for online poker licenses from the Pennsylvania Gaming Control Board, only one site is operational as of May 2020. That site is PokerStars.
Online casinos began launching in Pennsylvania last summer, but the first (and only) online poker site didn't launch until the first week of November. PokerStars was the first on the market, and many suspected that others would follow, at least the WSOP and PartyPoker sites.
There have been rumblings about the WSOP site on the 888poker platform in Pennsylvania. The online poker operator is partnered with Caesars (Harrah's) and launched its online casino in April for Pennsylvania players. Even so, there are no indications of when the poker site might start testing.
Until it happens, PokerStars PA continues to be the sole online poker operator in the state. And it ran a spectacularly successful tournament this weekend to show its dominance.
$515,964 Pennsyl-MANIA final prize pool💥

— Matt Primeaux (@mattprimeaux) May 18, 2020
Pennsyl-Mania Success
PokerStars introduced a new tournament that ran last weekend. It was a single tournament to be played over two days, May 17-18. The $200 buy-in event had a $250K guarantee on the prize pool, which would have made it the largest guarantee in Pennsylvania online poker history.
Again, the history is short, and PokerStars is the only operator in the state-regulated market. But I digress.
Players had the chance to win their seats for as little as $10. For those with larger bankrolls, they could reenter up to five times.
When registration ended, the number of entries rested at 2,774, which consisted of 1,760 original players and 1,014 reentries. This created a prize pool of $515,964, more than double the guarantee.
That prize pool paid out the top 467 players in the tournament, and when the final table finished on May 18, these were the results:
1st place:  D-Low1527 ($69,670.79)

2nd place:  justbuy44 ($58,175.62)

3rd place:  CutYourOwnGrass ($37,444.69)

4th place:  caruso11125 ($25,477.41)

5th place:  Name_Not_Import ($18,722.37)

6th place:  philsfan123 ($13,238.75)

7th place:  BDGEJLM ($9,361.23)

8th place:  YouAlreadyKnow3 ($6,619.35)

9th place:  RevoltingBlob12 ($4,680.61)
The top two players made a deal during heads-up play and then played for the win and extra cash.
The PokerStars PA Pennsyl-MANIA is the state's largest online poker tournament ever. $200 buy-in and $250,000 guarantee that got 2,774 entries for a $515,964 prize pool. First place set at $74,891.69. Field size, prize pool, and first prize all state records.

— Donnie Peters (@Donnie_Peters) May 19, 2020
One Success After Another
While many industries have suffered – and continue to do so – because of the coronavirus pandemic, the online gaming industry thrived. Online poker traffic soared on sites around the world, but PokerStars found its time to shine in the burgeoning Pennsylvania market.
PokerStars PA hosted its first Spring Championship of Online Poker for Pennsylvania (PASCOOP) in early April and saw significant registration numbers. Most created prize pools that left the individual event guarantees in the dust.
And just this week, the Pennsylvania Gaming Control Board revealed its online gaming revenue for April. While online casino games comprised the vast majority of the $43 million in gross gaming revenue for the month, the online poker sector (again, just PokerStars) delivered more than $5.25 million of it.
Setting aside the jokes about PokerStars breaking its own records, it is significant that the site delivers higher numbers than the entirety of the New Jersey online poker market with its several operators. And it shows the wants and possibilities of the Pennsylvania poker market as it just begins to grow.
Pennsylvania igaming served up $43M in April revenue while casinos delivered $0. Other states could jump on this train, too, by legalizing online poker and casino games. https://t.co/wQotwgGvkO pic.twitter.com/8ygWwiF5cn

— Legal US Poker (@legal_poker) May 18, 2020
Related Articles