PokerStars Previews Virtual Reality Online Poker
By
September 22nd, 2018 | Last updated on September 23rd, 2018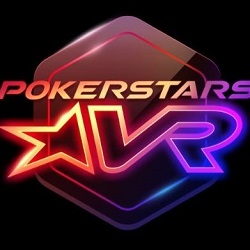 The PokerStars game development team must be filled with creative and forward-thinking employees, as there seems to be new poker game variations coming from the world's largest online poker company on a monthly basis. And many in the poker world will never know about all of the ideas that don't make the final cut and see any kind of introduction to players.
The most recent contribution was Unfold, a game that allowed players to unfold their hole cards after seeing the flop if they regretted their folding action. The special pot created by Unfold bets added more money to be won in a hand but also more action and strategy opportunities.
But it seems that Unfold didn't make the cut for long, as PokerStars put more effort into the likely release of Six Plus Hold'em, also known as Short Deck Poker. The online poker variation is to be played with only 36 cards instead of the standard deck, as twos, threes, fours, and fives are removed to create new hand rankings with the ace as the top or bottom of a straight. This game has been popular in several Asian markets in the live poker realm for several years, and the demand for availability in online poker has grown as players like Tom Dwan and Phil Ivey generated interest.
The PokerStars team was also working on another project, one that has seemed inevitable for several years but was a large task to undertake. It is the virtual reality version of online poker, and PokerStars seems prepared to roll it out at some point.
PokerStars VR is in preview mode "in expectation of a commercial release in the future."
Introducing @PokerStars VR, ? a brand new free-to-play Virtual Reality poker game…: https://t.co/a12pN65Fn6 pic.twitter.com/x6qNmU3M9z

— PokerStarsBlog (@PokerStarsBlog) September 20, 2018
Virtual Reality + Online Poker
The memo took the online poker world by storm on September 20. PokerStars offered a press release with a preview of PokerStars VR, the virtual reality version of its traditional online poker software through a partnership with Lucky VR.
According to the announcement, the game will be free upon its initial release as a social poker game, but more immersive than typical online poker and offering more similarities to live poker. It will be in the No Limit Hold'em variant in the beginning.
Players will be able to handle their cards and chips via virtual reality systems that are worn on the head to include sensory inclusion in games for sight and sound. They will also be able to talk during the game instead of typing in a chat box, and they can truly study opponents through tells and clues that have traditionally only been available in live poker. Players will be able to use intuitive and voice command controls to compete, as well as to dress and act as they choose. Even further, they will be able to order food and drinks at the table, smoke cigars, and even bring pets. And they can choose to play in one of five settings, which will be Macau 2050, Macau Suite, Showdown Saloon, Monte Carlo Yacht, or the Void.
Even more exciting for true poker enthusiasts is that they will be able to study statistics as they play, view leaderboards, and study particular opponents more intensely.
Approximately 100 players will be invited to play via Oculus Rift, HTC Vive, and Steam in the closed beta testing phase of the project. Those using Oculus Rift will also be able to stream their virtual reality poker sessions by way of integration with Twitch and various social media outlets.
Hey @PokerStars. VR you say? I am the ultimate battle nerd. Send me in to the Matrix. pic.twitter.com/W5Y2eLIVXV

— Spraggy (@spraggy) September 20, 2018
The initial preview took place in the UK at a game event called EuroGamer. And many players who follow technology closely and have long awaited the entry of online poker into the virtual realm are chomping at the bit to try the new product.
According to PokerStars Director of Poker Innovation and Operations Severin Rasset, "PokerStars VR is a chance for us to take this amazing technology and bring something totally unique to poker players. Poker is about interaction. It's been bringing people together for well over a century. We're really excited to invest in the next generation of the game and to give players the opportunity to meet in a brand-new virtual reality dimension."
Interest and Intrigue
The initial reactions from many poker players on social media include interest and intrigue. Some games for many pros to dismiss due to claims of PokerStars succumbing to fads or trying too hard to come up with something new. But virtual reality has been in the minds of many for several years, and PokerStars VR does pique that interest.
PokerStars will rule today's poker news cycle, with the public reveal of their new virtual reality product, #PokerStarsVR.

I had the opportunity to test it out at @PokerStarsLIVE #EPTBarcelona.

It was pretty awesome.

My review: https://t.co/G8zfpVwsWU

— Robbie Strazynski (@cardplayerlife) September 20, 2018
Some were able to try it during the European Poker Tour stop in Barcelona this summer, and the reviews were mostly positive. The software is referred to as groundbreaking and unique, but it garnered many questions as to how the game would be rolled out and offered to a wider base of players. Robbie Strazynski dove into some of those questions with two of the lead PokerStars developers to address issues like the high cost of virtual reality equipment (definitely a concern) and any likelihood of converting into real-money online poker (not in the current plans).
As reactions continue to surface, let us know what you think.
Related Articles