PokerStars Players Getting the Hang of 6+ Hold'em
By
January 21st, 2019 | Last updated on January 21st, 2019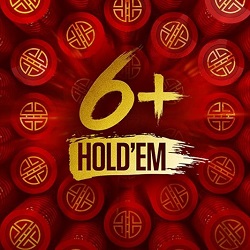 In August and September 2018, PokerStars began to leak information about Six Plus Hold'em, one of the many new poker variants being introduced to the online poker community. The year was full of game rollouts and testing periods, but Six Plus Hold'em – also known in many circles as Short Deck Hold'em – had been a favorite of high-stakes players for some time and drew the interest of a much larger group of poker enthusiasts.
The first site to bring the game to American players via a full rollout of games was Americas Cardroom, which introduced Six Plus Hold'em to its online poker lobby on September 10.
While PokerStars likes to be first, the site developers ultimately decided it would be better to offer a bigger rollout, one that would land on its own in the new year. So, as of January 15, 6+ Hold'em made its debut on PokerStars for real-money and play-money, both on desktop and mobile, and in a variety of stakes for a range of players to be able to experiment with it.
Within days, 6+ Hold'em was available on the dot-net and dot-com platforms, as well as the dot-EU, dot-UK, dot-SE, dot-DK, and dot-EE.
It's time to crank up the excitement… 6+ Hold'em is NOW LIVE and ready for action. ?? Visit https://t.co/w9oJ1KVFUA for a lowdown on the rules and then go find out why this short deck game has become so popular with poker fans. pic.twitter.com/0mYqSjMH3Y

— PokerStars (@PokerStars) January 16, 2019
Not Just Another Hold'em Game
Also known in some circles as Short Deck Hold'em, 6+ Hold'em uses some of the basics of hold'em but plays with a short deck. All numbered cards lower than six are removed, making the deck consist of only 36 cards.
The game is played with a different structure than Hold'em, as there are no small and big blinds, only a blind paid on the button and an ante for all players in every hand. Action starts with the player to the left of the button. Otherwise, the betting rounds are the same, with pre-flop, flop, turn, and river rounds.
The hand rankings are also slightly different, in that a flush beats a full house. However, flushes are rarer since there are only nine cards of each suit in the 36-card deck. Aces can be high or low, though the low ace now forms a low straight of A-6-7-8-9.
Yessss! And in this version a straight beats trips ✅ https://t.co/HZdbTnEwXH

— Jennifer Shahade (@JenShahade) January 16, 2019
The new rankings, from top to bottom, are:
Royal flush

Straight flush

Four of a kind

Flush

Full house

Straight

Three of a kind

Two pair

One pair

High card
To start, the game will only be available in six-handed format. In addition, there are time penalties issued for sitting out of hands, and the cumulative penalties are in place to prohibit players from watching too long without playing a hand, as well as to keep players from searching for "soft" tables. Automatic seating is in place.
New Game, New Strategies
With fewer cards, flushes over full houses, and a different blind structure, players will need to alter their traditional Hold'em strategies in order to improve their play.
We've got not one, not two, but THREE new strategy articles to help you crush the 6+ Hold'em tables. Find them here – https://t.co/p5UNVWnGy3 pic.twitter.com/eCkkjycpaP

— PokerStars School (@StarsSchool) January 19, 2019
Pre-flop gameplay needs to consider all of the above, specifically that flushes are more difficult to find and top pairs are weaker. Pocket pairs are not as valuable because straights are more common than full houses, and overpairs become easier to beat with a variety of hands.
After the flop, it is vital to become familiar with the number of outs available. There are also certain hands that may look good – one or two pairs, trips, and big kickers – but they are all easy to overplay.
More to Come
As more players become familiar with 6+ Hold'em, there will be more Twitch streams and YouTube tutorials. And while there are some strategy pieces at the PokerStars School online, more will be available in the coming weeks.
PokerStars Director of Poker Product Chris Straghalis noted, "6+ is an exciting poker variant that often produces big hands and a lot of action, so we're excited to bring it to the tables. While the format has proven popular with high stakes players, the range of stakes available on PokerStars and similarities to hold'em mean that it should appeal to those who may want to try a new game but don't want something too different. We're looking forward to seeing what people think."
Related Articles