PokerStars Officially Offers Fusion Online Poker Variant
By
November 6th, 2018 | Last updated on November 6th, 2018
Home
»
Poker News
»
PokerStars Officially Offers Fusion Online Poker Variant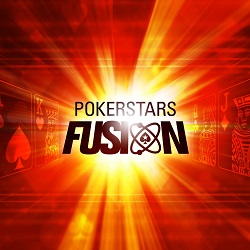 Throughout 2018, PokerStars has been experimenting with different poker variants. Many have intrigued poker players, but only some of the games actually made it to the virtual tables on PokerStars. Some were discussed and put on the back burner, while others were tried in certain markets and shelved.
So, when PokerStars makes an official announcement about a new game making its way to all major online poker markets, players can actually count on seeing the game and playing it for the foreseeable future, both in play-money and real-money poker forms.
Fusion is the name of the new game, and it combines Hold'em and Omaha into a hybrid of pot-limit poker. For players familiar with only one of the two games involved, the adjustments are easy enough to make. Even for those comfortable with both Hold'em and Omaha, the blending of the two – or fusion, one might say – adds new levels of challenging play.
And as of Wednesday, November 7, PokerStars players in many markets will find Fusion in the cash game lobby.
A brand new game is coming to @PokerStars, featuring a unique combination of Hold'em and Omaha.https://t.co/lz3AyQwLru

— PokerStarsBlog (@PokerStarsBlog) November 6, 2018
What is Fusion?
The combination of Hold'em and Omaha is fairly simple in terms of the layout of the hands.
A Fusion hand will begin as any Hold'em hand, with each player receiving two hole cards and betting working around the table as usual. Then the flop appears on the board, and another round of betting occurs. This is when the Omaha characteristics appear, as players still in the hand after the post-flop betting will receive another hole card, dealt face-down. The turn card is dealt face-up on the board, as in Hold'em, and after betting, yet another hole card is dealt to each player still in the hand. This gives the players four hole cards – as in Omaha – from which they are allowed to use two of them with the board to create the best five-card poker hand.
Essentially, after the flop and the turn, the Hold'em game transforms into Omaha, thereby fusing the two games together.
Levels of Strategy
The experts will dive into the strategies that can be applied to Fusion, but suffice it to say that there will be numerous levels to the analysis.
Neither Hold'em nor Omaha strategies will work throughout the entire hand, as strategies must be adjusted for each point at which new cards are introduced. The pot-limit constraint is another factor. It's all going to require some math, a solid grasp of existing poker strategies, and the desire to master a new game. Of course, luck will also play a role, but there are many elements of skill to be applied.
There is no need to master the game, however, in anticipation of its takeover as the next Hold'em. PokerStars noted that the game is not a permanent addition to the lineup but merely a fun pastime to offer "experienced poker players like you a break from your regular games."
At a Table Near You
The first clues about Fusion came in May of this year, but amidst a flurry of game announcements and rumors, Fusion didn't receive any more attention than other games. And more recently, the buzz focused on Showtime and Split Hold'em variations returning to the virtual tables. But suddenly, out of the rooms at PokerStars where developers find new ways to spice up the game of poker, it was Fusion to the fore.
Another interesting titbit from today's article – PokerStars has upgraded the table images for Fusion. This game we revealed way back in May (https://t.co/WA9aRcTZ5B) and we've since seen other games launch and nothing about this. Update suggests its still in the pipeline. pic.twitter.com/xbveOkrhkx

— Nick Jones (@pokerprojones) September 4, 2018
Fusion has already appeared in the cash game lobby of PokerStars.DK, and players on the dot-com, dot-net, dot-EU, and dot-UK sites should see Fusion options this week.
As explained by PokerStars Director of Poker Innovation and Operations Severin Rasset, "We want to give our players games that they have never played before and bring a unique offering to the table. Fusion mixes two well-loved formats together, giving an exciting twist to the game. We eagerly await player feedback and look forward to seeing everyone joining the tables and giving Fusion a try."
Since PokerStars wants players of all skill levels and game familiarity to try Fusion, games will start as low as $0.02/$0.05.
Related Articles