PartyPoker Upgrades Highlighted by Kevin Hart
By
April 14th, 2020 | Last updated on April 14th, 2020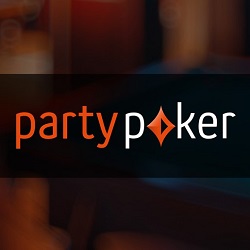 It seems that PartyPoker is consistently upgrading its software, making changes according to player requests and feedback. Back in February, there were numerous upgrades to detail, including more bot bans and a new queuing ban, mobile fastforward options, and a Run It Twice option.
With its ambassadors interacting with the greater poker community on a regular basis, in addition to Rob Yong always polling and tossing ideas out on Twitter, PartyPoker seems to have its fingers on the pulse of online poker.
That means that the site incorporated numerous changes in the past month or so. This was in addition to running its KO Series and extending its Powerfest series through April 19. Further, PartyPoker became the site of new online series for the World Poker Tour, Poker Central's Poker Masters, and the Irish Poker Open, as well as a site for all Playground Poker cash game and tournament players in light of that Canadian poker room's temporary shutdown.
And in addition to more upgrades for PartyPoker players in the past few weeks, Kevin Hart seems to have signed on to be a PartyPoker global ambassador.
Mobile App Cash Games
The latest update for the PartyPoker mobile app is the addition of cash games, complete with a new lobby. This gives mobile players more options on top of the fast-fold fastforward cash games and jackpot SPINS sit-n-go tournaments already available.
Further, mobile players can now operate the app in portrait mode to play single-handedly instead of with two hands in landscape mode.
ICYMI: We recently updated the partypoker mobile app. Available for SPINS, fastforward and NOW all cash games. Check out @jaimestaples demonstration below. https://t.co/uqhAnucz5F pic.twitter.com/3NtvSGervb

— partypoker (@partypoker) April 1, 2020
Rabbit Hunting for All
One feature that was previously available on the mobile app only is now open to all players. Rabbit hunting is the ability to see what cards would have ben dealt if the hand had played out. Players who want to see the possibilities of a hand after the fact can use the Rabbit Hunt feature
The first desktop rollout of rabbit hunting was aimed at SPINS tournaments with the intention of spreading it around to all players.
Showdown Equity
PartyPoker also included showdown equity in its March updates. Players can see the equity for themselves and their opponents in all-in situation in hold'em games. Every player's information bubble shows their odds of winning the hand.
Diamonds as Currency
Mobile app players already known that diamonds are the virtual currency earned by playing regular games on the site. They accumulate diamonds as they do VIP-style points. Now, desktop players can also accumulate diamonds.
The benefit of diamonds is to spend them to rabbit hunt or to buy objects to throw at opponents. And diamonds earned on the mobile app and desktop do transfer back and forth to the other platform.
Thanks for this @jaimestaples this is very helpful every time @partypoker does a software release would be great if you can produce video 💪 KTF Rob 🦠 pic.twitter.com/lVvvZrLhXQ

— Rob Yong (@rob_yong_) March 18, 2020
More Bot Closures
The latest numbers from the Game Integrity team at PartyPoker reveal that they identified and closed 134 bot accounts in 2020 through March 23. The combined amount of money confiscated from these accounts came close to $180K and was redistributed back to players who were victimized by the bots.
MyGame Introduction
New players and those wanting to improve their games, this new program is for you.
The MyGame platform is a new interactive poker coach, a free software option to download and use while playing at PartyPoker. MyGame works with hold'em and Omaha cash games and tournaments.
Essentially, MyGame's purpose is to help improve any player's game. The software detects leaks and mistakes and prepares reports for the players that include the following categories of information:
–Key statistics

–Stealing and blind defense

–Three-betting and four-betting

–Post-flop aggression

–Showdowns
And these five are broken down into 25 more specific categories. Not only does it notify players of leaks but gives hints and tips for how to improve play in those areas. MyGame then determines the player's score and ranks them on this scale:
–Rookie = 0 – 40%

–Social = 40.01 – 50%

–Intermediate = 50.01 – 60%

–Solid = 60.01 – 70%

–Advanced = 70.01 – 80%

–Pro = 80.01 – 90%

–Elite Pro = 90.01 – 100%
MyGame begins delivering results after the player completes at least 100 hands. From that point on, players earn stars for the amount of hands they play:
100-249 hands = no stars

250-999 hands = 1 star

1,000-4,999 hands = 2 stars

5,000-9,999 hands = 3 stars

10,000-24,999 hands = 4 stars

25,000 hands or more = 5 stars
Have you heard about My Game? You can see how you're playing and if there's anything you can be doing to improve. There's no time like the present to improve your poker game and plug any potential leaks! @jaimestaples is here to explain. https://t.co/yyvrsD4iQf pic.twitter.com/D6wXJuXyoK

— partypoker (@partypoker) March 26, 2020
Ambassador for Amateurs
Kevin Hart is a well-known comedian, actor, and producer. And poker players will recognize him from a previous sponsorship deal with PokerStars. That ended well over a year ago with no mention of it since.
Evidently, Hart still loves poker and plays regularly with Rob Yong. That led to Hart agreeing to be a global ambassador for amateur players for PartyPoker.
"The world just got a lot better, and let me tell you why," Hart said into the camera phone. "Guess who's on PartyPoker right now: Kevin Hart. That's right. Not only am I on PartyPoker, I'm here to party, I'm here to make it a good time because of this guy right here." He then included Yong in the frame.
Hart continued, "Expect the world of poker to get a lot more fun. Expect it to get real. And expect us to get rid of all the people who make it so f**king technical, man. It's a community sport, goddammit, and I'm big on community. I'm big on people. And I'm big on this guy," pointing again to Yong.
"So, I asked my man Kevin Hart to help me promote amateur poker," said Yong. "He's the highest-stakes amateur poker player in the world, and I want him to help me promote amateur poker."
And then it became an official announcement. "I just want to welcome him to PartyPoker to be the global ambassador, partner, and promote for us."
So happy to be apart of the team man….now let's make poker FUN again damn it. 💪🏾💪🏾💪🏾💪🏾 https://t.co/hFEGRlP0k1

— Kevin Hart (@KevinHart4real) April 10, 2020
PartyPoker seemed to confirm it on Twitter as well.
Welcome @KevinHart4real Let's Go!! 😎

— partypoker (@partypoker) April 10, 2020
Powerfest…Still Going
The last bit of news from PartyPoker at this time is that Powerfest is still going on.
Originally, Powerfest was supposed to be a 488-event online poker series with $20 million in guarantees, running March 15-29.
However, as the coronavirus shutdowns of live poker around the world brought more people to the online tables, PartyPoker extended the series…twice.Part
At this point, the series runs through April 20 and will award a minimum of $60 million, based on guaranteed prize pools. The website shows it ending on April 19, but there are three turbo tournaments scheduled at midnight, technically pushing the end date to April 20.
No matter when it ends, it is likely to be the largest Powerfest to date, as the mid-2019 edition recorded just under $29 million for 275 tournaments. The current Powerfest XI is going to blow those numbers out of the water.
The remainder of the schedule is on the PartyPoker website.
#POWERFEST is now extended to Sunday 19th April, and the full series is now a huge $60m GTD. https://t.co/ekNkOtgMs8 pic.twitter.com/oQkx3ouWwK

— partypoker (@partypoker) April 3, 2020
Related Articles