North Dakota Voters Could Decide Online Poker
By
February 14th, 2021 | Last updated on February 14th, 2021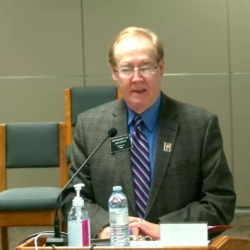 Prior to 2021, most online gambling industry analysts would not have put North Dakota on the list of possible legal online poker states. States like Kentucky and New York, Connecticut and Illinois have been front of mind for most people.
But then North Dakota just came waltzing right in without a care in the world. And it is certainly turning heads with its online poker bill, moving right along and passing a committee this week, with State Representative Jim Kasper accompanying it.
North Dakota, how YOU doin'?
Looking Vaguely Familiar
While most won't recognize North Dakota as a potential online poker powerhouse, PokerNews did recognize it. Chad Holloway recalled that Representative Kasper became interested in poker as many others, after Chris Moneymaker won the WSOP Main Event in 2003. More than that, however, Kasper introduced a bill in 2005 to legalize online poker. It passed the House.
In fact, to put power behind the bill, Kasper invited poker players like 2004 WSOP Main Event champion Greg Raymer and Allyn Jaffrey Shulman to testify before a Senate committee in 2005. Not only that, they hosted a live poker education session and poker tournament for lawmakers.
Despite the good times, though, North Dakota Senators left a note on the nightstand with a 43-3 vote against the bill. They were wary of potential conflicts with the US Wire Act, issues that the US Justice Department did warn could be problematic.
Looking Good After All These Years
Kasper never forgot about online poker, but the industry has been in flux for many years. No state in America legalized online poker prior to the 2011 Wire Act opinion from the US Department of Justice's Office of Legal Counsel, which stated that the Wire Act pertained only to sports betting, not lotteries or other forms of online gambling.
Even so, Black Friday put everyone on notice, and even as states like New Jersey and Nevada legalized online poker within their borders, Kasper didn't feel that North Dakota lawmakers were ready to join the club.
Kasper saw a change in 2020 – several changes, in fact.
First, the coronavirus pandemic showed that land-based gambling has its limitations. The states with online gambling components weathered the pandemic shutdowns much better than others. While all lawmakers might not be prepared for full-fledged online gambling options, Kasper can defend poker all day long as a game of skill.
Second, more states joined Nevada, New Jersey, and Delaware in recent years. Pennsylvania launched its first state-regulated online poker site in 2019. Michigan and West Virginia legalized online poker, among other games, in 2019.
Third, after the Trump Administration threw the Wire Act interpretation into chaos in 2018, states with investments in – or plans to invest in – any form of online lottery or gambling fought back. They supported a lawsuit by the New Hampshire Lottery Commission that won in the US District Court. And in late 2020, the US Court of Appeals affirmed the ruling that the Wire Act pertains solely to sports betting.
Fourth, a lucrative online poker market came into view. For years, only New Jersey, Nevada, and Delaware offered online poker and connected one operator (WSOP) through an interstate poker liquidity agreement. But Pennsylvania added intrigue, and Michigan passed an amendment to ensure poker liquidity going forward. A large interstate poker market has great potential.
An Effort to Reconnect
On January 14, Kasper introduced HCR.3012, "a concurrent resolution to amend and reenact section 25 of article XI of the Constitution of North Dakota, relating to authorizing internet live poker." The sponsors of the bill were:
–Rep. James Kasper (R)

–Rep. Claire Cory (R)

–Rep. Jason Dockter (R)

–Rep. Scott Louser (R)

–Rep. Corey Mock (D)

–Rep. Matthew Ruby (R)
The bill is considered bipartisan with only one Republican, as the North Dakota House of Representatives has 80 Republican members and only 14 Democratic members.
The first reading of HCR.3012 on January 14 was in the Judiciary Committee.
According to the resolution document, the bill seeks to authorize internet poker in North Dakota, licensed and regulated by the state. If the House and Senate approve it, it will go to the voters of North Dakota in the 2022 general election.
First Committee Hearing
The first House Judiciary Committee meeting for the bill happened on February 9. Kasper recalled his past efforts and explained the more recent Wire Act opinions. In addition, he noted that he spoke to current North Dakota Attorney General Wayne Stenehjem about HCR.3012 and received confirmation of its legality under the current interpretation of the Wire Act.
Kasper explained how internet poker works and how companies protect players. He reminisced about his lifelong love of poker and the new interest in online games via the Moneymaker Effect. Then, he discussed the states that already legalized online poker and how interstate liquidity would work.
Currently, Kasper explained, people play subscription-based online poker, but North Dakota law prohibits any other kind of online poker.
Essentially, Kasper asked for the opportunity to put the issue before the people of the state.
A Little Clarification Needed
There are a few things that Kasper might want to convey to other members of the committee and the state legislature before votes.
–Calling the game "internet live poker" is confusing. Live poker means the kind of games played in person at a casino or card room, while internet poker is solely on the internet.

–Online poker operators often have servers in other countries, but when they set up operations in a state, regulations often require that they set up servers in that state. Online poker operators in the new US market are flexible.

–The multi-state agreement needs to be specified in the final draft of the bill.

–Subscription online poker sites and current offshore sites that cater to US customers are very different.

–The Wire Act decision came in 2020, and the Appeals Court affirmed it just this past December. And the Biden Administration is unlikely to appeal to the US Supreme Court.

–There are numerous states that would be happy to discuss necessary regulations and oversight, states that already operate their systems effectively.

–Native American tribes must be included in the negotiations, and a stipulation must be included in the bill to authorize an amendment to their compacts with the state. Tribes in North Dakota cannot offer online poker for real money at this time. Michigan may be able to shed light on this process, as their bill did accommodate and work with tribes.

–Players may not have limits on their online poker play, but there are many ways that sites allow players to limit their play as part of responsible gambling programs.
Collette Brown testified in opposition to the bill. She is the Gaming Commission Executive Director of the Gaming Regulations and Compliance Department at the Spirit Lake Casino and Resort Devil's Lake. She was very confused about online poker. She mentioned games like Three-Card Poker and other casino table games, not true poker.
Most of her concerns are handled by the online poker operators themselves. No licenses will be issued without investigations and background checks of every potential poker operator. Every other issue she addressed is very commonplace in other states, and any state regulator can answer all of those questions.
Essentially, she requested a study on the issue.
Mark Levitan, Legal Counsel for the Turtle Mountain Band of Chippewa Indians, spoke in opposition due to the structure of the proposed revenue structure. He complained that most of the revenue will go to companies that are based out of state, without the bulk of the revenue benefiting North Dakota.
Levitan mistakenly assumed that most online poker operations involve house-banked games, but he misunderstood that poker is a player-to-player game. He, like Brown, is mistaking table game casino poker for online poker.
He also feels that online poker should be solely a tribal offering.
Online poker in the cards for North Dakota? https://t.co/bzez8XPtmR

— WDAY TV News (@WDAYnews) January 24, 2021
Companion Bill to Original
Importantly, there is a companion bill to Kasper's HCR.3012. That bill is HB.1389, proposed by all of the above-listed members except Docktor. This bill will create a new chapter of the North Dakota Century Code to amend the definition of gambling and offer a few details.
The bill officially classifies "internet live poker" as a "lawful contest of skill" in the state code. Other than that, there are issues. Let's start with the definitions section:
-1. "'Adjusted gross proceeds' means any sums wagered in an internet live poker hand which may be retained by the licensed internet live poker establishment as compensation." I believe they mean gross gaming revenue, but it's unclear.

-2. This is where they define "internet live poker" in a way that should simply be internet poker.

-3. "'Licensed internet live poker establishment' means a premises licensed by the attorney general pursuant to this chapter to conduct games of internet live poker." Internet live poker is, again, misleading, especially when paired with a word like premises, which tends to mean a land-based establishment.
In the taxation section, everything is a bit confusing.
-4. Not only are the taxes on "adjusted gross proceeds" very low, the idea of charging a site a $10 annual licensing fee for every player who plays on the site is unusual. It also gives the state absolutely no idea of how much it will garner in revenue each year as it will depend on every single person who logs on.
As for the "internet live poker proceeds fund," that is for the state to decide, along with tribes, especially considering their aforementioned concerns.
North Dakota could be one step closer to legalizing online poker.https://t.co/BhU0pPnFcm

— Valley News Live (@ValleyNewsLive) February 10, 2021
Kasper Needs Assistance
In the above video interview with Chad Holloway, Kasper admitted that he could use some industry experts to speak to other lawmakers and testify about online poker.
Wouldn't it be nice to have an organization that lobbies for online poker in state legislatures and gives professional testimony in such situations? But I digress…
Hopefully, there are poker players or industry executives who will offer to testify. As evidenced by my notes in this article, there are numerous issues that need to be addressed with regard to the current bills. It seems Kasper is open to this.
There is great potential in putting North Dakota on the internet poker map in the burgeoning US market. If the poker community can help Rep. Kasper do this right, it might help spread poker to new parts of the country in the next couple of years.
Related Articles