New Michigan Bill and Hearing Appear This Week
By
September 13th, 2017 | Last updated on July 27th, 2018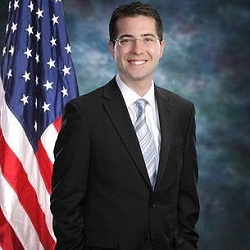 Michigan Rep. Brandt Iden sponsors newest bill
Say hello again to Michigan, a state with a real chance of passing online gaming legislation this year. No, this isn't another article about how Pennsylvania is kicking the ball down the road again or New York sending mixed messages about online poker safety. This is Michigan.
While other states have been examining online poker and gaming legislation for much too long without action – ahem, California – Michigan came out of the gate in 2016 with a solid bill from State Senator Mike Kowall. That piece of legislation – the Lawful Internet Gaming Act – sailed through the Senate Regulatory Reform Committee but died on the floor of the Senate when it wasn't pushed ahead for a vote.
Ups and Downs of 2017
Kowall did the same this year, only he made sure to amend his bill to make sure it gave more consideration to tribal nations and other interested parties. It went through the same process as last year, passing the same committee and then going to the Senate floor to die. But SB.203 wasn't actually dead.
By the first week of August, Kowall's office confirmed that a new draft of the bill was in progress. Serious discussions were taking place to allow for fair participation of Native American gaming interests in Michigan. One of the changes to the bill reportedly included a 12-month moratorium on land-based casino launches of online gaming sites in order to give tribes enough time to amend state compacts and prepare their own sites.
Kowall's legislative director, Dave Biswas, told Legal US Poker Sites in August that significant progress had been made on the new draft and was being reviewed by all parties. The legislature was technically on its summer break at the time, though, so it was a given that no official movement would take place until legislators returned to work in September.
Fall Flurry of Activity?
As the online poker industry awaited Kowall's updated bill, another surprise came from Michigan. The Poker Players Alliance tweeted that an online gaming bill was to be introduced in the House this week, followed by a House hearing.
New #iGaming bill will be intro'd in the Michigan House of Reps tmrw. A hearing on the bill will happen the very next day. I'll testify. -JP

— PokerPlayersAlliance (@ppapoker) September 11, 2017
HEARING: PPA will testify at a House hearing on new #iGaming bill in Michigan this Wednesday. Stay tuned for more information.

— PokerPlayersAlliance (@ppapoker) September 11, 2017
PPA Executive Director John Pappas told Legal US Poker Sites, "The bill is being introduced by Rep. Brandt Iden, who is chairman of the House Regulatory Reform Committee. The hearing is information in nature. I don't expect there to be a vote." He also noted, "This will be the first time iGaming will be discussed in the Michigan House of Representatives."
The website for the Michigan House confirmed the meeting, which is set for 10:30am local time on Wednesday, September 13. On the agenda for the committee to discuss are a variety of topics, including online gaming, which was just added as Iden posted the formal legislation on Tuesday, September 12.
Introducing HB.4926
Iden's bill is HB.4926 and is co-sponsored by Representatives Kathy Crawford, Robert Kosowsk, and Klint Kesto. Kosowsk is the only Democrat among the four. The legislation is referred to as the Lawful Internet Gaming Act, with the name identical to Kowall's bill.
@BrandtIden Thank you for sponsoring the bill to license & regulate #poker & gaming websites. #ConsumerProtection #MIBudget

— Rich Muny (@RichMuny) September 12, 2017
Most of core of the House and Senate online gaming bills are similar in detail, with the primary exception of the tax rate; Kowall proposed a 10% rate while Iden wants 15%. The bill is less than 20 pages in length but covers everything from age requirements to penalties for rules violations, creation of an internet gaming fund, establishment of a division of internet gaming, and duties of all government entities with parts in the oversight of the industry.
New #MI House #iGaming bill draft a bit diff. than in-print Sen. companion. GGR tax rate for Detroits—15%—is higher than Sen. version (10%).

— Chris Krafcik (@CKrafcik) September 12, 2017
"Internet wagering on games of chance and games of skill is a core form of entertainment for millions of individuals worldwide. In multiple jurisdictions across the world, internet gaming is legal, regulated, and taxed, generating billions of dollars in revenue or governments," reads the second section of HB.4926. It then goes on to refer to the US Department of Justice decision regarding the Wire Act in 2011, which allowed states to legalize and regulate internet gaming, as well as the UIGEA of 2006.
Further, it states, "In order to protect residents of this state who wager on games of chance or skill through the internet and to capture revenues and create jobs generated from internet gaming, it is in the best interest of this state and its citizens to regulate this activity by authorizing and establishing a secure, responsible, fair, and legal system of internet gaming that complies with the United States Department of Justice's September 2011 opinion concerning 18 USC 1084."
That seems to cover most of the main talking points supporting the legalization of online poker and casino games. The PPA is likely to add to that in the hearing tomorrow by pointing to the great success of New Jersey's online gaming business thus far, including its growth and effective regulations.
Stay tuned for highlights from the Michigan House committee hearing and further developments in this state's movement toward regulated online poker.
Related Articles