Michigan Online Poker Not Likely Until 2021
By
January 23rd, 2020 | Last updated on January 23rd, 2020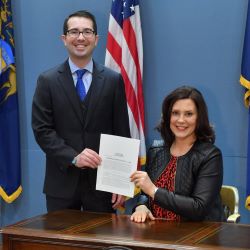 Online poker closed out 2019 in impressive fashion. PokerStars became the first online poker site to launch in Pennsylvania in November, New Jersey set new online gambling revenue records, and Michigan legalized online poker. Not a bad segue into 2020.
Michigan's official signal of future entry into the online gambling space was quite significant in the US market as it still succeeds but had failed to expand beyond just a few states.
It was also a long slog for lawmakers in Michigan who worked for years to legalize online poker and casino games. The final push required noteworthy compromises, but they got it done. State Representative Brandt Iden did much of the legwork for the past two years, and State Senator Curtis Hertel Jr bridged a contentious gap between Iden and Governor Gretchen Whitmer.
And on December 20, Whitmer signed the bill.
Cause for Celebration
On January 21, lawmakers who made the online gambling and sports betting bills happen for Michigan gathered for a ceremonial signing. Whitmer signed the legislation for cameras, and legislators were celebrated for their work.
Iden was at the center of the ceremony because of his aforementioned efforts to push the bills to their final approvals.
Rep. @BrandtIden's efforts to protect Michigan consumers and modernize the state's gaming laws were formally recognized and celebrated. Thank you for all your efforts to bring iGaming to MI! Photo via @MI_Republicans pic.twitter.com/529Y81KYVL

— iDEA Growth (@iDEA_Growth) January 22, 2020
The Republican Representative of Oshtemo Township in Kalamazoo County noted, "I'm grateful for this opportunity to bring everyone together and celebrate a great day for the state of Michigan. … Our students and schools will have more revenue because of these reforms – without raising general taxes. These reforms have been more than three years in the making, and I know they will benefit our state for years to come."
The revenue of which he spoke will come from online gaming sites regulated by the Michigan Gaming Control Board. Much of the tax revenue will go to support the state's public school system, while some will be reserved for improving public services.
I am proud of the incredible work that was done on gaming legislation, but most importantly I will forever be proud that fire fighters will be taken care of should they need it. Thank you @GovWhitmer pic.twitter.com/Eppqqw8nKt

— Senator Curtis Hertel (@CurtisHertelJr) January 22, 2020
Iden thanked the "countless number of people who worked a countless number of hours making these reforms a reality."
Estimating a Year of Preparation
Now that the laws are in place, the people who wish to use the new forms of gambling in Michigan must prepare to play the waiting game.
Most people familiar with the previous implementation of new gambling regulations in Michigan expect it to take approximately one year to solidify the rules for the industry – online poker, online casino games, sports betting, and fantasy sports. Michigan Gaming Control Board (MGCB) spokeswoman Mary Kay Bean told The Detroit News that the target for the completion of the rules is 2021.
Iden said he would like the timeline to be shorter, but he is realistic. He has also paid attention to the burgeoning online gambling sectors in other states and knows that there is a decent amount of time required to get it right.
In-person sports betting at the Detroit casinos, on the other hand, will likely begin this spring. But, as Iden noted, the larger amounts of tax revenue will not flow until the online component is implemented. "Until we're fully integrated online, Iden said, "I don't think we'll be able to capitalize on revenue. But from a consumer protection standpoint, from getting players interested, certainly getting up and going in person in helpful."
According to the MGCB, there is a rules process that requires a public hearing, public comments, and regulatory impact statements. In addition, the rules must then lead to a licensing process, which will include vetting and ultimately issuing those licenses.
Pennsylvania took approximately two years before its first online poker site was able to launch, but that seemed to be an excessive amount of time. One year is more realistic, per most analysts and experts.
Some sites are already doing the preparatory work to be ready for the licensing process. For example, PokerStars signed a partnership with the Traverse Bay Bands of Odawa Indians Gaming Authority to offer all of its Michigan-based gambling services just days into 2020. Thus far, PokerStars is the only online poker operator with a deal in place. (PokerStars is the only online poker site live in Pennsylvania thus far.)
The MGCB will dictate the timeline, which should become clearer in the months ahead.
We intend to seek approval to offer our online gaming products in Michigan if and when the state regulates and establishes a reasonable licensing regime. We will provide more information as soon as it is available.

— PokerStars (@PokerStars) January 21, 2020
Related Articles