Michigan Online Gaming More Likely in 2018
By
September 26th, 2017 | Last updated on July 29th, 2018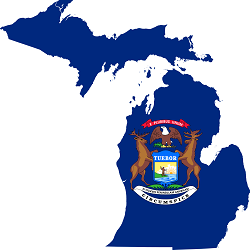 Michigan pushes and pulls for online gaming bills
It was exciting for online poker fans to imagine a state like Michigan legalizing and regulating games this year. Legislators only began introducing bills last year, and momentum increased two-fold in 2017. But even with more support and compromises, it is unlikely to happen this year.
The good news, however, is that online gaming is much more likely to happen for Michigan in 2018.
Impressive Movement in 2017
For the second year in a row, State Senator Mike Kowall introduced a bill to legalize and regulate online poker and casino games in Michigan. SB.203 was sponsored by a bipartisan group of six senators, and it passed the Senate Regulatory Reform Committee by a vote of 7-to-1.
The bill then virtually disappeared from most radars until word came in July that the bill was in the revision process to make changes per discussions with Native American tribes and land-based casino operators. There was talk of a 12-month moratorium on the latter so tribes could renegotiate their gambling compacts with the state and start on an even playing field with other casinos.
Meanwhile, another legislator decided to introduce a companion bill in the House. State Representative Brandt Iden and a bipartisan group of co-sponsors put forth HB.4926, the Lawful Internet Gaming Act. That name sounds familiar because it is also the name of Kowall's legislation in the Senate.
An informational hearing was immediately held to discuss the merits of the bill and address any issues, in addition to allowing other members of the House Regulatory Reform Committee to get a first look at online gaming, an issue with which many of them had no familiarity. That hearing was generally positive, and doubts cast on the bill by a representative of Sheldon Adelson's Las Vegas Sands were immediately countered by Poker Players Alliance Executive Director John Pappas. And Iden himself was very positive about online gaming, noting that it "will become law at some stage" and is needed to protect citizens from unregulated online gambling websites.
More Positive Press
CardPlayer published an interview with Iden, who took the opportunity to express even more optimism. "It's my desire to get it done this year," he said. "We have plenty of time in November and December to get this out of the House and out of the Senate." He thinks the House may be the first to pass it, as more senators need to be recruited to support the bill.
Thank you for supporting HB4926, the online #poker bill! https://t.co/BSUTkNp3YN

— Rich Muny (@RichMuny) September 25, 2017
Further, he has plans for the coming weeks. "Hopefully, over the course of the next three weeks or so, the timeline I put on this, we can get this bill to where it needs to be and hopefully get it out of committee by the end of October." Discussions are currently underway to make any changes necessary to accommodate the tribes and brick-and-mortar casinos.
Iden said his main focus is the consumer protection issue and ensuring all parties involved are pleased with the bills that move forward. He mentioned possibly factoring online gaming revenue into the 2018-2019 budget next year.
Importantly, Iden noted that he has been familiar with the issue for "quite some time" and has had conversations with Kowall to coordinate their efforts. His concern about black market online sites comes from speaking with college students at a nearby university, many of whom play online poker in the current illegal environment.
Kowall Not So Positive
The air is not filled with as much positive energy on the Senate side. Kowall is not optimistic that the divisions between tribes and land-based operators can be repaired in time to submit and pass a revised bill this year. Even considering the positive momentum on the House side, Kowall is more doubtful of the chances of substantial progress in 2017.
Kowall told Gambling Compliance said a revised SB.203 is still on hold, despite significant changes from its original wording. He also noted that discussions among interested parties are "very slow" and will continue to be slow.
#MI #iGaming: Sen. bill sponsor not optimstc. re: near-term action; sources not optmstc. re: House breakthrough. https://t.co/bTAhh5wY1q ($)

— Chris Krafcik (@CKrafcik) September 26, 2017
Diagnosis: 2018
Despite Iden's determination, Kowall seems to be experiencing more pushback on the Senate side. This does not bode well for online gaming legalization in 2017.
On the other hand, the efforts in both houses of the legislature are encouraging. With work to push HB.4926 on the House side, with or without a final vote, it indicates a sincere determination to gather allies and support. That momentum can very well carry over to the Senate in the coming months and leading into the new year.
Action from Kowall came in the first few months of 2017, so it is likely that he and Iden will be in a position to introduce online gambling legislation early in 2018. Forward movement could fulfill Iden's hopes of including online gaming revenue in next year's budget, which puts the bills on course to be passed and signed into law in the first half of next year.
Related Articles