Kelsall Claims WSOP Global Casino Championship Title
By
September 22nd, 2020 | Last updated on September 22nd, 2020
Home
»
Poker News
»
Kelsall Claims WSOP Global Casino Championship Title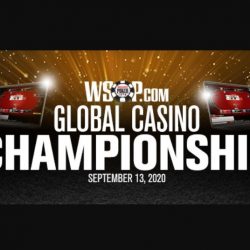 It happened last week. The Global Casino Championship took place online – in two American states – to close out the most unique WSOP Circuit season in the World Series of Poker's history.
There was no other way to do it, really. The WSOP had to host its Global Casino Championship online. And since the majority of its participants lived in the United States, it made sense to put the tournament online via the WSOP.com website. That meant that players had to be located in New Jersey or Nevada to play.
Everything is more difficult in a pandemic, evidently. This situation meant that few international players from the international WSOP Circuit in the 2019-2020 season participated.
In the end, however, the tournament was a success, and one player took home more than $275K and a WSOP gold bracelet for the win.
Ring Winners Unite
The annual WSOP Global Poker Championship is a chance for the top gold ring winners from each WSOP Circuit season – both domestic and international – to play for a gold bracelet. The WSOP puts up $1 million, and numerous players have the chance to complete:
–Casino Champion from every WSOP Circuit stop

–WSOP Circuit Main Event Champion from every stop

–Top 50 players on WSOP Circuit season leaderboard
Those players typically received a travel package to visit North Carolina, where Harrah's Cherokee would host the annual tournament. This year, however, the WSOP most likely accommodated players who wanted to be in New Jersey or Nevada to play the event online.
Other players could compete as well. Anyone who won a WSOP Circuit ring throughout the 2019-2020 season and top finishers in the WSOP Player of the Year rankings from the previous year could buy in. The benefit of doing so was a $1 million gift in the prize pool and the luxury of paying a $10K buy-in without any rake.
Eleven Hours, One Winner
On Sunday, September 13, a total of 130 players entered the WSOP Global Casino Championship. With the $1 million plus additional money from players who bought in, this was the final payout information:
–Total players: 130

–Total prize pool: $1,070,000

–Paid players: 20

–Minimum payout: $16,262
Hours after registration closed, Tyler Phillips exited in 22nd place, and then Adam Owen busted in 21st place on the official money bubble. David Larson was the first to cash, followed shortly after by Matt Stout in 17th place, Brian Altman in 16th, and Mike Matusow in tenth place. Daniel Negreanu then busted in ninth place on the final table bubble, though he still received $26,643.
The final table began with Shawn Daniels in the chip lead, Michael Wang in second, and Eric Ethans in third. The rest of the table consisted of – in descending chip order – Brad Albrinck, Michael Trivett, Andrew Kelsall, Sam Cosby, and Frank Marasco.
Short-stacked Marasco was the first to exit the final table, followed in short order by Ethans in a solid fall from second in chips. Cosby took sixth place. With five players remaining, Kelsall had jumped into the lead, followed closely by Trivett.
Daniels was on a short stack and busted in fifth place, Wang took fourth, and Albrinck took third. Heads-up play then began with Kelsall holding a two-to-one chip lead over Trivett. It didn't take long for Trivett to make a move with 7-4 on an A-7-4 flop, and Kelsall was there with 3-5. The deuce on the turn made the straight to beat two pair.
The final table payouts were:
1st place:  AJ "RandyLerch" Kelsall (at-large qualifier) $275,632

2nd place:  Michael Trivett (Planet Hollywood Main Event champion) $170,344

3rd place:  Brad Albrinck (qualifier) $120,161

4th place:  Michael Wang (Horseshoe Baltimore casino champion) $87,098

5th place:  Shawn Daniels (WSOP.com finale champion) $64,735

6th place:  Sam Cosby (at-large qualifier) $49,541

7th place:  Eric Ethans (at-large qualifier) $39,055

8th place:  Frank Marasco (WSOP.com finale Main Event champion) $31,672
All players who cashed in this event hailed from the United States, except Daniel Negreanu, who lives in the United States but claims Canada as his home country.
On an important note, Kelsall shared a message on social media that he wanted to get in touch with dealers who traveled with the WSOP Circuit before the pandemic so as to share his winnings.
If you didn't already know AJ Kelsall was a good dude here is proof. He is going out of his way to tip his circuit dealers after winning the @wsop national freeroll online. What an awesome gesture. #wsop #dealers RT for awareness @Kevmath pic.twitter.com/UFu20ofRvY

— Michael (@j9neverlose) September 16, 2020
Related Articles