Vanessa Kade Wins Sunday Million Anniversary for $1.5M
By
March 25th, 2021 | Last updated on March 25th, 2021
Home
»
Poker News
»
Vanessa Kade Wins Sunday Million Anniversary for $1.5M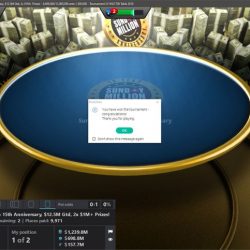 Merriam-Webster defines karma as a force generated by a person's actions, more broadly as a force affecting the events of one's life.
Canadian poker pro Vanessa Kade had been on the receiving end of vitriol since December 2020 when she expressed her opposition on social media to GGPoker signing Dan Bilzerian as a site ambassador. He singled her out of the many people who harshly criticized GGPoker and Bilzerian to insult her to his 1.6M Twitter followers.
In the months that followed, GGPoker cancelled her residual affiliate account. Well-known poker figures like Doug Polk singled her out for everything from "identity politics" to being "desperate to be 'woke' at any cost." This was a result of her criticizing GGPoker for its "effort" to recognize International Women's Day while keeping Bilzerian on the payroll. While numerous other women spoke up on the issue, Kade received the majority of the hateful comments. Everyone from GGPoker to Polk set Kade up as the target.
Nevertheless, she persisted.
Kade played poker. It is her chosen career. She has been playing professionally for years.
Last week, she completed a year-long conversation with Americas Cardroom on the Winning Poker Network that resulted in her signing on as the newest ACR ambassador.
The weekend following that signing, she played a lot on ACR, as usual, but she also played a massive tournament on PokerStars. It was the 15th anniversary of the most iconic online poker tournament in history – the Sunday Million. The event had a buy-in of $215 and guaranteed a $12.5M prize pool.
She won it.
This, ladies and gentlemen, is karma at its most satisfying.
Sunday Million 15th Anniversary
It started in 2006, as the poker boom was in full swing. PokerStars had been rising to the top of the online poker world and created a tournament for the biggest day of the online poker week. The Sunday Million required a $215 buy-in (though it did vary somewhat through the years) and guaranteed $1M in the prize pool. The tournament drew 5,893 players to surpass that guarantee and push that pool over $1.1M.
No matter what happened in the poker world, there were always enough players on the dot-com site to make the Sunday Million a weekly occurrence. It has always been competitive, always one of the tournaments that any online poker pro wanted to win…at least once.
This year, PokerStars wanted to celebrate the 15th birthday of its Sunday Million. It kept the guarantee at $12.5M – same as last year – and awarded about $500K worth of tickets via promotions in the weeks leading up to it.
Vanessa Kade was one of many who bought in to take a shot at the title.
The final numbers for the tournament were outstanding:
–Total entries: 69,876 (unique players 45,765 + reentries 24,111)

–Total prize pool: $13,975,200 (well past $12.5M guarantee)

–Total players paid: 9,971

–Minimum payout: $412.26

–Minimum final table payout: $72,131
With so many players, PokerStars set up this Sunday Million for multiple days. Day 1 ended with more than 12,750 players still in the game. Day 2 played down to just 65 players. They were set to make at least $10K from their original investment.
Tuesday Million and a Half
Those 65 players virtually returned on Tuesday, March 23. Kade, playing as "Niffller," was 13th on the leaderboard. And a few hours later, one table remained. Ikkedus was the chip leader, and Niffller was seventh out of the final nine chip stacks.
This is not real life.

— Vanessa Kade (@VanessaKade) March 23, 2021
PokerStars live-blogged the action.
Talibenes started strong by taking the chip lead away from ikkedus and players began to bust. Niffller worked a short-ish stack for a while, doubling up when necessary. She climbed into second place in the chip counts by eliminating malinga in sixth place. Even so, Talibenes had a massive chip lead over her and everyone else at that table.
By the time four-handed play began, all but PanchoVetin indicated an interest in seeing some chip-chop numbers. Often, the top finishers in a tournament like the Sunday Million – especially an edition like this one – agree on a payout deal to secure money based on their chip counts. PanchoVetin didn't care to do it, so they didn't look at those numbers.
Niffller then doubled through Talibenes to get closer to the chip lead that the latter held for so long. Kade lost a little ground but eliminated Transylvanian in fourth place. PanchoVetin doubled through her but remained very short-stacked.
Talibenes then began to experience some internet troubles. He disconnected from the game briefly, during which time Niffller proposed that she and PanchoVetin do something to stop play until Talibenes could secure a connection. PanchoVetin didn't respond, so they continued play, and Talibenes did return in short order.
Kade's courtesy did not go unnoticed.
PanchoVetin then doubled through Talibenes twice and jumped into the lead. All three players were relatively close, though, and exchanged the lead. As Talibenes lost ground, Niffller doubled through PanchoVetin to claim the lead. She then eliminated PanchoVetin in third place.
Niffller took 1.2B chips into heads-up play against Talibenes' 183M stack. Two hands later, it was over. Talibenes got it in with K-9, but Niffller called with pocket eights that held up to a nerve-wracking Q-J-3-A-5 board.
The $1.5M moment. 👇

Congratulations to @VanessaKade on winning the #SundayMillion 15th Anniversary. 👏 pic.twitter.com/F5i2PRrPaK

— PokerStars (@PokerStars) March 23, 2021
Vanessa Kade won the biggest tournament of her life, one of the biggest tournaments in poker. She did it without a deal, winning it straight up for the title and more than $1.5M.
-1st place: Vanessa "Niffller" Kade (Canada) $1,514,920

-2nd place: Talibenes (Poland) $1,035,358

-3rd place: PanchoVetin (Bulgaria) $707,640

-4th place: Transylvanian (Romania) $483,652

-5th place: peu3ep (Russia) $330,564

-6th place: malinga (Norway) $225,930

-7th place: iddedus (Netherlands) $154,416

-8th place: kefirchik106 (Russia) $105,538

-9th place: Vvlankov (Russia) $72,132
This is a replay of Day 3 of the Sunday Million. The final table begins at 2:56:00:
Kade says she is still staring at the winning screen saying that she won $1.5M…more than 24 hours later. She said she may not ever close the screen until PokerStars forces her to. She is on cloud nine and still trying to soak the meaning of $1.5M and the congratulations still pouring in.
She is saying nothing about karma. For her, this is about years and years of poker study, dedication, and hard work.
As someone who followed her for the past year or so and even more closely in the past six months, I will say that she endured a lot on social media platforms alone. For all of the people who claimed she couldn't play poker (knowing nothing about her game), asserted that she obtained a sponsorship from a controversy, and said she just wanted some attention, this win is the ultimate clapback.
And I believe it is karma.
We just beat a field of 69,876 to win $1.5 Million.

It feels impossible.
This is the best day of my life.
It's not close.

All the pain was worth it, the dream is real. ♥️ pic.twitter.com/D0GKZSRhNl

— Vanessa Kade (@VanessaKade) March 23, 2021
Related Articles