Illinois May Take Another Look at Online Gaming
By
October 24th, 2017 | Last updated on July 29th, 2018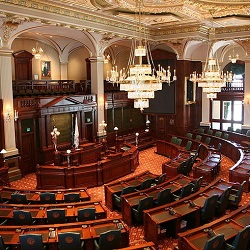 Illinois House could pass online gaming bill this week
Oh, hello, Illinois!
This is a state that moves in and out of online gaming talks like Phil Ivey appears in the live poker scene. One never knows if Ivey is going to stay past that one tournament or disappear back to the other side of the world. Online gaming legislation in Illinois is almost as mysterious.
Online poker fans are so hopeful for any possible movement in the push to legalize the games in any state besides Nevada, Delaware, and new Jersey that they should at least take note of last week's news from Illinois. The bills that first appeared in May and then again in June are back for a late fall session in the Illinois legislature.
What Bills?
Back in May of 2017, a smattering of online gaming bills showed promise. In particular, S.0208 in the Senate and H.0479 in the House were on the move to legalize online gaming in Illinois. Both bills sought to amend the Riverboat Gambling Act to allow those casino operators to apply for licenses and operate online gaming under the supervision of the Illinois Gaming Board.
The Senate bill not only passed through committees and arrived on the floor for a vote, the Senate actually passed S.0208 by a vote of 42-10 on May 31. It seemed that Rush Street Interactive in coordination with Rivers Casino provided the momentum for the legislation, but the House was surprised by the quick action and decided to hold off on a vote.
However, the House was willing to discuss H.0479. It was referred to the House Executive Committee for a hearing in late June, and the Poker Players Alliance was scheduled to participate with some pro-online poker testimony. But the hearing was first rescheduled and then cancelled altogether for unknown reasons. PPA Executive Director John Pappas speculated that legislators in the House were only prepared to discuss and possibly legalize daily fantasy sports (DFS), but they were opposed to considering online gaming – poker and casino games – only. Pappas assumed there would be another hearing scheduled for July or August, but that never came to pass.
New Possibilities in October
As reported by Online Poker Report last week, several bills were on the list of possibilities to be considered during a veto session that begins this week. Essentially, legislators are able to take a second look at bills that the governor vetoed, and if there are enough votes, they can attempt to override and pass the bills. They can also take up other legislation to finalize issues before the end of the year.
There's also possible movement on DFS and online gambling bill during veto session Illinois. Details there are sketchy as well right now.

— Dustin Gouker (@DustinGouker) October 17, 2017
One of those bills is H.0479 that the House neglected to discuss after the Senate passed its version of the bill to legalize online gaming. Two other bills – S.209 and S.1531 – are also on the list, and they could serve as vehicles to do the same for online gaming and/or DFS.
Passing some form of online gambling legislation this year would make it easier to recognize that new revenue in the early months of next year when it comes time to begin putting together the 2018-2019 budget. With so many problems plaguing the state for the past few years with regard to budget balancing, the idea of having a few extra million dollars to be included would be a positive step.
The time to take action is short, though. While there are always backroom discussions happening with some of the leaders in the House and Senate, the official legislature is only scheduled to meet for three days this week (October 24-26) and another three days next month (November 7-9). That leaves little time for hearings or negotiations, which reduces the possibility that any of the bills will pass.
The mere opportunity to put the topic back in front of legislatures, however, is a positive development. While Illinois was never on the list of "very likely" states to legalize online poker and casino games, the push from Rivers Casino and possibly others could be enough to push it over the edge and make online gambling a reality.
Keep those eyes and ears open for news in the coming days and weeks.
If Illinois wanted to make more revenue It's time they allowed iPoker! Give the people what they want instead of taxation!

— Stopit Donk (@Stopitdonk) October 23, 2017
Related Articles