Could Illinois Be a Summer Online Poker Surprise?
By
June 27th, 2017 | Last updated on July 18th, 2018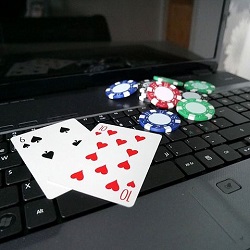 Illinois online gambling remains in the legislative cards
The online poker community has put a great deal of focus on states like Pennsylvania and New York in 2017, as they have shown the most promising indications of legalizing and regulating online gambling. Meanwhile, however, Illinois was working on some bills of its own.
Illinois crashed the party in May of this year with not one but several online gambling-related bills. Boom!
In fact, only one of the initial four Senate bills looked promising to online poker fans, and one has stayed on the radar of enough legislators to become a topic during this week's special legislative session. And due to the current budget situation and dire need for revenue in Illinois, that one bill has a chance to become law.
How Did Illinois Jump into the Mix?
An interest in online poker for Illinois players first surfaced in 2012. The bill from Senate President John Cullerton gained no traction but brought the subject to the attention of legislators. The following year, online gambling was added included in the Chicago Casino Development Act but removed due to objections by a horse racing organization. Cullerton put the subject up for a hearing in 2014, but the discussion failed to translate into action.
Suddenly, several bills surfaced in 2017. The smattering of legislation covered online gambling, expanded land-based gambling, and daily fantasy sports. But there was one particular bill – S.0208 on the Senate side and companion H.0479 on the House side – that seemed to have momentum, as it handily passed the Senate by a vote of 42-10 on May 31.
According to the Chicago Tribune, Rush Street Interactive was behind the push. The online gambling business is affiliated with Rivers Casino in Des Plaines, and the casino's owner has been a significant campaign donor for 20 years, donating more than $500,000 to legislators on both sides of the aisle.
Considering recent efforts to expand gambling revenue in Illinois, legalize daily fantasy sports, and generate income for troubled state coffers, the bill and its quick passage was not a complete shock. However, some legislators were taken aback by the speed with which it was introduced and rushed through to a vote with no hearings or debates.
Current Standing for Special Session
The special session was required in Illinois because of an unfinished budget deal, as Governor Bruce Rauner faced serious backlash from voters at the idea of the state going a third year without a budget. He wanted a final and approved budget before July 1, but the first days of the special session generated little success, as houses adjourned early and exhibited significant partisan rhetoric.
On Tuesday, June 27, things may change via a committee hearing. H.0479 has been referred to the House Executive Committee, which is providing an opportunity for testimony and debate regarding the DFS and online gambling tenets of the bill. And set to testify is John Pappas, Executive Director of the Poker Players Alliance. He will make the case for online gambling as a tool to create revenue, boost land-based entities, and protect consumers who are currently playing on unregulated sites.
I will testify before the Illinois House Executive Committee on merits of regulating #iPoker and #iGaming tomorrow afternoon. Stay tuned -JP

— PokerPlayersAlliance (@ppapoker) June 26, 2017
Bill Details
Currently, H.0479 has six sponsors supporting the bill, with Democratic Representative Michael Zalewski as its proponent in the House. The Senate sponsors include mostly Democrats – Senators Kwame Raoul, Steve Stadelman, Pat McGuire, and Napoleon Harris – and one Republican, Senator Dave Syverson.
The title of the bill is a bit misleading as "An Act to renew the Great Seal of State." It will change the date on the state seal to reflect a revised date of Illinois' statehood. What does that have to do with online gambling or DFS? Nothing.
However, there is a pertinent amendment to the bill. Senate Amendment 1 is multi-faceted. It would create the Fantasy Sports Contest Act, which would authorize DFS in Illinois and grant licensing powers and oversight to the Illinois Gaming Board. Second, it would also create the Internet Gaming Act to allow internet gambling, including poker and casino games. The law would create a Division of Internet Gaming to report to the Illinois Gaming Board, and said division would license and oversee online gambling.
Further, the Internet Gaming Act boasts of relatively low rates and fees in its current wording. The initial licensing fee would be $10 million as an advance payment of taxes owed from subsequent activities. Online poker operators would be required to pay a 15% tax on internet poker and 10% on casino games. Licenses will be granted for five-year terms to casinos, horse racing tracks, and other select wagering entities as outlined in the bill.
It should be noted that the bill is still open to changes, meaning that legislators have the ability to change any part of it, such as the fees, taxes, licensing requirements, and other details. In fact, they will be able to omit DFS or online gambling from the bill. Or they can pass it as it stands.
Hearing May Give Clues
With only a few days remaining in the Illinois special session, expeditious movement will be required. Thus, the Tuesday hearing this week may give some indication as to the feeling of the legislators and the next steps for the bill.
Stay tuned for updates from the hearing, Pappas' reactions from the scene, and news reports.
Related Articles