Global Glance: PartyPoker Ready for EU, Spain Benefits
By
June 2nd, 2018 | Last updated on October 19th, 2018
Home
»
Poker News
»
Global Glance: PartyPoker Ready for EU, Spain Benefits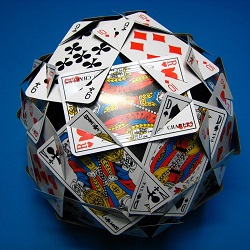 European online poker dominates global news
The weekly Global Glance looks at the online poker scene around the world. What happens with online poker and gambling beyond America's borders can and often does impact the state of online poker in the United States.
The big news is that PartyPoker is ready to be the second site that shares online poker liquidity in Europe, as it is scheduled to launch on Monday with a combined French-Spanish player pool. The Spanish online gaming regulator showed big profits from its poker sharing thus far, another notch on the liquidity belt. And the UKGC reported an uptick in remote gambling from 2016 to 2017. On the other end of the spectrum, Russia had to admit that it couldn't force YouTube to block gambling ads, while Switzerland proceeded with its vote on its new restrictive gambling law.
PartyPoker Preps for EU Launch
It has been several months since PokerStars became the first online poker operator to share liquidity per the European agreement signed last year. It started with Spain and France, with Portugal joining in May.
PartyPoker is ready to do the same, technically. Its French site, PMU, will be connecting with the Spanish site on Monday, June 4, on the PartyPoker.eu network. There is no Portuguese site at this time, so the connection will remain between France and Spain.
To celebrate, PartyPoker is offering some big perks for players in those countries, with crossover MTTs offering more than €1 million each week and more than €600K in Progressive Knockout MTTs alone. And per a recent decision, there will be no rake on the bounties in those PKO tournaments.
Thanks to increased player pools, there's over €1m guaranteed in weekly MTTs for players in France AND Spain as partypoker gears up for the BIG June 4th .eu launch. https://t.co/XQs3JJM43J |18+|Play responsibly|begambleaware pic.twitter.com/2W4qtvyanM

— partypoker (@partypoker) June 1, 2018
Players will also notice a significant software upgrade on the Spanish side and improvements to come this summer for the French.
The recent signing of Bertrand "ElkY" Grospellier is also coming into play, as the PartyPoker ambassador is going to be the face of the shared market. "I am extremely enthusiastic about joining PartyPoker to actively support their efforts to bring back the 'Poker First' mentality, live and online," he said in a statement. "Our goal is to provide players and fans with an experience they deserve worldwide. PartyPoker will be aiming to bring their ambition, expertise and successful model to the .eu market with some big announcements coming soon."
Je suis fier de vous annoncer l'arrivée de @FRpartypoker ♦️ sur le .eu le lundi 4 Juin, et pour fêter cela un bounty spécial de 5300€ pour celui ou celle qui m'éliminera ? du Main Event a 109€.

Hâte de rejouer avec vous, rendez vous ce lundi !https://t.co/8oiQiIKa70 pic.twitter.com/wXDHtEHNw3

— ElkY (@elkypoker) May 31, 2018
Spain Benefits from Liquidity
The Spanish market has already benefited from its shared poker agreement with France. Since PokerStars has pulling French players together with the Spanish since late January, Spain is already showing the profits.
Spanish regulator DGOJ reported online poker revenue of €21.5 million in the first quarter of 2018. The massive growth was illustrated by a 30% cash game increase and 50% tournament boost.
In fact, all of Spain's online gambling revenue was up 27% to €163.3 million. Online casino was the most influential in that rise, as it increased 51% year-on-year.
Spain enjoys online revenue growth in Q1 https://t.co/37xDJys6mK pic.twitter.com/t72Xt4ylbm

— iGaming Business (@iGamingBusiness) June 1, 2018
Russia Blocked from Blocking
The Russian government recently took note of gambling advertisements on YouTube aimed at Russian players. And it set out to ban those ads and bring YouTube into compliance with Russian regulations.
However, the government's Federal Antimonopoly Service realized that it cannot force an international website like YouTube to comply with its national rules. The governmental group will issue a request to YouTube to stop all gambling ads aimed at Russians, but it does realize it is unlikely to happen.
Within its own borders, though, Russia continues its crackdown. Service provider Roskomnadzor announced it is blocking more than 250 users that use online gambling ads. This is per the Federal Antimonopoly Service's request.
Russia won't block gambling ads on YouTube #InTheSpotlightFGN #Russia #iGaming #Regulation https://t.co/GG3Z6b0MHh

— Focus Gaming News (@FocusGamingNews) May 29, 2018
Swiss Voters Support Ban
Switzerland is set to pass the Money Gaming Act that will ban non-Swiss online gambling operators from offering online poker and casino games to Swiss customers. Internet service providers will also be required to block access to those sites.
As it turns out, the majority of the Swiss people agree with the law. GfS Bern conducted a survey and found that 58% of its respondents back the new law, while only 37% were firmly opposed and 5% were undecided. This is likely a result of the government's campaign to garner public support. The opposition comes mainly from people under 30 and those affiliated with the right-leaning political parties.
A vote on the law is scheduled for June 10.
UKGC Shows Remote Gambling Rising
The UK Gambling Commission released statistics for the period of April 2016 to March 2017 showing growth of 0.7% but remote gaming increasing its market share by 1% to 35.2% with £4.9 billion. The remote industry continued to be dominated by online casino games, with sports betting also remaining strong.
The non-remote gaming sector was down 0.8%, which seemed to be related to a 3.2% decrease in betting shops and decreased numbers of gaming machines and licensed arcades.
UKGC statistics report that remote gambling remains resurgent https://t.co/mWPEowCiEU

— SBC NEWS (@SBCGAMINGNEWS) May 31, 2018
Related Articles