EvenBet Tries to Expand Poker with Cryptocurrency
By
August 17th, 2018 | Last updated on August 17th, 2018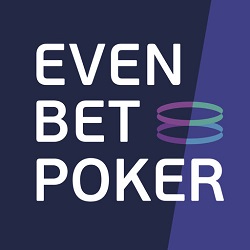 The idea that cryptocurrencies could expand the online poker market is nothing new. Gaming operators have been working with cryptocurrencies to varying degrees for several years.
Sites like SwC Poker, originally Seals with Clubs, operated solely on Bitcoin since it opened in 2011, but most other poker operators took a slower approach to integrating cryptocurrencies into their payment processing systems. A number of sites now include Bitcoin in their list of options for online poker deposits and withdrawals, while some have expanded to include Bitcoin Cash and Litecoin. And then there is the Winning Poker Network, which embraced dozens of cryptocurrencies for sites like Americas Cardroom to draw in even more customers in the new age of virtual payments.
However, there are several sites launched in the past year or so with a complete reliance on cryptocurrency, and those operators have yet to garner any real momentum in the online poker market.
EvenBet Aims to Be Different
Originally launched as Enterra, EvenBet Gaming is a gaming solutions developer and provider that offers software for sites on the iGaming Network and others. The range of platforms includes casino games and bookmaking, but online poker seems to be the current focus.
The hottest thing for us this summer is a launch of @NLC2Poker project – our first ever rake free poker solution based on their own crypto currency. The project ambassador is Johnny Chan, and it is on the news everywhere. Like, on Calvin Ayre: https://t.co/20lVPQGDYD

— EvenBet Gaming (@EvenbetGaming) August 14, 2018
The company claims to have launched 50 online poker and casino rooms in its nine years of existence, though only two of its listed customers are even vaguely familiar to many gaming experts. PokerDom is popular in the Russian market for its online poker offering, and Poker MIRA is available as a Facebook flash game. And EvenBet has its own EvenBet Poker site as well.
But EvenBet CEO Dmitry Starostenkov spoke to Gambling Insider recently about pushing online poker deeper into the cryptocurrency world. He believes that cryptocurrency-only poker sites are the key to the game's future and no-rake poker software has a special appeal to longtime players.
New thought leadership from EvenBet Gaming CEO Dmitry Starostenkov on Gambling Insider. If in doubts if there is a real growing market for crypto poker, go check it! https://t.co/dNSalrNzYk

— EvenBet Gaming (@EvenbetGaming) August 17, 2018
No-Rake NoLimitCoin Still Relatively New
In July, EvenBet launched NoLimitCoin Poker, an online poker room using its own cryptocurrency and operating on the EvenBet Poker network. The site boasts of no rake for its customers, meaning there is no fee or charge taken from the pots as profit for the operator. Instead, the site makes its money from its own currency, and the hope is that NoLimitCoin will also grow as a currency to benefit players as well.
The launch has been a bit rocky, however. The NoLimitCoin site itself is down for maintenance, and the mainstream poker media has not reported on or tracked the site's progress. Despite the endorsement from Johnny Chan, the buzz about the poker site is virtually nonexistent.
Are you new at NoLimitCoin Poker? Register now https://t.co/5tRo0PZl9O and use promo code 8888 to get extra 100 NLC2! Take advantage of this opportunity and play No Rake Poker! #NLC2Poker #cryptopoker #poker #free pic.twitter.com/u3MEZ9fZ16

— NoLimitCoin Poker (@NLC2Poker) August 14, 2018
Even so, Starostenkov believes this type of alternative internet poker option is the future. He points to TonyBet raising $30 million doing something similar. "Poker players are always open for fresh technologies and projects," he said. "They are always interested in trying something new. I think moving to crypto is a natural progression for them and they are familiar with cryptocurrencies."
One of the main benefits of a crypto-only poker site is that it escapes the limitations of ring-fenced markets, like the United States, France, Spain, Portugal, and others. EvenBet is focusing on the Scandinavian and Asian markets, as well as Brazil and other countries that seem to be clamoring for more online poker options.
Further, Starostenkov believes crypto-focused gaming sites can work for sports betting and daily fantasy sports (DFS) offerings as well. Further, he added, "I think blockchain will help a lot to build better technology and structure for this. It's not just crypto; it's things like micro-transactions and IoT devices, which will also grow." He hopes that regulators will soon embrace cryptocurrency and learn how to incorporate it into regulatory frameworks so sites like those from EvenBet will be welcomed.
To date, Starostenkov noted that NoLimitCoin Poker has been joined on the network by Pokercoin and Bet&Bit Poker, and they are in talks with several others planning to launch poker sites online by the end of the year. However, Pokercoin's Twitter account hasn't been updated since March, and Bet&Bit Poker's account has been silent since January.
See you at the tables, players! #poker #bitcoin #crypto #gamble @thegamblingnews @QuickGambling @TheRealKibonta #CryptoNews #bitcoinpoker pic.twitter.com/bbRCpsLmtw

— Bet&Bit (@betandbit) January 31, 2018
The poker community has long been discussing cryptocurrency as online poker's future, but the majority of players may not be ready to switch completely to virtual currency in order to give it a try.
Even so, EvenBet plans to keep trying to make cryptocurrency-based online poker the basis for the next poker boom.
Related Articles