Delaware Online Gaming Revenue Rose in 2018, Even Poker
By
January 18th, 2019 | Last updated on January 18th, 2019
Home
»
Poker News
»
Delaware Online Gaming Revenue Rose in 2018, Even Poker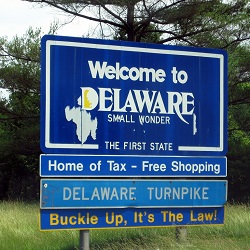 Three states have been offering legalized, state-licensed online poker within their borders for more than five years. Nevada doesn't provide public information about the revenue generated from online poker, but New Jersey and Delaware do through their in-state regulators. This gives analysts the opportunity to track online gaming success and online poker ups and downs within that industry.
New Jersey just released its December 2018 numbers and showed tremendous, continued success for its internet gaming sector, with revenue now in excess of $1 billion. Online poker, however, continues its yearly decline, even with the implementation of tri-state shared poker liquidity beginning in May 2018. On the other hand, that poker network seems to have helped Delaware, as its revenue downswing stopped; online poker even grew in Delaware in 2018.
Delaware may be a small market, especially in comparison to New Jersey, but its year-end numbers show that site sharing does work and online poker can find a happy place within that gaming market.
Growth All Around in 2018
The Delaware Lottery released its final 2018 revenue numbers this week, and it showed increased revenue for online poker rake and fees, which is tracked separately from online lottery and table games.
–2018 online poker:  $255,695.53

–2017 online poker:  $231,085.94

Year-on-year increase:  10.65% increase
The monthly numbers for 2018 showed an increase in May due to the implementation of tri-state online poker with Nevada and New Jersey, and those numbers stayed relatively steady – with the exception of October and November.
–January 2018:  $18,285.11

–February 2018:  $18,781.01

–March 2018:  $17,187.13

–April 2018:  $15,876.22

–May 2018:  $24,303.98

–June 2018:  $26,858.39

–July 2018:  $24,228.30

–August 2018:  $24,852.14

–September 2018:  $21,464.43

–October 2018:  $17,314.47

–November 2018:  $17,893.71

–December 2018:  $28,650.64
And as for the entirety of online gambling for 2018, the numbers were positive as well.
–2018 internet gaming:  $2,491,129

–2017 internet gaming:  $2,391,942

Year-on-year increase:  4.15% increase
Everything Looking Up Online
When looking at the last five full years of revenue, several things are obvious. First, the initial intrigue wore off quickly, as the dip from 2014 to 2015 was significant for online poker and all internet gaming. And while online gaming took a big jump upward in 2016, poker continued its slide and really took a hit in 2017, as did other forms of online games.
Have you played online poker? ? https://t.co/19uGqNNrfa

— The Delaware Lottery (@DELottery) November 7, 2018
However, the upswings for poker and the entire sector in 2018 is a good sign, especially since poker provided the largest percentage of growth. Even so, poker revenue for the three years prior to 2017 were significantly more beneficial, and it will take quite a bit of promotion – not to mention more interstate poker liquidity – to boost the market to the level at which it began.
2014 = $595,580 poker

($2,091,317 total internet gaming)

2015 = $392,401 poker

($1,798,840 total internet gaming)

2016 = $375,936 poker

($2,906,885 total internet gaming)

2017 = $231,086 poker

($2,391,941 total internet gaming)

2018 = $255,696

($2,491,129 total internet gaming)
Sharing is Caring
The development that could be of the greatest help to Delaware's online poker market is more shared liquidity. And this can only happen when Pennsylvania launches its online poker sites and begins talks with Nevada, New Jersey, and Delaware to connect players on shared sites. The larger cash games and tournaments will lead to larger guarantees and game choice, which will attract more players.
It is unclear if this will happen in 2019. Pennsylvania has yet to launch any of its online gaming sites or provide any estimated dates for testing. Many assume that the process will begin in the first quarter of 2019, but even if so, it will take several months of active play to work through any kinks and gain approval from the regulator to move forward. Even if talks for shared poker liquidity begin in the second or third quarter of 2019, which is optimistic, an agreement before the end of the year will still require preparations and testing before sites can share players.
Thus, we don't anticipate Pennsylvania entering the multi-state poker network until 2020.
Related Articles