Delaware Online Poker Could See Solid Upswing
By
July 10th, 2018 | Last updated on July 29th, 2018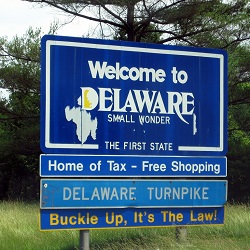 When Delaware legalized online poker, no one expected the little industry's revenue to substantially impact the state. The state has a population of less than one million people, ranking it 45th out of all 50 states in America. It was a boost for the new legalized framework for online poker in the US but not in the way that a market like New Jersey would be.
Delaware is also not particularly known for its vast array of gambling opportunities. There are several horseracing tracks, and pari-mutuel betting is allowed. Those three tracks do also offer casino games, like slot machines and table games, which makes them racinos – race tracks transformed into casinos.
This meant that the online gaming sites – which include internet poker, table games, and video lottery options – would be connected through those three racinos only. And since all are connected, the sites run on one software platform, and the player pools are connected. That platform – WSOP/888 – did connect with players in Nevada per a shared online poker liquidity agreement, which launched in late March 2015.
New developments in Delaware, however, might set the state's gaming industry on an upward trajectory, which could also help the online poker and gaming sector as well.
Delaware was first up with full blown sports betting outside Nevada a month ago. So how is the First State doing? https://t.co/Udo5WbG2qV

— KYW Newsradio (@KYWNewsradio) July 9, 2018
Shared Liquidity
In 2017, Delaware expanded its online poker capabilities via a shared liquidity agreement with Nevada and New Jersey. The inclusion of the largest online gaming market of the three was undoubtedly going to push Delaware's poker revenue higher.
That was evident not long after the actual launch of the tri-state poker market on the first of May 2018.
The snapshot statistic shows the growth of Delaware online poker from April to May:
–April 2018 online poker rake and fees:  $15,876.22

–May 2018 online poker rake and fees:  $24,303.98
It becomes even clearer that the tri-state network boosted Delaware by looking at all months of 2018:
–January 2018 online poker rake and fees:  $18,285.11

–February 2018 online poker rake and fees:  $18,781.01

–March 2018 online poker rake and fees:  $17,187.13

–April 2018 online poker rake and fees:  $15,876.22

–May 2018 online poker rake and fees:  $24,303.98
Delaware online poker had been on a continued downswing since its inception. By looking at the last two years on a monthly basis, the consistent decreases are evident.
–June 2016:  $36,310.95

–July 2016:  $33,745.73

–August 2016:  $29,155.08

–September 2016:  $34,654.15

–October 2016:  $26,045.50

–November 2016:  $23,056.88

–December 2016:  $25,911.15

–January 2017:  $25,474.33

–February 2017:  $19,367.78

–March 2017:  $17,715.38

–April 2017:  $19,280.01

–May 2017:  $20,693.45

–June 2017:  $18,027.21

–July 2017:  $22,376.19

–August 2017:  $17,834.89

–September 2017:  $18,442.62

–October 2017:  $15,117.27

–November 2017:  $18,495.40

–December 2017:  $18,261.41

–January 2018:  $18,285.11

–February 2018:  $18,781.01

–March 2018:  $17,187.13

–April 2018:  $15,876.22

–May 2018:  $24,303.98
The most recent month's rake and fees number for May 2018 was the highest since January 2017. The tri-state online poker network has clearly made a notable difference for the Delaware market.
Good Signs for Delaware
There are a number of events happening in Delaware that could inspire and influence the online gambling market in general, thereby having some – no matter how minimal – effect on internet poker revenue.
At the beginning of June, Delaware became the first state outside of Nevada to offer full-scale sports betting. This was enabled by the recent US Supreme Court decision that overturned PASPA (Professional and Amateur Sports Protection Act), allowing each state to legalize and regulate sports betting as they wished. Delaware was the state to grab that opportunity and run with it.
The launch of sports betting happened at its three racinos, which likely won't generate earth-shattering revenue. The state was one of only a handful of exceptions to PASPA in the first place, allowing it to offer parlay-style betting on football games previous to this ruling, but that betting has now expanded to the full realm of sports and related wagering. And according to Governor John Carney, "This is really about bringing visitors to our state, giving them things to do when they're here."
Placed the first legal single-game bet in #Delaware — $10 on the @Phillies to win tonight's game! ⚾️ pic.twitter.com/6lyJO9qlYa

— Governor John Carney (@JohnCarneyDE) June 5, 2018
And Carney wasn't done.
He also recently signed legislation to officially lower taxes for the three racinos. Licensing fees were also eliminated in the bill, as a part of the compromise between the racinos and lawmakers to provide some relief for the establishments.
Gov. Carney signs casino tax reliefhttps://t.co/1E8f10sUFW

— Sarah K Mueller (@SarahKatMueller) July 2, 2018
The changes in Delaware are no attempt to make the state into a gambling mecca. But for a small state, the addition of more revenue via sports betting, reduction of taxes for racinos, and full support of lawmakers means there is a good chance for Delaware to thrive within its own gambling framework.
It can also translate into more success for its online poker and casino games as well.
Related Articles