Can Michigan Legalize Online Gaming by June 21?
By
May 16th, 2018 | Last updated on October 23rd, 2018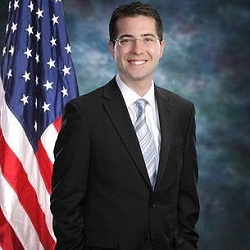 Iden remains confident of legalized online poker
Since Michigan State Representative Brandt Iden took up the issue of online gaming in 2017, he has been confident and persistent in passing legislation in an expeditious manner. He was quick to gather information and set goals.
Iden was also quick to set deadlines. His HB.4926 legislation, better known as the Lawful Internet Gaming Act, was going to pass in 2017, then he got more specific with a prediction of passage by Thanksgiving. Obviously, those deadlines were not met.
Now, Iden has prepared a new draft of HB.4926 and predicts that it will pass through the Michigan House before June 21, which is the end of the legislative session.
Optimism is welcome in the online poker world, but is it warranted?
ICYMI … It was reported last week that the Michigan House is trying to get a vote on #iPoker & #sportsbetting legislation. https://t.co/ruGpmt6cZV Conveniently, PPA has launched an advocacy page to urge lawmakers to vote YES. Take action now: https://t.co/0JUBTahPp6 pic.twitter.com/7ADqmQUfTv

— PokerPlayersAlliance (@ppapoker) May 7, 2018
A Long-Awaited New Draft
While the legislative page for HB.4926 remains unchanged since 2017, the new draft of the bill is available and listed as a substitute for HB.4926. The premise and introduction are the same:
A bill to create the lawful internet gaming act; to impose requirements for persons to engage in internet gaming; to create the division of internet gaming; to provide for the powers and duties of the division of internet gaming and other state governmental officers and entities; to impose fees; to impose a tax on the conduct of licensed internet gaming; to create the internet gaming fund; to prohibit certain acts in relation to internet gaming and to prescribe penalties for those violations; to require the promulgation of rules; and to provide remedies.
Some of the changes from the original wording include a change in the tax rate from 15% down to 8% and a compact provision for Native American tribes in Michigan to authorize the revisions of gaming compacts.
Iden told Online Poker Report, "A lot of the members have tribal gaming establishments in their districts, and I know they have been in conversations with their tribes about the bill. I wouldn't say we're at a point of total neutrality with them yet, but I continue to work with the tribes so they feel comfortable that, as the legislative process continues, their interests are being advocated."
Potential Opposition Remains
There will always be opposition to any gambling bill, especially from those unfamiliar with the multitude of ways with which gaming operators are able to protect players.
However, even though his draft is not yet official, Iden is facing pushback from the likes of the head of the Michigan State Department of Health and Human Services. Alia Lucas claims there is no way to keep children from playing the games and problem gambling will grow, despite data from states like New Jersey showing otherwise.
Michigan Family Forum Director of Research and Public Policy Dan Jarvis penned an opinion piece for the Detroit News claiming the bill is unconstitutional, as internet gambling should be approved by voters instead of the legislature. Iden's fellow House members had the same concern, to which Iden responded by saying the bill is constitutional and "would withstand a court challenge." He also doesn't believe this is a deep-seated concern, only one that has been perpetrated by Sheldon Adelson's Coalition to Stop Internet Gambling.
.@detroitnews column: "Advancing the [Lawful Internet Gaming Act] out of the Michigan House would…endanger each and every house across Michigan." Read more about how online gambling threatens Michigan's most vulnerable, including kids and addicts https://t.co/MVHETzFBLe

— Coalition To Stop Internet Gambling (@StopNetGambling) April 27, 2018
Iden says he has been taking time with any member of the House with questions about internet gaming, and he is providing answers to quell concerns. He also said he has been working closely with tribes and commercial casinos to ensure the bill is not opposed by any potential participating interest.
One Month to Push
The end of the legislative session is little more than one month away, so there is little time to waste. Iden is seeking support from other members of the Michigan House in order to feel comfortable introducing the latest HB.4926 draft and putting it up for a vote.
The Poker Players Alliance (PPA) has been pushing its members to contact lawmakers in Michigan with message of support, and the drive continues.
If you care about legalization of internet #poker and/or #sportsbetting, we encourage you to listen to this interview with @BrandtIden who is leading the legalization charge in the Michigan legislature. https://t.co/pi9GiLao06

— PokerPlayersAlliance (@ppapoker) May 16, 2018
With Iden also pushing for sports betting in Michigan, and in light of the US Supreme Court decision this week overturning PASPA and opening up the industry for states to enter, this gives extra hope for online poker players that the momentum is present.
Check out story for a full accounting of where Michigan is at on sports betting legislation.

"Sports gambling is going to come, I think it's inevitable," Rep Iden says. "And I think Michigan needs to be out in front of the conversation." https://t.co/A4ILSFRhOA #PASPA

— Sports Handle (@sports_handle) May 11, 2018
The next weeks will be extremely telling as to where Michigan lawmakers stand on all types of online gambling, including poker and sports betting. Stay tuned for updates as the deadline approaches.
Related Articles