Bally's Corporation Submits New Bid for World Poker Tour
By
March 25th, 2021 | Last updated on March 25th, 2021
Home
»
Poker News
»
Bally's Corporation Submits New Bid for World Poker Tour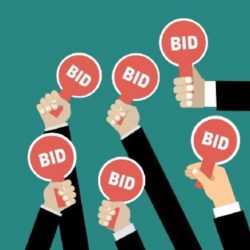 If this isn't a bidding war, I don't know what is.
Allied Esports Entertainment is just sitting back and evaluating bid after bid for the World Poker Tour. Element Partners kicked it off in January, but Bally's chimed in this month, and the back-and-forth bids are now coming in quick succession.
The most recent one from Element Partners came earlier this week. Bally's Corporation didn't even take a full week to respond.
We don't yet seem to have an answer to the question hovering over the WPT: Who wants it more?
Superior Proposals
A quick reminder of the initial proposal and all of the superior proposals that followed:
–January 19, 2021: Privately held investment firm Element Partners offered $78.25M, starting with a cash payment of $68.25M and then a 5% revenue share of WPT tournament entry fees for 3 years, maxing out at $10M.

–March 5, 2021: Casino owner Bally's Corporation offered $100M for the WPT and Allied Esports, both companies for a cash, stock, or combination payment.

–March 16, 2021: Bally's Corporation revised its proposal to offer $90M in cash for just the WPT and its poker-related businesses and assets.

–March 22: Element Partners increased its bid to $90.5M for the WPT and poker-related assets, payable at closing after a $10M initial deposit.
Enter Bally's Corporation on March 25. The company upped its bid to $105M in cash at the closing of the deal. Bally's submitted a proposal to Allied Esports to sell the outstanding capital stock of CSI for $100M, and Bally's increased its proposed purchase price to $105M.
Bally's would acquire all of the equity interests of Club Services, Inc. (CSI), which is currently Allied's wholly-owned subsidiary that owns the poker-related businesses and assets, including the WPT.
Allied Esports now calls this the "superior proposal." That term might be losing its meaning, though.
In the ongoing battle between Bally's and Element Partners to purchase Club Services, Inc. which includes the WPT, Bally's retakes the lead with an offer for $105,000,000. https://t.co/Wad92oWIyO

— Kevin Mathers (@Kevmath) March 25, 2021
Next Moves?
According to the press release, Allied Esports will terminate its stock purchase agreement with Element Partners at 5pm on Monday, March 29. It appears that Allied may need to pay a $3.45M termination fee per the last press release if all of this happens.
However, this is not a done deal. Allied noted, "There can be no assurance that the company will enter into a definite agreement with Bally's or consummate any transaction with Bally's."
Further, Allied opened it up to Element Partners to negotiate an amending to its last proposal since it is no longer superior. Element has the chance to make it superior.
Back to the boardroom, Element Partners. You might be able to negotiate a win here.
Related Articles