Another Online Poker Bill Appears in New York
By
February 7th, 2019 | Last updated on February 7th, 2019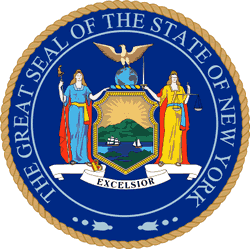 The state of New York and its journey with online poker has been a confusing and disappointing one thus far, and the path it takes in 2019 seems it will remain so.
In just a few weeks of a new year, a new online poker supporter emerged in the New York Senate and filed a new bill, but a broad study bill seeks to overshadow any efforts to offer online gambling – and possibly even sports betting – in the near future.
The latest move wouldn't have been surprising in past years but is now, as Assemblyman J. Gary Pretlow has filed a bill to legalize online poker. This is interesting in the face of the study bill as well as the history of Pretlow with similar bills, as he has never brought his bills to the floor for votes. While the other side of the legislature made great strides for years under now-former State Senator John Bonacic, Pretlow found a plethora of excuses as to why he couldn't do the same. Yet, he introduced another bill this year.
New York remains a mystery to online poker supporters, but it's important to keep up with the puzzle pieces along the way in the hopes of discovering a clearer picture.
New Assembly Bill
On February 5, Pretlow introduced A.04924, "an act to amend the racing, pari-mutuel wagering and breeding law and the penal law, in relation to allowing certain interactive poker games."
The summary of the bill reads:
"Allows certain interactive poker games be considered games of skill rather than games of luck; includes definitions, authorization, required safeguards, and minimum standards, the scope of licensing review and state tax implications; makes corresponding penal law amendments."
The details include a 180-day delay between the passage of the bill and its consideration as law, the allowance of up to 11 interactive gambling licenses, and an order to establish online poker regulations. Operators will pay a one-time licensing fee of $10 million for a 10-year license, and the money will be applied to their tax obligations during the first 60 months of business. And the tax rate will be set at 15% on gross gaming revenue.
The bill was immediately referred to the Racing, Gaming and Wagering Committee.
Groundhog Day
If the details of the Assembly bill to legalize internet poker sounds familiar, it is because the bill is identical to S.00018 that New York State Senator Joe Addabbo introduced one month ago.
Thanks for the inquiry. As a supporter of online gaming, I will get more information during our budget negotiations. Please let me know whenever you want an update.

— SenatorJoeAddabbo (@SenJoeAddabbo) January 26, 2019
There is no problem with identical bills in both halves of the legislature; in fact, it makes the process of passing a bill that much easier. And it means that Addabbo is working with Pretlow in some way.
If this all sounds like another familiar story, it is because each of the past several years have started in virtually the same fashion. The main difference is that Bonacic retired and Addabbo took over the position of online poker advocate in the Senate. And if the fear that Pretlow will allow another year to pass without doing anything to further his bill is settling in already, that's fair, too. Pretlow has talked a supportive game for poker over the years, but his actions have shown little effort to pass any of the bills.
Addabbo With a Plan
While Pretlow may be a man without a plan, Addabbo seems to have a solid one. As he explained it to Online Poker Report, he is proposing a solution to New York's revenue problem that includes a three-year gambling expansion plan that includes mobile sports betting, live sports betting beyond casinos, and online poker and casino games.
With New York facing a $2.3 billion budget shortfall, @SenJoeAddabbo wants the governor to initiate a plan for gambling expansion — including online poker. https://t.co/ZzsNKyR69b

— OnlinePokerReport (@OPRupdate) February 7, 2019
He told OPR, "It's not recreating the wheel. In terms of gaming, we already have it in the state. The online portion is a mere enhancement of that recreation. To me, it's inevitable. As long as lawmakers want to maximize revenue, increase education funding and create new jobs, we need to look for ways to think creatively."
Further, Addabbo noted that online poker is further along on the timeline of his three-year plan than sports betting because poker "is a totally different conversation." He does intent to encourage the sports betting aspect of the plan first and then move forward. "We have to get more people on the same page. But other states are doing it; other states are making money. To me, it's doable. I think it happens in the state eventually."
The bills proposed in the legislature over the past month push for regulated online poker only, but Addabbo may want to include online casino games at some point. He does know that only a small portion of the New Jersey internet gaming revenue is a result of poker sites, but he is committed to poker, at the very least and maximize whatever revenue is possible.
Related Articles