Study Bill Could Delay New York Online Poker for Years
By
January 30th, 2019 | Last updated on January 30th, 2019
Home
»
Poker News
»
Study Bill Could Delay New York Online Poker for Years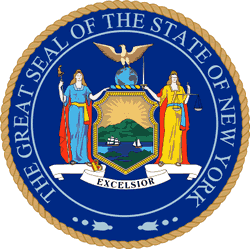 The roller coaster for New York online poker supporters is already beginning for 2019.
A positive start with a new bill by a new sponsor provided hope that online poker had a fighting chance in 2019. State Senator Joe Addabbo took up the baton where now-retired John Bonacic left it by introducing a new piece of legislation. And in his position as Racing, Gaming and Wagering Committee Chairman, Addabbo seemed to be prepared to champion the issue.
However, that was in the second week of January, and no action has been taken since. What did happen was that a group of legislators decided that gambling and its effects on New Yorkers needs to be studied. A bill is quickly moving through the Assembly now that could well put online poker on the back burner for several years.
After some rethinking this morning after a revisit of NY's history with online poker, I can't help but wonder if the state represents Adelson's greatest anti-online poker victory to date.

— Brian Pempus (@brianpempus) January 7, 2019
Study Bill on the Move
The bill in the New York Assembly is A.00591, "an act to amend the mental hygiene law, in relation to commissioning a statewide evaluation regarding the extent of gambling by New York state residents."
According to US Bets, the bill was pre-filed earlier in January, and it does show a date of January 9. Already, A.00591 went to the Alcoholism and Drug Abuse Committee on January 23, and the unanimous votes of the 13 members sent the bill to the Ways and Means Committee.
Its summary seems harmless enough, but the purpose of the bill is to examine various types of gambling before allowing New York to expand it. The proposed language reads:
"The commissioner, in consultation with the New York State Gaming Commission, is authorized and directed to commission a statewide evaluation regarding the extend of gambling by New York state residents, including, but not limited to the lottery, horse racing, Native American casinos, internet gambling, sports betting, and poker. Such evaluation shall be delivered to the governor and legislature no later than December 1, 2023. The evaluation shall be prepared by an independent entity and selected through a request for proposal process. Such evaluation shall include the percentage of New York residents participating in each gambling activity by age, race, income, education, sex, and any other demographic that would be relevant to the evaluation; and an estimate of the amount of money being wagered and lost by New York residents in each gambling activity."
It is unclear if the study will try to delineate between online poker and other casino games or address the issue of offshore internet gaming.
Should this bill pass, it seems unlikely that an online poker or other gambling expansion bill would make it through the legislature until the results of the study are received and analyzed.
Online Poker Bill Idles
Addabbo was quick to introduce his online poker bill on January 9. Interactive gaming bill S.00018 would allow interactive poker games to be considered games of skill, thereby exempting them from current gambling prohibitions and allowing for the licensing and regulation of the games.
The bill was immediately referred to the Racing, Gaming and Wagering Committee, where Addabbo serves as its chairperson. Considering Senate bills' success in the past under Bonacic, it is likely the new legislation could pass this committee as well.
The problem is its trajectory from that point, as there has been no action on the Assembly side with regard to similar legislation. Past years have seen Assemblyman J. Gary Pretlow handle that, but his bills have never been pushed through the Assembly for a vote. And this year, his focus seems to be on sports betting, leaving online poker behind altogether so far.
Assemblyman Clyde Vanel appeared as a staunch supporter of online poker legislation in 2018, so any action from him this year would be a positive sign. However, he has yet to indicate any movement toward that goal yet.
Getting it done in New York wasn't easy before and it wont be now, but we stand ready to advocate for you! https://t.co/ZIgjnrl4KN

— Poker Alliance (@ppapoker) January 8, 2019
Sports Betting Limited
The journey of sports betting in New York is a unique one, as it was actually legalized for the state's commercial casinos more than five years ago, long before the US Supreme Court overturned PASPA in May 2018. However, the bill was more of a marker, one that indicated support of sports betting but failed to include any details for the licensing and regulation processes of the industry.
Since the Supreme Court decision more than eight months ago, New York legislators have been debating new proposals and legislation that would take the place of the 2013 law. It has proven more difficult than anticipated.
With that, the New York State Gaming Commission stepped up to establish regulations for the four land-based commercial casinos, which should also apply to tribal casinos, to begin offering sports betting. The set of rules will be put up for public comment for the next two months, per Legal Sports Report, and the commission will then adjust as necessary and approve the final draft.
Mobile sports betting, however, will not be included in the regulations. Any mobile or online component to sports betting will require new legislation. Vanel did propose A.01339 on January 15 to establish a legislative task force for online sports betting, though it is unclear if that bill will move forward or also be stunted by the aforementioned gambling study bill.
On the Assembly Floor pic.twitter.com/0wDmEeHYhu

— Clyde Vanel (@clydevanel) January 23, 2019
Related Articles