Adelson Anti-Online Gambling Group Targets Gambling Ads
By
April 4th, 2018 | Last updated on July 29th, 2018
Home
»
Poker News
»
Adelson Anti-Online Gambling Group Targets Gambling Ads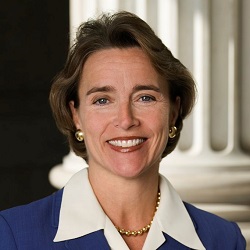 Lincoln makes misleading claims for Adelson group
Casino mogul and online gaming opponent Sheldon Adelson is at it again. His Coalition to Stop Internet Gambling lobbying group has alerted the media to advertisements which they claim are targeting children and seniors, not to mention problem gamblers.
The goal of CSIG remains the same: Blame the 2011 Department of Justice decision regarding the Wire Act, one which opened its interpretation to give states the right to legalize and regulate online poker, casino games, and lottery ticket sales. In other words, Adelson's group wants the DOJ to reverse its decision, thereby banning online gambling.
As usual, however, Adelson and friends do not have facts on their side.
Enter Blanche Lincoln
When Adelson formed CSIG, he hired some big names to represent the group, and former Democratic Senator Blanche Lincoln of Arkansas was one of them. She joined Adelson in 2014 but has rarely been on the front lines of the fight to ban online gambling.
Today, however, Lincoln was front and center. According to Business Insider, she had quite a lot to say about gambling-related advertisements. For example, one screenshot she produced showed a gaming website advertised on a web page that also displayed an article entitled "Twelve Ways to Stop Gambling Addiction Forever."
Lincoln compared the advertising to cigarette ads from decades ago. And as for gambling, she said, "The advertising part of it is exactly what hooks kids and seniors who are desperate, who are marginalized individuals and trying to feed a family."
Facts First
Several things should be noted about the screenshots that Lincoln produced to prove her point.
First, casinos do not control the placement of their ads in the above-mentioned types of situations, as advertisements are targeted by the search engines and online platforms based on websites visited or searches conducted by those particular web users.
Lolz. Go figure Adelson cronnies wouldn't know how teh interwebs and its advertising work. https://t.co/fRM8tdrsAO

— michelleminton (@michelleminton) April 3, 2018
Second, one of her examples came complete with a serving of irony. An article entitled "How to Deal with a Gambling Addiction" showed an ad for a casino show underneath it, but that casino was Palazzo, one of Adelson's own land-based casinos.
Third, a bit of research shows that Adelson's brick-and-mortar casinos around the United States have been cited numerous times and fined for being caught allowing minors to drink alcohol and/or gamble. In contrast, none of the regulated online poker and casino sites in the US market have been cited for any age-related infringements in more than four years of business thus far.
Business Insider also interviewed someone involved in the New Jersey online gambling industry, who said, "We obviously don't target sites aimed at minors (not only as it is insanely immoral, but people under 21 can't create accounts at regulated online gambling sites in NJ)."
Former Lawmaker, Backed By Sheldon Adelson, Goes After Online Gambling Ads https://t.co/o7MvdSWRyx via @YouTube https://t.co/Pa5xS8Ij9j

— Financial News 24/7 (@cottonwood100) April 3, 2018
When at First You Don't Succeed
Adelson seems to have reached a point of desperation to ban online gambling. He gave substantial contributions to the campaigns of United States presidential candidates who lost the election in 2016, donated to campaign coffers of numerous members of Congress who have been unable to push the Restoration of America's Wire Act (RAWA) bill even through a committee, and had US Attorney General Jeff Sessions practically in his back pocket until the numerous ties to Adelson were discovered and he was forced to recuse himself from any gambling issues.
Most recently, Adelson shifted his focus from passing a RAWA bill to overturning the 2011 DOJ decision regarding the Wire Act. With Sessions unable to do it, next-in-line Rod Rosenstein has the power. US Senators Lindsey Graham and Dianne Feinstein penned a letter to Rosenstein in late 2017 to ask him to reverse the Wire Act decision, and a group of US Representatives did the same in December. To date, however, Rosenstein has not indicated that he is considering revisiting the decision.
So many efforts and so much money have yet to deliver any results. Adelson is unlikely to give up, but when Lincoln comes out with arguments as detailed in Business Insider, complete with unsubstantiated claims and evidence that points to Adelson's own casino enterprise, it doesn't help the overall case.
Sheldon Adelson casino charged for money laundering in 2013, he paid the DOJ $85 million in fines. His PA casino is regularly sited for underage drinking & gambling. More proof that Adelson is wrong – undercover video from his LV Venetian casino… https://t.co/EWZnzci3d7

— Mike Qualley (@mqusicMQ) January 11, 2018
Related Articles