ACR Plans PKO Series for September with $50M GTD
By
August 26th, 2020 | Last updated on August 26th, 2020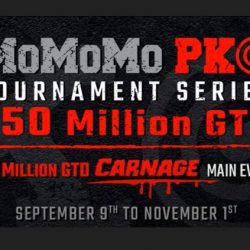 Americas Cardroom is fired up. Players want online tournament action, and Winning Poker Network sites like ACR prepared something quite significant for September.
The last week of August and first of September will take players to the finales of series offered by the World Series of Poker (WSOP 2020 Online) on GGPoker and the World Poker Tour (WPT World Online Championships). ACR is ready to step in to fill the void after that action.
The MoMoMo PKO Tournament Series will kick off on September 9 and run for nearly two months. There will be $50 million in guarantees throughout the series, but $5 million of it will be reserved for the Main Event prize pool.
Building on Success
It's been a successful few months for ACR. In fact, the entirety of 2020 seems to have treated the WPN quite well. With players around the world confined to their homes for much of the year so far due to the coronavirus pandemic, online poker's popularity has soared.
The third edition of the Venom tournament finished a few weeks ago with a $9.68 million prize pool. That greatly surpassed the $7 million guarantee.
Not too shabby.
And some great OSS (Online Super Series) Cub3d turnouts led to the most recent one iteration – OSS Cub3d X – that is running through August and will wrap on August 31.
While those tournaments are ongoing, a few numbers from last Sunday's events show the impressive turnout. Event 61 was the Sunday Special with a $250K guarantee, but the actual prize pool came to $471K. And Event 64 topped its $125K guarantee with a $192K prize pool.
The $15 Million OSS Cub3d is on to its third and final part, the Bigger Online Super Series. It's designed for high stakes players. Check out the Featured Daily Event for this week.https://t.co/5UDUAv2cj8#ACR #OSS #OSSCub3ed #OSSCubed #Poker #PokerSeries #PokerTournament pic.twitter.com/T9u48lLP36

— Americas Cardroom (@ACR_POKER) August 24, 2020
MoMoMo PKO
The popularity of progressive knockout tournaments mixed is undeniable. ACR decided to build on that and give players a series that will run through September and October.
The MoMoMo PKO Tournament Series is set for September 9 through November 1 with $50 million in guarantees. The schedule has yet to be released.
The original plan was to offer a "Carnage" Main Event with a $5 million guarantee on the prize pool. And it would've been the largest PKO tournament in poker history. But a new look at the promotion page for the tournament now calls it a "Venom OK" Main Event. Even so, it seems the $5 million guarantee will stay in place.
There will likely be a plethora of tournaments with a wide range of buy-ins. And the satellite system is in progress, though some are already available on Americas Cardroom.
Related Articles