Venom Breaks Americas Cardroom Prize Pool Record
By
August 8th, 2020 | Last updated on August 8th, 2020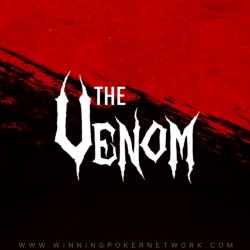 They knew it had potential. They knew it could surpass the prize pools of its predecessors. But it's not likely that Americas Cardroom on the Winning Poker Network anticipated the final numbers of its recent Venom tournament.
The Venom is the ACR's signature tournament. It offers a large guarantee with several starting days, all after months of satellites to award seats to players of all bankroll levels.
This week marked the end of the third Venom tournament. And it took the event to an entirely new level.
Serious Growth
ACR first ran the Venom in July 2019, timed to attract players who just left the World Series of Poker in Las Vegas or finished watching the action online. Poker was at the forefront of US poker players' minds, and ACR wanted them to log on to play.
It went off better than planned. So, they set up another one for December 2019, and the prize pool did well but not by the same percentage as the first one.
The third Venom was set for late July 2020 with a $2,650 buy-in. It was scheduled long before the coronavirus pandemic came into play and took many more players to the online poker tables than expected. Higher traffic on WPN sites in the months preceding the 2020 Venom indicated that it could be big. And it was.
–Venom 1 (July 2019): $5 million guaranteed < $6,382,500 actual prize pool

–Venom 2 (December 2019): $6 million guaranteed < $6,740,000 actual prize pool

–Venom 3 (July/August 2020): $7 million guaranteed < $9,680,000 actual prize pool
That moment when you realize that first place of the Venom wins over $1,4 Million and second place gets $1 Million. #WPNMakingMillionaires #SHOCK #VenomTournament #Money

🤑💰🤑💰💲🕷️ pic.twitter.com/9KNwnfDHNd

— Americas Cardroom (@ACR_POKER) August 2, 2020
How It Happened
There were four starting days: July 24, 26, and 31, and August 2. When ACR tallied the entries, these were the final numbers:
–Day 1A players:  561

–Day 1B players:  956

–Day 1C players:  732

–Day 1D players:  732

–Total entries:  3,872

–Total prize pool:  $9,680,000

–Paid players:  432

–Minimum payout:  $4,840
There were 666 players who returned to the tables on Monday, August 3 to play Day 2. And only 64 players remained to play Day 3 on Tuesday, August 4. When that action was done, only eight still had chips. TRT-Vitor was the chip leader, followed by forrestranfar in second place on the leaderboard.
Eight players remain for the final table of the $7 Million Venom and all eyes are on that $1 million guaranteed first place prize!

Final Table starts at 5pm ET and will be live stread here: https://t.co/ZZKHpUphaG#TheVenom #Venom #ACR #Poker #PokerTournament #PokerLife pic.twitter.com/5N7vrelxeb

— Americas Cardroom (@ACR_POKER) August 5, 2020
Those eight players returned on Wednesday, August 5, anxious to play for the first prize of more than $1.5 million. The first few players exited without much delay, and as the action continued, TRT-Vitor of the United States and forrestranfar of Mexico prepared for heads-up play. They took a break, however, to discuss a payout deal. Since TRT-Vitor was in the lead, that player took a larger sum, but they agreed to play it out for the title and an extra $25K.
The two did play until only TRT-Vitor emerged victorious. The final table payouts were:
1st place:  TRT-Vitor ($1,394,821)

2nd place:  forrestranfar ($1,282,666)

3rd place:  Cachingaling ($832,352)

4th place:  Way2ezy ($587,576)

5th place:  tayhaywill ($420,112)

6th place:  freddy adu ($323,312)

7th place:  BussJuugs ($226,512)

8th place:  silskyer ($129,712)
HOLY FLOPPING SHIP IT!

TRT-Vitor has taken down the Venom Tournament for $1,369,821 + 25k (deal making)!

🎉💲It's our biggest payout ever!🎉💲

Congrats to TRT-Vitor and everyone else who cashed (including FORRESTRANFAR who also won over $1,282,666 for 2nd place). pic.twitter.com/vhrXf57pDH

— Americas Cardroom (@ACR_POKER) August 5, 2020
Related Articles