ACR Signs Moorman and Lindsay as New Team Pros
The latest move by Americas Cardroom made a bit of poker history as well. The flagship site of the Winning Poker Network announced that it signed Chris Moorman and Katie Lindsay to its roster of pros. Not only did the company sign Moorman just months after his departure from the 888poker team, this is the first time both parties of a married couple received sponsorships at the same time for the same site.
Americas Cardroom has been wanting to continue expanding its roster. The biggest move to that end came in February 2021 when ACR signed Chris Moneymaker, former member of Team PokerStars Pro and arguably the most recognizable name in poker. Soon after, poker pro Vanessa Kade signed with ACR after talks that dated back into 2020.
This new signing of Moorman and Lindsay brings an entirely new dimension to the roster and to the idea of what an online poker sponsorship looks like.
ACR Team Signs a Team
When Americas Cardroom began hinting that it was ready to announce new site ambassadors, the vague picture seemed to portray the silhouettes of a man and a woman. While many people guessed that the man would be Chris Moorman, not many people ventured a guess that the woman would be Katie Lindsay.
The signing make sense on many levels, though.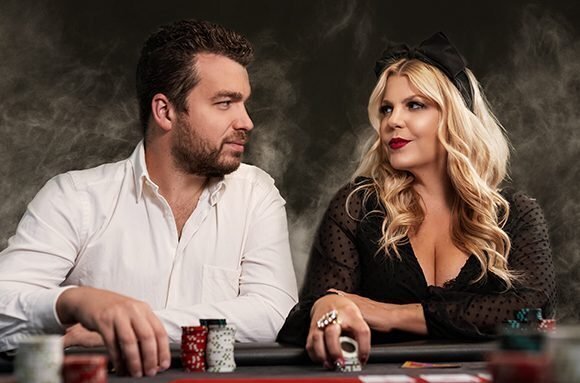 Moorman is clearly one of the most accomplished online poker pros in history. The issue with the 36-year-old Brit's previous sponsorships was that he often had to travel to Mexico, Canada, or his home country across the pond to play online at those sites. This deal with ACR allows him to stay in the United States and play from home.
Lindsay has been in the poker community for nearly two decades, initially as a writer and businesswoman. She often represented poker pros in talks with major online poker sites during the poker boom.  As the years progressed, she began playing more but never so often as after she married Moorman in 2014. She now shows more than $500K in live tournament earnings but more than $1.5M in online tournament winnings.
Clearly playing long before he met Lindsay, Moorman shows more than $6M in live and more than $19M in online poker tournament earnings to date.
Together, they are quite a force in poker.
Comments as Individuals
Upon the signing, Moorman commented, "It's a huge compliment to be asked to be part of an online poker site. Only a handful of sponsorships are available these days, so it's an incredible feeling to join the ACR team. It validates all the hard work I've put into poker over the years."
Guess I'm going to get to stare at @katelinds even more often now! I'm incredibly proud to announce that we have both just signed with @ACR_POKER Really looking forward to what the next few years brings. pic.twitter.com/1WzImR7Yvs

— Chris Moorman (@Moorman1) November 1, 2021
In a special interview with the team, ACR prompted Moorman to discuss how his poker career thrives on competition. He noted that ACR has done the work to grow and solidify its place in the market. He mentioned that the large prize pool tournaments are well-structured and price points are good. The site's acceptance of Bitcoin is a plus as well.
About signing a deal with his wife, he commented that they are a team in life and work. "It helps so much to have someone who understands what you are going through when things aren't going your way," he told ACR. "Also, when one of us is on a bad run, the other tends to save their bacon."
Lindsay spoke about her love of games and challenges as well. While poker is about the competition for her, she also loves the social aspect, as she enjoys the chance to show off her passion for fashion while also having drinks and making friends.
Thrilled to announce that @acr_poker has asked @moorman1 and I to join their team of pros. I've been playing and working in poker for 17 years and this is such an exciting and unexpected opportunity. 🥰 pic.twitter.com/onDttNuNd6

— Katie Lindsay (@katelinds) November 1, 2021
She, too, noted that they make a good pair as two poker players. She noted that it can be difficult if she and Moorman are experiencing downswings at the same time, but she added, "To be able to fully discuss hands and situations with your partner and have them understand is irreplaceable. We understand the ups and downs more than anyone else could."
Competition Goes to a New Level
With two poker players in one household, the level of competition is already at a high level. Both Moorman and Lindsay confirmed that. Moorman said the competitiveness level was at 110% prior to this signing. "When we are at the same table in a tournament, Katie is always going after me and calling me a nit if I fold to her."
Lindsay concurred, saying they are "insanely competitive" and everything in the house becomes a sort of challenge. "As much as we endlessly support each other," she added, "we are definitely still super competitive and love to battle against each other."
🤩We're proud to welcome Chris Moorman and Katie Lindsay into the fold.🎉

👀We had the opportunity to sit down with our newest #ACRPros to see what they bring to the table.

Read our full interview here 👉 https://t.co/Q31a1YAFS8@Moorman1 @katelinds pic.twitter.com/QNoOO0EHPa

— ACR Poker (@ACR_POKER) November 2, 2021