Disturbed 2019 WSOP Player Banned from Las Vegas
By
July 17th, 2020 | Last updated on July 17th, 2020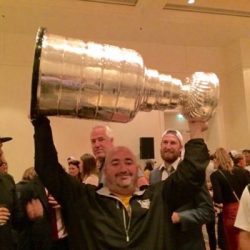 Every year, many stories emerge from the World Series of Poker in Las Vegas as memorable ones. From the 2019 WSOP, few will forget Kenneth Strauss. What started as a humorous or disturbing incident, depending upon one's perspective at the time, turned into a terrorist threat.
From the perspective of most poker players and fans, Strauss was a weird player who overreacted to a poker hand. Clearly, however, a subsequent episode at another Las Vegas casino showed a pattern of behavior stemming from mental instability.
Ultimately, Strauss took his delusions to Twitter, where he stalked a female journalist and made broadly threatening and dangerous tweets. When it was all said and done, the Nevada authorities took Strauss into custody and charged him with making felony terrorist threats.
Nearly one year from the WSOP incident, Strauss faced a Clark County judge and received a relatively light sentence. He apologized and is now on probation but banned from Las Vegas casinos.
Mental Disorder on Display at the Tables
Ken Strauss was known to relatively few people in the poker community before the 2019 WSOP Main Event.
The 45-year-old joined thousands of other poker players at the Rio in Las Vegas last July to play the $10K buy-in finale to the World Series of Poker. At that point, he was just another player with a poker dream.
That was until Strauss began to act erratically. On his first day of play (Day 1C on July 5, 2019), he moved all-in without looking at his hole cards. He then stood up from the table, pulled down his shorts, and mooned everyone nearby. He then removed his shoes and socks and threw one of those shoes, narrowly missing the dealer and another player.
Uhhhhhh what is going on at the #WSOP main event??? Player shoves blind, drops his pants, then throws his shoe on the table 😂 😂 😂(video via @blattsmullet) pic.twitter.com/oHGk5pjlnJ

— Scott Davies (@sdaviespoker) July 5, 2019
The WSOP security personnel quickly stopped Strauss' behavior and escorted him from the property.
Later that evening, a number of people spotted Strauss standing on a craps table at the Luxor, pacing and trying to get reactions from bystanders. He again pulled down his shorts, flashed everyone twice, and ignored the security guards' requests to stop and get down. They ultimately pulled him from the table and seemed to arrest him.
The #nakedbandit strikes again. First the Rio, and now a show for everyone at the Luxor. 🙊🤷‍♂️🤦‍♂️😮🤔@Joeingram1 @WSOP pic.twitter.com/yxxoopzTsJ

— Jeremy Brown (@JGBrown22) July 6, 2019
Mental Disorder Apparent on Twitter
His Twitter feed showed disturbing thoughts prior to the WSOP incident but a worsening condition after. He virtually stalked female NFL reporter Sarina Morales. And he showed a penchant for making threats. Strauss mentioned states that "are no longer going to exist" and wanting to be a legend, desiring to destroy Las Vegas casinos from which he was banned.
This was worrisome enough for the police to track him down and arrest him. An officer testified that Strauss even mumbled "kill them all" during that arrest.
Chief District Judge Linda Bell found the allegations against Strauss "extraordinarily concerning" and set his cash bond at $150,000, which he could not or did not pay.
In the months that followed, the court referred Strauss to the Competency Court, which resulted in a judgment that Strauss was not competent to stand trial. The court referred him to Lakes Crossing for further mental evaluations and help. He was subsequently committed to the Southern Nevada Adult Health Rawson-Neal Psychiatric Hospital, where he remained into January 2020.
Leaving Las Vegas
At the end of June 2020, Strauss agreed to plead guilty to two gross misdemeanor charges: conspiracy to make a threat or convey false information concerning an act of terrorism and malicious destruction of property.
The plea was entered during a hearing on July 16, per Dave Ferrara of the Las Vegas Review-Journal.
Strauss' deal also included an agreement that he would return to his home outside of Nevada to undergo further mental health treatment. The court also forbids Strauss from visiting Clark County or contacting Las Vegas casinos in any way. These restrictions will last the duration of his two-year probationary period.
According to Ferrara, Strauss told District Judge Mary Kay Holthus during the July 16 hearing, "I'm just very sorry for what happened. And I'm just going to continue focusing on my mental health improving."
An update on Ken Strauss, the guy who dropped his pants during the WSOP ME last year https://t.co/0puZifwNWs

— Kevin Mathers (@Kevmath) July 17, 2020
Related Articles