Disqualified WSOP Player Indicted for Threats
By
September 3rd, 2019 | Last updated on September 3rd, 2019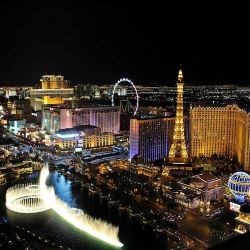 When the incident happened at the 2019 World Series of Poker Main Event on July 5, many found it amusing. A middle-aged man moved all-in on Day 1 of the biggest tournament of the year, dropped his pants to expose himself to the table, removed his shoes, and hurled a shoe at the dealer.
That man was Kenneth Strauss, and he was removed from and disqualified from the Main Event. But he was the talk of the poker world for days, especially when he had another incident in Las Vegas later that same night.
While many found the incidents hilarious, others were concerned about the man's mental state. And a look at his Twitter feed from that time enhanced that concern.
As it turned out, Strauss went downhill from there and ended up in jail on terrorism charges in Las Vegas, for which he was indicted last week.
At WSOP and Beyond
It was a busy day at the 2019 WSOP summer series at the Rio Casino. It was Day 1C, the third and final starting day of the $10K buy-in Main Event.
As thousands of players were taking the opportunity to play seriously, a man later to be named as Ken Strauss was displaying some disturbing actions. He moved all-in blind for his entire stack. He stood up, pulled down his pants, and mooned his table. He removed his shoes and socks before throwing one of the shoes at the dealer.
Uhhhhhh what is going on at the #WSOP main event??? Player shoves blind, drops his pants, then throws his shoe on the table 😂 😂 😂(video via @blattsmullet) pic.twitter.com/oHGk5pjlnJ

— Scott Davies (@sdaviespoker) July 5, 2019
By that time, the floor staff was there, stopped him from disrobing again, and disqualified him from the Main Event. Security also escorted him off the property.
However, Strauss wasn't done.
Later that night, another person saw him at the Luxor on the Las Vegas Strip. He was standing on a craps table, yelling and flailing his arms, then folding his arms and staring at the gathering crowds. Security guards were seemingly asking that he step down, which only made him more agitated. He then pulled down his shorts to flash the crowd twice before another member of the security team pulled him down from the table.
The #nakedbandit strikes again. First the Rio, and now a show for everyone at the Luxor. 🙊🤷‍♂️🤦‍♂️😮🤔@Joeingram1 @WSOP pic.twitter.com/yxxoopzTsJ

— Jeremy Brown (@JGBrown22) July 6, 2019
The two incidents may have been amusing but should have been more concerning.
Evidently, Strauss did receive some treatment at a hospital and apologized on Twitter for his actions at the WSOP, though not for what took place at the Luxor.
I just want to apologize to Michelle and her close peers for my last tweet. I was in a Vegas Hospital for a couple weeks and am doing much better. And to poker community and friends I'm deeply sorry for my Main Evrnt actions. It was stupidity and horrible! Please forgive me!

— Ken Strauss (@kpittboy) July 20, 2019
Even so, the erratic and concerning tweets continued throughout July and beyond.
Terrorism Charges
Strauss mentioned mental health, medications, and President Trump in many tweets, among other things, as the weeks went on. He mentioned his love for his daughter and displayed a sick obsession with a female NFL reporter named Sarina Morales.
One tweet mentioned watching Trump on television because it involved "42 states that are no longer going to exist." He told people not to leave their residences that night because he was going to be a legend. "I'm done only being a legend in Pittsburgh!"
Days later, he threatened to destroy all Vegas casinos that banned him from their properties. He mentioned shootings taking place all over Vegas" in the same tweet.
Shootings are taking place all over Las Vegas. Please leave me alone @VenetianVegas I have no place to go currently. And all Casinos that have me banned will be destroyed effective immediately. And @Rio, get my belongings together immediately when @POTUS declares safe I'm going.

— Ken Strauss (@kpittboy) July 27, 2019
According to the Las Vegas Review-Journal, he was arrested that same night.
Later, Chief Deputy District Attorney Pete Thunell testified at Strauss' hearing that he mumbled "kill them all" while being arrested.
After being held on $150,000 bail for making threats or conveying false information concerning an act of terrorism, the 45-year-old man was indicted on that charge. Chief District Judge Linda Bell called the allegations "extraordinarily concerning."
It is unclear if Strauss has anyone has been able to make bail.
Related Articles