West Virginia Interactive Gambling Bill on the Move
By
February 20th, 2019 | Last updated on February 21st, 2019
Home
»
Poker News
»
West Virginia Interactive Gambling Bill on the Move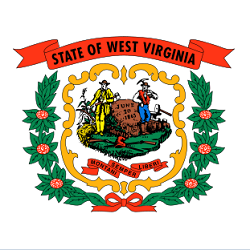 West Virginia State Delegate Shawn Fluharty has wanted online gambling legalized in his state for several years, and it seems that he is making it happen in 2019.
After introducing one bill at the start of the first session in January, Fluharty partnered with a group of bipartisan lawmakers to push a new bill one month later. That second bill received committee attention this week, enough so that it sailed through two committees and moved to the House floor for a vote.
The changes to the bill thus far have been minuscule, and Fluharty seems confident of its trajectory at this point. Confidence mixed with a fast path to passage is necessary due to the strict and short timeline available, as the session is set to wrap in a matter of weeks.
Can West Virginia do it? Fluharty seems to think so.
A Short but Strong Path to Passage
When HB.2934 was introduced by West Virginia Delegate Jason Barrett, it seemed to be the one that Fluharty wanted to support. Barrett and co-sponsor Fluharty are both Democrats, along with fellow Delegates Mick Bates, Isaac Sponaugle, John Williams, and Doug Skaff. Republicans Eric Householder, Steve Westfall, Dianna Graves, Vernon Criss, and Erikka Storch are also on board.
The Interactive Wagering Act was summed up as, simply, "permitting interactive wagering authorized as West Virginia Lottery interactive wagering activities."
Why am I not surprised that a good politician would also be good at poker?

— Jason L. Smith (Novice Weather Sloth) (@jclWVsmith) February 17, 2019
It has been on a fast track thus far, having been introduced on February 8 and forwarded directly to the House Judiciary Committee. It was taken up by that committee on February 19, amended and rewritten, and passed to the House Finance Committee. That reference was waived, and the bill moved directly to the House floor. The first reading took place on February 20, and a second reading is scheduled for February 21.
Fluharty kept constituents and interested parties updated on the progress, noting on Twitter the committee progress and his noted that the bill was on a fast track.
iGaming legislation has passed out of Judiciary and is on its way to Finance. Unless there's a nasty card on the river, were looking good for full passage. #wvpol

— Shawn Fluharty (@WVUFLU) February 19, 2019
Update on iGaming legislation: 2nd reference to Finance has been waived. The bill now goes directly to the House floor. #fasttrack

— Shawn Fluharty (@WVUFLU) February 20, 2019
Ch-Ch-Ch-Changes
The version of the bill heading to the House floor for a vote is not very different from its original version. The West Virginia Lottery Commission will still be in charge of oversight and regulation for the online gaming industry, licenses will be issued only to existing casinos and racetracks, and each $250,000-priced license would be valid for five years.
The primary change is the tax rate on gross interactive gaming receipts, which was originally set at 10% but raised to 15% in the amendment process.
And according to Online Poker Report, another change involved removing the words "moral turpitude" from the wording of a line item under the license prohibitions section. One of the prohibitions stated that any applicant "convicted of a crime of moral turpitude, a gambling-related offense, a theft or fraud offense, or has otherwise demonstrated, either by a police record or other satisfactory evidence, a lack of respect for law and order" would be denied a license. The new language starts that item with: "has been convicted of a gambling-related offense…" with no mention of moral turpitude. OPR noted that it "removes any doubt that operators like PokerStars would be welcomed into the marketplace."
One change that was removed from the table was one that would have raised the tax rate to 35%. There was a debate about it among the members of the committee, but most realized that a rate that high would be a prohibitive move, discouraging operators from entering the market and reducing the margin of profitability for those that did. Once those concerns were vocalized and understood, that amendment was soundly defeated.
West Virginia yesterday channelled its inner @phil_hellmuth to dodge tax-rate bullet for online poker sites. Could soon be just the 5th state to legalize online poker.https://t.co/lJu8xgWD3V

— Brian Pempus (@brianpempus) February 20, 2019
Teeny Tiny Footnote
The fiscal note attached to the legislation page of the state website is mostly standard. It notes the projected revenue from an internet wagering, but at the bottom of the page is a memorandum for "any areas of vagueness" or "special issues" pertaining to the bill.
This is where the potential clash with the new Department of Justice Wire Act opinion is addressed:
"HB2934, as proposed, may violate the Federal Wire Act based upon a published interpretation of that statute by the Office of Legal Counsel in the U.S. Department of Justice made public on January 14, 2019. This interpretation expands the prohibitions on wagering across state lines from sports betting to all gambling activity."
It appears that West Virginia lawmakers are planning to push the bill forward, legalize online gaming, and handle any differences with the Department of Justice later.
The fallout from the DOJ opinion regarding the Wire Act continues to swirl, as the opinion is now caught up in lawsuits and demands for review. West Virginia may join Nevada, New Jersey, Delaware, Pennsylvania, and all states with online lotteries in fighting against the DOJ, and it seems the state is willing to take that chance.
Related Articles