Virginia May Consider Casinos and Poker Rooms
By
September 6th, 2018 | Last updated on April 11th, 2021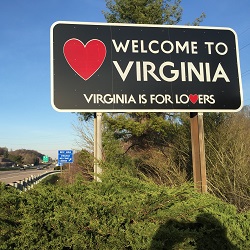 Virginia offers little legalized gambling outside of the lottery. There is one horse racing track, Colonial Downs, which is located in New Kent between Williamsburg and Richmond, and pari-mutuel wagering to go with it. And limited charitable gambling in the form of bingo and similar games is allowed by law.
Current Virginia law prohibits standard gambling that is based on wagering to win something of value based on the result of a contest, and the level of skill or chance is not relevant.
However, this could all change if some Virginia legislators can garner enough support to change the law. And it started with an empty mall in Bristol, its new owner, and a lobbying firm hired to turn the large vacant building and lot into a fully-functional, Vegas-style casino, complete with a poker room, other table games, and slot machines.
From Mall to Casino
Bristol is a city of less than 20,000 residents in Virginia, one that sits on the border with Tennessee and shares a twin city in that state, also called Bristol.
When Bristol Mall opened in 1976, it was immensely popular and grew to host a number of department stores, smaller retail stores, and a movie theater. But as with many malls in recent years, stores began to close and the mall changed owners several times. In 2015, the establishment went into foreclosure, though a new owner tried to revitalize it, but it closed again, most recently one year ago.
Most recently, Par Ventures purchased the former mall covering more than 486K square feet in June 2018 and considered creating an industrial park of sorts, renaming it Bristol Industrial Mall.
The latest news about the property came at the beginning of September when local news media reported that the owners hired a public relations firm and lobbying group called Alliance Group. The purpose is to explore the options of filling the space with a casino.
The problem with that plan, however, is that casinos are not legal in Virginia.
Legislature Must Be First to Act
Alliance Group CEO and President Rob Jones confirmed that its team is "looking at several options including a potential gaming opportunity," according to the Bristol Herald Courier. He noted that the project being considered could create approximately 2,000 new jobs and be marketed as a resort facility that could attract 80% of its visitors from outside of Virginia.
Bristol City Manager Randy Eads is on board. He has been working with Alliance Group for close to three months and claims that most of the City Council members are on board. The "normal concerns" some of them have can be alleviated, Eads told the local newspaper, to "make this a positive experience for everyone in Southwest Virginia."
A casino would be welcome at the Bristol Mall, according to a majority of the City Council and the president of the Chamber of Commerce.

But getting the idea through the General Assembly would be the "real hurdle."https://t.co/RPcS6WwP3T

— The Roanoke Times (@roanoketimes) September 5, 2018
Enter a potentially supportive member of the state legislature. Republican State Senator Bill Carrico is currently weighing both sides of the issue but has been in discussions with Alliance Group and other supporters of the casino project. He admitted to seeing the plan but noted that allowing a casino in Bristol could lead to other counties wanting to do the same. "You had the Pamunkey Indian Tribe that's looking to do a casino (in New Kent)," he added, "so you've got to satisfy that."
Senator Carrico also admitted that he's traditionally voted against gambling expansion for his state, noting that gambling addiction is a concern. However, WJHL reported that he also acknowledged the economic benefits for a county that has seen its share of struggles lately. Many small businesses in the area have suffered greatly since the decline and closure of the mall.
Update: State senator weighs in on potential casino conversion in Bristol, VA – WJHL-TV News Channel 11 https://t.co/QuSTJfnStE pic.twitter.com/N5aRpdQj03

— Nathan Johnson (@ExecutiveHostLV) September 5, 2018
Eads expressed more positivity, though. "This is going to be a concentrated effort to make this work for Southwest Virginia and for all Virginia," he said. "Virginia does not need to continue to lose tax dollars to other states when Virginians could enjoy the same type of entertainment in Virginia instead of driving several hours to have the entertainment a casino provides."
There are casinos in several neighboring states. Maryland has the most gambling opportunities with large casino resorts like MGM National Harbor and Live! Casino, both within six hours or so from Bristol. But West Virginia has one full commercial casino as well as some racetracks with casino games, the closest being Greenbrier, a three-hour drive from Bristol. Hollywood Casino in West Virginia is approximately five hours away.
Previous Legislative Attempts
There are some lawmakers in Virginia who know the value that legalized gambling can bring to the state and have previously proposed legislation to allow it.
The most recent attempt came in 2018 when the Virginia General Assembly advanced a bill to allow Colonial Downs to add slot machines to reinvigorate upon reopening. State Delegate Michael Webert sponsored the bill and was able to push it all the way through to Governor Ralph Northam, who signed it into law in April.
Others like State Senator Richard Saslaw support a broader expansion of legalized gambling in order to compete with Maryland. "There's no reason we shouldn't do what Maryland's done," he told the Washington Post in May of this year.
Poker has been included in many of those discussions, with one legislator, State Senator Louise Lucas, even pushing for poker to be named a game of skill and excluded from the state's current gambling definitions as late as 2017. That bill passed the Senate but did not pass the other half of the legislature.
Hours ago, Virginia Senate passed bill 19-19 (chair cast tiebreaker in favor) classifying poker as a game of skill. Cardrooms coming maybe. pic.twitter.com/0ZhI4fSlfe

— Chad Holloway (@ChadAHolloway) January 27, 2017
In addition, Virginia became the first state to legalize and regulate daily fantasy sports when it did so in 2016, an industry that is spreading across the country.
There are numerous signs that Virginia is ready to embrace more gambling opportunities. And if it happens, it is almost certain that live poker will be a part of that change.
Related Articles