WSOP Circuit Announces 2019-2020 US Schedule
By
May 12th, 2019 | Last updated on May 15th, 2019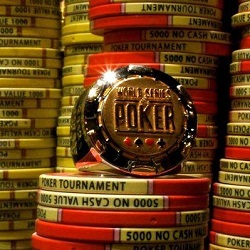 The World Series of Poker decided to make all of its announcements before the summer WSOP gets underway, and that included the unveiling of the next WSOP Circuit schedule. It will be the 16th WSOPC season and ready to launch on July 17 in Oklahoma, just one day after the final table of the WSOP Main Event happens in Las Vegas.
Currently, the last of the 2018-2019 season of the WSOPC is happening at Harrah's New Orleans through May 20, and the international circuit still has one more stop remaining in its current season. That event will take place at the Casino de Marrakech in Morocco from June 15-30.
True Season-Ender
Officially, the current WSOP Circuit season won't be over until it hosts the Global Poker Championship, which is not scheduled until August. That will give the stars of the 2018-2019 season the chance to come together for one three-day finale August 6-8 at Harrah's Cherokee Casino in North Carolina, complete with a $1 million guarantee on the prize pool and a gold bracelet for the winner.
Global Casino Championship set for August 6-8, 2019 @HarrahsCherokee https://t.co/jk2BJDtZ1v pic.twitter.com/Q4YKWRJ33B

— WSOP (@WSOP) April 2, 2019
Players who won WSOPC Main Event gold rings or Casino Champion titles throughout the season will be entered automatically into the Global Poker Championship, as will the top 50 players on the points leaderboard. The seats are worth $10K each, along with travel expenses and hotel accommodations. Others who won gold rings can buy in to the tournament.
Changes for a New Season
The WSOP executives promise the 2018-2019 season to offer more stops and payouts than any other thus far. All main events and high roller tournaments at each stop will also be covered via live updates by PokerNews.
Players will also find that the big blind ante format will now be used in each tournament, something that the WSOP has implemented across the board.
In addition, more players will be receiving a piece of the prize pool. In the past the top 10% of the field received payouts, but that percentage has increased to approximately 15% for the new season.
Each tour stop will offer at least 12 official gold ring events, and they will range from $250 buy-ins to $1,700 for the Main Event. As often as possible, each series will begin on a Thursday and start the Main Event on the second Friday of that series. That will include two weekends at each stop.
A Schedule Almost Set in Stone
Anything may happen to change a tournament stop or the details therein, per regulatory and casino rules out of the WSOP's control, but the following schedule is as firm as possible at this stage.
Each stop's exact schedule will be released as the date nears, complete with buy-ins, event dates, and structure sheets.
New stops include:@ameristarsc@HorseshoeBmore@HarrahsVegas @SHRTampa@Horseshoe_BC

— WSOP (@WSOP) May 1, 2019
2019 Stops

July 17-29:  Choctaw Durant in Oklahoma

August 1-12:  Harrah's Cherokee in North Carolina

August 15-26:  Foxwoods in Connecticut

August 29 – September 9:  Ameristar St. Charles in St. Louis, Missouri

September 5-16:  Thunder Valley in Sacramento, California

September 12-23:  Potawatomi in Milwaukee, Wisconsin

September 17-29:  WSOP Online for New Jersey players

September 19-30:  Seminole Coconut Creek in Florida

September 26 – October 7:  Horseshoe Southern Indiana

October 3-14:  Horseshoe Baltimore in Maryland

October 10-21:  Horseshoe Hammond in Chicago, Illinois

October 24 – November 4:  Harveys Lake Tahoe in Nevada

October 30 – November 11:  Choctaw Durant in Oklahoma

November 14-25:  Planet Hollywood in Las Vegas, Nevada

November 28 – December 9:  Harrah's Cherokee in North Carolina

November 30 – December 11:  The Bicycle Casino in Los Angeles, California

December 5-16:  IP Casino in Biloxi, Mississippi

December 12-22:  Harrah's Las Vegas in Nevada

2020 Stops

January 2-14:  Choctaw Durant in Oklahoma

January 9-20:  Thunder Valley in Sacramento, California

January 16-27:  Horseshoe Tunica in Mississippi

January 30 – February 10:  Potawatomi in Milwaukee, Wisconsin

February 5-17:  Seminole Hard Rock Tampa in Florida

February 14-25:  Rio in Las Vegas, Nevada

February 20 – March 2:  Horseshoe Hammond in Chicago, Illinois

February 25 – March 8:  WSOP Online for Nevada players

February 27 – March 10:  Horseshoe Bossier City in Louisiana

March 5-16:  Harrah's Atlantic City in New Jersey

March 7-18:  The Bicycle Casino in Los Angeles, California

March 12-23:  Hard Rock Tulsa in Oklahoma

March 19-30:  Bally's in Las Vegas, Nevada

March 26 – April 6:  Horseshoe Council Bluffs in Iowa

April 8-19:  Harrah's Cherokee in North Carolina

April 23 – May 4:  Horseshoe Tunica in Mississippi

May 7-18:  Harrah's New Orleans in Louisiana
The 2019-20 WSOP Circuit schedule is here. 35 stops this year, payouts increasing 50% and Big Blind Ante throughout.

News: https://t.co/pYwSRFe9AL
Schedule: https://t.co/ZPxT59jz9W
Check out the Feb. 15-26 stop too. #dontbelievetherumors pic.twitter.com/j10KPOyX1k

— WSOP (@WSOP) May 1, 2019
Related Articles