WPT Online Poker Open Heads to Jersey with PartyPoker
By
November 24th, 2020 | Last updated on November 24th, 2020
Home
»
Poker News
»
WPT Online Poker Open Heads to Jersey with PartyPoker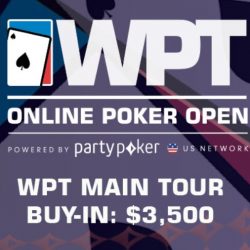 The World Poker Tour has been unable to run live tournaments for more than eight months now due to the persistent coronavirus pandemic. While everyone at the WPT is anxious to get back to their signature live tournaments, they do have options through their partnership with PartyPoker.
That brings us to New Jersey.
Back in September, the World Poker Tour hosted the WPT Online Borgata Series. It was a slate of 11 tournaments specifically for any player located in the state of New Jersey. In total, the series guaranteed more than $275K in prize pools.
This time, the WPT is forgoing the series (mostly) and going straight to the Main Event.
WPT Online Poker Open
That last online poker series in New Jersey was a solid one but didn't offer an official WPT Main Event to name a new WPT champion. There was a Main Event in that series, but it only required a $1K buy-in.
Next month, players in New Jersey will be able to win an official WPT title.
The WPT Online Poker Open Main Event is set for December 27-29, 2020. It will require a $3,500 buy-in ($3,300 + $200) but will also guarantee at least $1 million in the prize pool. It will play out as follows:
–Day 1:  Sunday, December 27 at 5pm ET

–Day 2:  Monday, December 28 at 7pm ET

–Day 3:  Tuesday, December 29 at 7pm ET
That third day of action will be the final table only, and it will be livestreamed.
I'm so excited to for this event, this is going to be the best tournament NJ has ever seen! $3500 and $1mil gtd! Not to mention the prestige of being a WPT Champion! #borgatapartner https://t.co/bht7PkWk1o pic.twitter.com/QOBytOmtrP

— Gags30 (@Gags30poker) November 18, 2020
The winner of the tournament will receive their share of the prize pool as well as a Hublot Big Bang E Titanium timepiece valued at $5,200 and a $15K seat into the WPT Tournament of Champions presented by Baccarat Crystal. His or her name will also be engraved onto the Mike Sexton WPT Champions Cup.
Players will be able to compete in the tournament via NJ.PartyPoker.com, BorgataPoker.com, or BetMGMPoker.com. And they must be physically located in the state of New Jersey to register for the event and play.
WPT CEO Adam Pliska noted that the WPT Online Poker Open is a step in the "continued pivot toward online." VP of Global Tour Management Angelica Hael added that this event further cements the relationship between the World Poker Tour and the PartyPoker US Network. "This $1 million guarantee will push our partnership to new heights," she said.
Satellites and Side Events
PartyPoker, Borgata, and BetMGM poker rooms online will all be offering satellites to the Main Event, with the lowest buy-in opportunities costing just $5.
Also, there will be a series. It will not be an official World Poker Tour series, but the PartyPoker US Network sites will all host a festival around the tournament. Think of it as a WPT Main Event with some side events.
The series will start on Sunday, December 27, and it will end just a few days later on Wednesday, December 20. That schedule it not yet available.
Despite the series not being an official WPT one, every player who wins a side event will receive a set of Baccarat Crystal Beluga Highball glasses from the WPT sponsor.
When PartyPoker and the WPT finalize the side event schedule and the satellite setup, the WPT website will keep players updated.
There are two chances to win a WPT title online coming up! #WPTOnline Poker Open on @partypokerUS (December 27-29): https://t.co/E2nvyGRJaW#WPTMontreal Online on @partypoker (January 10-20): https://t.co/GSPJ68TUf7#TheCupAwaits pic.twitter.com/Kh5UlBVD56

— World Poker Tour (@WPT) November 19, 2020
Related Articles