WPT Launches Real-Time NFT Marketplace
By
April 9th, 2021 | Last updated on April 9th, 2021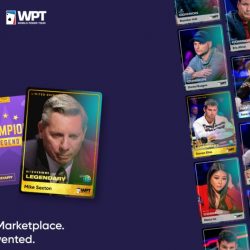 The World Poker Tour announced a new partnership this week with Theta Labs for real-time NFT drops.
This will immediately make sense to people who are familiar with cryptocurrency, blockchain, and digital files. For the rest of us, even the most seemingly simple of explanations will do little to help. Nevertheless, let's give it a shot.
What is an NFT Drop?
NFT stands for non-fungible token, meaning the token cannot be replaced by another identical item. An NFT is something that exists as a unique, one-time-only item.
Generally, NFTs are digital files that represent art or creative works online, such as songs or videos, or items in video games. While all of these things can technically be reproduced in some way, their digital profiles make these items trackable only by their underlying blockchain and the NFT ownership mark.
As this brave Verge writer tried to explain, most NFTs are a part of the Ethereum blockchain, which is a framework for that particular type of cryptocurrency. That blockchain supports NFTs.
So, an NFT drop is the equivalent of an event or a debut of an item. A person might register for a drop to be ready to bid on an item.
Just dropped my first ever NFT. The process was a bit complicated and the gas fee was expensive to get started, but I'm sure it will sell for giant piles of ETH and be worth it. Feel free to RT! https://t.co/B8WxZ3496Q #nft #NFTs #nftcollector #NFTCommunity #nftart #NFTdrop

— Chris Wallace (@foxpokerfox) April 9, 2021
WPT Partners with Theta
The partnership for the World Poker Tour's NFT drops is Theta Labs, a decentralized video delivery network powered by blockchain technology. It is also a livestreaming platform that works with partners from the likes of Lionsgate and MGM Studios to Samsung and now the World Poker Tour.
The ThetaDrop NFT marketplace is a unique platform for the media and entertainment industries. This is not on Ethereum and claims to be 100x faster. Theta provides NFT minting and gas fees as low as $0.00001, for those who know enough about that to make sense of it.
Per World Poker Tour CEO Adam Pliska, "Our exclusive NFT launch with Theta Network is one of our biggest digital initiatives to date, and for the first time ever, we're combining our global reach of live televised poker with an NFT marketplace, giving our fans an interactive, real-time opportunity to collect a piece of the WPT poker action."
Theta Labs CEO Mitch Liu noted that the partnership will bring digital collectibles "synchronized to live TV and cable broadcasts" on a global level. "ThetaDrop maximizes earnings to brand partners and creators by bringing the interactivity, real-time engagement and personality possible only through a livestream when doing NFT drops and auctions."
Absolutely love this! Can't wait to get my hands on some @WPT NFT's on the @Theta_Network https://t.co/b3h1n9ElDi

— TonyDunstTV (@tonydunsttv) April 8, 2021
What Does it Mean, Really?
The World Poker Tour and Theta Labs are launching the first real-time NFT marketplace at a unique WPT NFT drop site. During the television and digital premiere episodes of the World Poker Tour each week, the shows will contain advertisements and promotional segments to direct viewers to that site. Those fans will be able to purchase exclusive WPT packs for legendary poker moments.
To pay tribute to Mike Sexton, the WPT is offering a special "Mike Sexton: The Legend Hand" NFT, one of three to be auctioned upon launch. There will also be a limited quantity of "Base set, Rare, and Legendary themed poker packs" to drop.
For those who are into this sort of thing – and for all poker fans anxious to see new episodes of the WPT – they can tune in to Bally Sports Networks (see local listings) on Sunday, April 18. The shows involved in the NFT drops will be:
–April 18: Theta Network WPT Cash Game, Part 1

–April 25: Theta Network WPT Cash Game, Part 2

–May 2: Theta Network WPT Cash Game, Part 3

–May 9: Theta Network WPT Cash Game, Part 4
After typing all of this, we're still not sure what's happening here, but a lot of you probably do. One day, we will probably look back on this and laugh about how simple it was.
It's a 🤩🤩🤩 lineup in the @Theta_Network WPT Cash Game 📺@DarrenElias 🐐@BenbaLamb 🏌️‍♂️@bp22 🧢@helloitslynne 💃
Alex Ding 🎲

The show premieres April 18 on @BallySports pic.twitter.com/Wk7Ood6CAW

— World Poker Tour: #WPTShowdown Starts April 23 (@WPT) April 8, 2021
Related Articles