West Virginia Officially Legalizes Online Poker and Casino Games
By
March 28th, 2019 | Last updated on April 9th, 2019
Home
»
Poker News
»
West Virginia Officially Legalizes Online Poker and Casino Games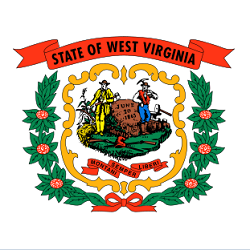 Online poker supporters can celebrate another state that will be offering legal and licensed online poker. The West Virginia Lottery Interactive Wagering Act is now the law of the state, permitting interactive wagering via the five land-based gambling establishments. Games include video lottery, racetrack table games, online table games, online poker, sports wagering, and daily fantasy sports.
The bill (HB.2934) passed on March 9, West Virginia Governor Jim Justice received it for consideration on March 25, and without any action, it became law. Per the bill itself, it will be in effect 90 days from passage, which will be June 7, 2019.
The road to online poker in the United States has been long, starting with Nevada, Delaware, and New Jersey more than five years ago. Pennsylvania joined the club in late 2017 and will launch its online poker and gaming sites this year. Virginia passed a bill this week to legalize online gaming as well, though no details have been approved, and it is unclear if the state's lottery commission will work to do so.
And now West Virginia joins the elite group of states with legal online poker and casino games.
Under the radar bill (sort of): WV is now one of only a few states that will have #iGaming which I originally introduced a couple years ago. Let's play some poker and raise some revenue!

— Shawn Fluharty (@WVUFLU) March 28, 2019
Two Champions, Two Months
West Virginia State Delegate Shawn Fluharty pushed for legal online gaming for several years. He tried in 2017 and 2018 with little support, but he had watched the New Jersey journey for years, noting with more than a little interest that its online gaming offerings had garnered more than $1 billion in revenue in little more than five years. He watched the growth of the industry, the way it worked complimentarily with land-based casinos to increase revenue, and the technology used to make it safe for consumers.
Fluharty introduced another bill in January 2019, similar to ones in previous years. However, HB.2178 seemed to be on the same path as the others.
That was until Fluharty partnered with Delegate Jason Barrett. Fluharty signed on as a cosponsor to Barrett's HB.2934 when it was introduced on February 9, and the bill showed up with nine other cosponsors. The bipartisan effort then commenced a rather expeditious voyage through the two houses of the West Virginia legislature.
Two weeks after its appearance, HB.2934 sped through the committee process and spent a few days going through readings and amendments in the House. The final floor vote of 72-to-22 sent it to the Senate, and it was taken up there on March 5.
It took a few days in the Senate for HB.2934 to add some amendments, but it then passed by a 26-to-7 vote. Those changes required another approval by the House, which took place on March 9, the very last day that legislation could be passed. And a vote there of 78-to-18 did the job.
West Virginia continues to be a pioneer with the official passage of #iGaming today. It now heads to the @WVgovernor desk. #wvlegis #wvpol

— Jason Barrett (@JasonBarrettWV) March 9, 2019
It is unclear as to why the bill then took several weeks to reach the governor's desk, but Justice didn't see it until Monday, March 25. Justice took no action, and the bill became law.
#iGaming has now officially completed the legislative process in West Virginia, ensuring we will become just the 4th state in the nation to legalize online gambling. #wvpol

— Jason Barrett (@JasonBarrettWV) March 27, 2019
What Now?
As mentioned, the law doesn't actually take effect until June 9, 2019. At that time, the West Virginia Lottery Commission will dictate the next steps.
Meanwhile, the five land-based casino properties can begin to examine the various types of online gaming available and which ones they would like to offer to their customers. Online casino games are almost a certainty, but online poker is likely to be pursued by at least one or two of the casinos.
–The Casino Club at the Greenbrier

–Hollywood Casino at Charles Town Races (operated by Penn National Gaming)

–Mardi Gras Casino and Resort (owned by Delaware North)

–Mountaineer Casino, Racetrack and Resort (owned by Eldorado Resorts)

–Wheeling Island Hotel-Casino-Racetrack (owned by Delaware North)
It should be noted that Eldorado Resorts is partnered with PokerStars, which would mean that Mountaineer Casino would likely offer online poker and casino games. The others will have to explore their options for partnerships in the coming months.
When they are able to apply for interactive gaming licenses, each property will have to pony up $250,000 for an initial license, though it should be valid for five years. Renewal fees will be $100,000 every five years. And when operations begin, each property will pay 15% of their gross gaming revenue.
The legalization of online poker is a no brainer, as obviously poker is a game of skill. Congrats West Virginia, and the folks in WV!

It's Official: West Virginia Legalizes Online Casinos, Poker https://t.co/5kBwrx5RNL

— phil_hellmuth (@phil_hellmuth) March 28, 2019
Related Articles