Vegas Nears Opening as Poker Pro Wants Mayor Recalled
By
May 9th, 2020 | Last updated on May 9th, 2020
Home
»
Poker News
»
Vegas Nears Opening as Poker Pro Wants Mayor Recalled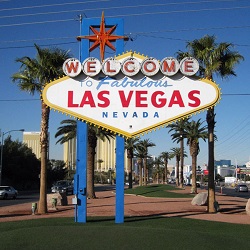 Las Vegas is the center of the gambling universe. Since most businesses – including all casinos – have been shuttered since the coronavirus pandemic spread across the United States in mid-March, pictures of the empty Las Vegas Strip and padlocked casino doors have become a global representation of the reality of the situation. The images represent a hurting economy, a vibrant culture dimmed, an eerie silence.
People around the world are looking to Las Vegas to see when it will be okay to gamble again, to take chances. And poker players want to know when they can sit down at a normal poker table in a casino or card room and just check, raise, or fold.
The slow road to reopening Las Vegas and everything it represents is in sight. But the road is long.
Latest Updates from NGCB
Nevada Governor Steve Sisolak had been in regular contact with casino operators throughout the shutdown but especially in recent weeks. Everyone involved knows that casino reopenings are going to be complicated. "It's not something as simple as flipping a switch and suddenly everybody is going to come back to Las Vegas," he said.
Nevertheless, it must begin somewhere.
Took a stroll down a relatively empty Las Vegas Strip into downtown Las Vegas last night. #vegas #coronavirus #dtlv pic.twitter.com/qp3Up7mJBd

— Mick Akers (@mickakers) April 30, 2020
The Nevada Gaming Control Board offered a document filled with guidelines for casinos and all gambling establishments in the state. The "Health and Safety Policies for Resumption of Gaming Operations" covered everything from occupancy to disinfectants.
Gaming regulators officially (and unanimously) approved all health and safety requirements for gaming operators this week. The virtual hearing covered casinos of every size and scope, and the details were listed in the meeting notes.
Breaking News: Nevada Gaming Commission unanimously approved the Gaming Control guidelines and procedures for reopening Nevada's casinos – both large and small @CDCNewswire

— Howard Stutz (@howardstutz) May 7, 2020
Casino operators are now tasked with using those guidelines and adding their own details to detailed plans of their own. Those reopening plans must be submitted to the NGCB at least seven days before any planned opening.
Timeline Still Unclear
Sisolak decided that the first businesses could open in Las Vegas this weekend as the first part of Phase 1 of the reopenings. This includes dine-in restaurants, retails stores, and salons if they abide by guidelines of social distancing, wearing masks, and cleaning routines set forth by health officials. They must also not exceed 50% capacity.
Counties can slow down reopenings if they choose, overriding the governor's plans. However, so far, none seem keen on doing so.
Casinos, however, are not part of Phase 1.
Not reopening in Nevada – bars, nightclubs, taverns (unless they serve food) Gaming operations will not reopen in Phase I @CDCNewswire

— Howard Stutz (@howardstutz) May 7, 2020
As mentioned, casino operators must submit their detailed plans to the NGCB, and that entity will eventually decide when casinos may reopen their doors and in what capacity.
According to CDC Gaming Reports, some Strip resorts have been accepting hotel reservations for late May. Wynn still hopes to open its Strip properties by the end of May, and MGM would like to do the same but just starting with the Bellagio and New York New York. Las Vegas Sands, however, will wait until sometime in June.
TI is in. https://t.co/z2NPxOqTD4

— Vital Vegas (@VitalVegas) May 8, 2020
Potential Poker Setups
As previously mentioned, the NGCB dictated that poker games must be limited to four players per table. Shufflers and toke boxes must be cleaned and disinfected regularly. And casinos must figure out a way to disinfect cards and chips throughout any given day.
Some entrepreneurs are scrambling to design separators to be used at poker tables to separate players. A Las Vegas company called Screaming Images tested out its plexiglass barriers recently at the El Cortez Casino in Downtown Las Vegas. They were primarily designed for blackjack tables – and others to separate slot machines – but they may be able to separate poker players as well.
As casinos look towards reopening amid the pandemic, the El Cortez Hotel and Casino in downtown Las Vegas is allowing a local company to test its plexiglass barriers or "sneeze guards" on blackjack tables and in between slot machines.
READ MORE: https://t.co/aoSJ0hinSj pic.twitter.com/LXjERwl1pa

— FOX5 Las Vegas (@FOX5Vegas) May 7, 2020
When casinos begin submitting their plans to the NGCB, it will likely be the public's first glimpse at concrete plans for poker rooms in Las Vegas. Until then, imagining live poker in a world of social distancing and cleanliness is quite difficult.
Could Some Poker Rooms Close?
Some signs point to casinos closing their poker rooms for the foreseeable future. The difficulty of operating poker games under new protocols may be too much for games that don't offer a house edge. Poker simply isn't the revenue generator that a regular table game or slot machine can be.
John Mehaffey of Vegas Advantage wrote this week that four-handed poker will not be feasible for most players. Further, some Vegas casinos have already indicated that they may not reopen their poker rooms at all.
Station Casinos reportedly laid off all poker employees. Red Rock Casino has also done the same. Some casinos may not see the benefit to dealing four-handed games and choose to keep poker rooms closed indefinitely. Aria reportedly told employees it may not open at all until September 2021.
Employees told Aria may not open until Sep. 2021. How is that even possible?

— Vital Vegas (@VitalVegas) May 8, 2020
The future of poker in Las Vegas is murky. There will be poker, but few can predict how much or what it will look like.
Poker Pro Challenges Vegas Mayor
Just to put a cap on the strange and unpredictable poker scene in Las Vegas right now, a poker pro (sometimes former poker pro) is leading a recall effort to rid the city of Mayor Carolyn Goodman.
Just a few weeks ago, Goodman submitted to a CNN interview with journalist Anderson Cooper and embarrassed herself to no end.
"Wow, that's really ignorant."

Anderson Cooper clashes with Las Vegas Mayor Goodman after she justified her wish to quickly reopen casinos, saying, "This isn't China, this is Las Vegas," after he showed her a graphic of how coronavirus could spread in a restaurant in China. pic.twitter.com/x1xvscDJsY

— CNN (@CNN) April 23, 2020
Poker player and YouTuber (and Las Vegas resident) Doug Polk decided to recall Goodman. He researched to find out that he needed to first garner the signatures of three people who voted in her last election and want her recalled. He completed that form, got it notarized, and filed it with the city clerk.
From that point, Polk needs to collect 6,681 signatures of people who voted in the last election to move forward with the recall. Success with this effort would bring about a recall election wherein Goodman will run against another candidate.
Polk is willing to be that other candidate (his campaign speech is at the end of the video). His campaign slogan is, "I am not Carolyn Goodman."
The City Clerk has responded, the Petition to Recall is Officially On!

My video on why we need to make this happenhttps://t.co/TSEwnKdqiW

Today is Day 1

— Doug Polk (@DougPolkVids) May 7, 2020
The recall effort is in its beginning stages, but there is a 90-day time limit on it. And it is quite an entertaining diversion from the pandemic. It's also a valid effort with significant potential that has already garnered local Las Vegas news coverage.
Thanks for the support mayor! https://t.co/ytQpwJ7DU6

— Doug Polk (@DougPolkVids) May 7, 2020
Author note: If all of this somehow comes together and Doug Polk runs to be the mayor of Las Vegas on a pro-poker platform, it may be the greatest thing ever.
Related Articles