US Supreme Court Sports Betting Decision Due Soon
By
March 29th, 2018 | Last updated on July 29th, 2018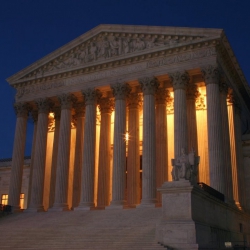 Poker advocates watch US Supreme Court closely
It is not often that an American court's decision changes the entire gambling world. But such is the nature of the United States Supreme Court and the potential of a case that was presented to it. Any day, the decision of the nine justices will be announced in Christie v. NCAA, and a ruling for Christie could truly change the entirety of the US gambling space.
The issue at hand is sports betting.
A majority decision for Christie – Governor Chris Christie representing the state of New Jersey, that is – will undoubtedly spark a sports betting boom in America. States will likely be able to enact their own sports betting laws, something the majority of them have been forbidden to do under the 1992 Professional and Amateur Sports Protection Act.
With that, online poker could see a boost as well.
Awaiting a Decision
The case technically started in 2011 when New Jersey voters approved a constitutional amendment to allow sports betting in their state. Legislators followed that with the passage of the 2012 Sports Wagering Act, and Governor Christie signed it.
The National Collegiate Athletic Association (NCAA) wanted to stop with New Jersey, and with the support of numerous other major sports leagues in America, the group filed suit against the state in the US District Court. They won, but New Jersey appealed to the US Court of Appeals. The leagues won again, but New Jersey responded with a plea to the US Supreme Court. And finally, the highest court in the land did agree to hear the case.
Briefs were filed, oral arguments were delivered on December 4, 2017, and the waiting began.
Awaiting Supreme Court decision, pro sports leagues prepare for legal betting https://t.co/jJ8BsulcIv

— Washington Post (@washingtonpost) March 18, 2018
Throughout March and April, decisions are typically handed down and made public on Mondays at 10am ET. Each Monday, sports betting fans and legal minds have watched for the landmark decision. As April nears, many believe it will happen very soon. Any Monday in April is a possibility.
Online Poker on the Sidelines
There are several important issues that could be implicated in the Supreme Court ruling, one of the most important for the sports betting world being states' rights.
The 2011 Department of Justice decision regarding the Federal Wire Act removed limitations that had previously kept states from regulating their own internet games. That ruling on the Wire Act allowed states to legalize things like online lottery ticket sales, and online poker and casino games. And when Nevada did it, then Delaware and New Jersey followed, it was the beginning of a new era for online poker in the United States.
While every state can now make its own decision about the legalization of online gaming, many legislators are still intimidated by it. They have bought into fears instilled in them by fear-mongering opponents and antiquated stereotypes. But for reasons that may not altogether rational, those same lawmakers are much more open to things like real-money daily fantasy sports and sports betting.
The legalization of sports betting by many new states has the potential to bring online poker with it into newly regulated markets. A number of scenarios are possible:
–Gambling bills that include sports betting and daily fantasy sports could attach online poker and casino games as part of an overall expansion.

–Casinos may be more forceful about their desire to incorporate online gaming into their revenue streams due to the complimentary effect online games have proven (in New Jersey, specifically) on revenue and the ability to expand their consumer bases.

–The hypocrisy of wanting sports betting and DFS but opposing a game dominated by skill like online poker may come into focus.

–States' ability to see how new technology works to regulate online DFS and lottery sales may ease minds about the perceived and mostly irrational fears about online poker and casino games.

–The removal of sports betting from black market sites and into regulated, profitable industries for states can create awareness about the same issues that face online poker and casino game players.

–A ruling in favor of states' rights would eradicate efforts to overturn the 2011 Wire Act decision, as the new Wire Act interpretation would fall in line with the Supreme Court decision for New Jersey.
These outcomes are speculative, of course. Everything will hinge upon the exact wording of the majority decision in the case and what rights it may or may not cede to the states.
What is not speculation, however, is that online poker advocates are watching the Supreme Court very closely for the decision. It will impact many forms of online gaming, lotteries, sports, casino operations, and even organizations like the Poker Players Alliance, which cannot sustain itself on poker alone until the industry is able to grow in America.
All eyes will be online every Monday morning at 10am ET in the hopes of a positive outcome.
JUST IN: Another day without a Supreme Court decision on sports betting. Next likely day to hear a ruling is, wait for it, April 2, day of NCAA Men's Basketball Tournament Final.

— Darren Rovell (@darrenrovell) March 21, 2018
Related Articles