US Online Poker Dismisses Sponsorships
By
March 2nd, 2018 | Last updated on July 8th, 2018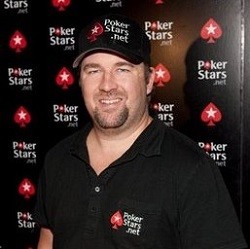 Moneymaker launched a poker sponsorship boom
Sponsorships have been a significant part of the online poker scene since 2003 when Chris Moneymaker won the World Series of Poker Main Event. PokerStars realized the marketing power of Moneymaker and his story – not to mention his name – and other sites followed that lead. Within a few short years, nearly every poker site sponsored at least one or two players, while many of the major sites created large rosters of pros.
Black Friday ended much of that era. The relatively small number of poker sites that survived that time pared down their rosters over the years. Most players based in the United States were of little value to the operators, though some did make the cut. There were the ones who traveled to Canada or Mexico to play, while others became such integral parts of the company that they stayed (Daniel Negreanu with PokerStars, Mike Sexton with PartyPoker). Some non-US sites like Winamax experimented with their lists of sponsored pros, and others like 888poker and PartyPoker discovered ways to grow their rosters in new ways to appeal to a wider range of players.
And then there was the new and regulated US market, set up in three states for several years and now preparing for a fourth, that hardly used any pro players whatsoever.
A Brief Fling with US Sponsorships
The first state to take a chance with online poker sponsorships in the US was Nevada. When Ultimate Poker – now defunct but the very first site to launch in the new market at the time – launched, Jason Somerville became the face of the site. Others were sponsored by Ultimate Poker as well, like Brent Hanks, Williams Reynolds, Phil Collins, and Jeremy Ausmus, but Somerville streamed his games online and became a true innovator in the industry.
When Ultimate Poker launched in New Jersey, Somerville remained with the company. But the entire sponsorship was short lived, as the company shut down not long after its foray to Atlantic City.
WSOP's online poker venture experimented with sponsorship when 2012 WSOP Main Event champion Greg Merson began representing the site in New Jersey. He was dubbed the brand ambassador, though, and the site rarely used Merson in advertisements or online. Merson did tout the site on his social media accounts, but the WSOP seemed to do more to downplay the sponsorship than to promote it.
That was short lived as well, as Merson slowly but surely disappeared from the scene without a word from WSOP-dot-com.
888poker also flirted with sponsorships, patching up Jessica Dawley for quite a few tournaments, PokerStars sends Jen Shahade to a number of New Jersey events, and Borgata Poker worked deals with local pros like Jamie Kerstetter for a time as well. None, however, have been featured in major advertisements or on the online poker websites themselves.
(Note from author:  I do not live in New Jersey and do not see local advertising for online poker, so I base my assertion on word of mouth and company sources.)
Missed Opportunities or Smart Financial Decisions?
Some say sponsorships are often a waste of company resources. They say people rarely sign up for an online poker account because a professional player suggested it or because they want to play alongside that pro. They claim the money could be better spent on targeted advertising.
These things may be true to some extent, as the traditional way of paying and using sponsored poker pros may not work in the smaller, segregated US market.
However, there was one glaring opportunity missed by WSOP/888poker in the past year, and that was the WSOP Main Event victory of Scott Blumstein in 2017. Not only did he live in New Jersey, he spoke in interviews after his $8,462,000 win about how much the New Jersey online poker market influenced him and aided in his success. The young man was the epitome of the traditional online poker targeted demographic – young and male – as well as educated, skilled, and based in a state with legal internet poker. He was an ideal candidate for a sponsorship, someone who could connect with a broad customer base. He was the Moneymaker of the New Jersey market. Or at least he could have been, if the WSOP had promoted his victory in any way.
There could be a role for a few select pros in the New Jersey market, possibly in the Nevada and Delaware regions as well. If the operators were willing to make a concerted effort to grow their online poker sites by targeting new demographics and reaching out to untapped audiences, there are likely some pros in those states who could attract new players.
The last year of US regulated online poker has shown that casino games continue to become more popular in states like New Jersey, while online poker is on a long and sustained downswing. Operators might want to ride the coattails of the casino game revenue for a while, but it would behoove them to look into ways to grow online poker in this budding US market.
Four European countries signed an agreement about nine months ago to share online poker liquidity. In less than one year, the new networks are launching and putting the final pieces of the machine together. The regulators of Italy, Spain, France, and Portugal decided not to let their online poker businesses fade away; instead they found a way to build them up.
The US would do well to take notes.
Related Articles