King's Casino Owner Tsoukernik Buys EPT Prague Venue
By
December 5th, 2019 | Last updated on December 5th, 2019
Home
»
Poker News
»
King's Casino Owner Tsoukernik Buys EPT Prague Venue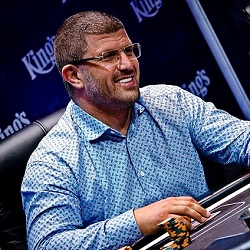 The poker pros who dabble in the high-stakes poker world know his name very well, as do any poker players who have traveled to the Czech Republic to play poker at King's Casino in Rozvadov. Leon Tsoukernik owns that casino and regularly plays in high-stakes poker games around the world.
Some who diligently read poker news may recognize his name from a messy and complicated lawsuit over poker earnings. The lawsuit began in 2017 with high-stakes pro Matt Kirk filing suit against Tsoukernik over a $2 million poker game debt, and the latter filed a countersuit. And as it played out, information emerged about another debt Tsoukernik owed and did not pay all alleged debts to another high-stakes pro, Elton Tsang.
Despite the penchant for creating controversy when poker debts are involved, Tsoukernik does well in the business world. Not only is King's Casino a successful and popular poker venue in Europe, the King's brand is a partner of the World Series of Poker. King's is a primary sponsor of the WSOP events in Las Vegas each summer and hosts the WSOP Europe…and now a WSOP Circuit event as well.
The latest news involving Tsoukernik involves a purchase, one that puts him in a tight-knit and potentially profitable relationship with PokerStars.
Tsoukernik Buys EPT Prague Venue
The news came from the PokerStars blog. Tsoukernik purchased the Casino Atrium at the Hilton Hotel in Prague, the home of many international poker tournaments. Most specifically, though, this is where the European Poker Tour has hosted its EPT Prague since 2007.
EXCLUSIVE INTERVIEW: King's Casino owner Leon @LeonKingsCasino Tsoukernik buys Hilton Casino in Prague. Find out how it came about, and discover what changes players can look forward to at #EPTPrague next month.

Read the full interview: https://t.co/UVHYKmdj8B pic.twitter.com/sdm9940tfG

— PokerStarsBlog (@PokerStarsBlog) November 27, 2019
Coincidentally, this announcement came less than two weeks before the start of the 2019 EPT Prague.
According to Tsoukernik, he recently relocated to Prague from Rozvadov, as his children attend an international school in Prague. Since he didn't have any business in Prague before making the move, he called a friend – one who evidently owned the Casino Atrium – and asked to buy it. After chatting for five hours at King's Casino, they came to an agreement, and Tsoukernik bought the casino.
"I'm very excited," he told PokerStars. "I will be working full-time here in Prague, so if there are any complaints or questions from the poker players, everybody is welcome to come directly to me and ask me right to my face."
Already Implementing Changes
Just before players headed to Prague for the EPT event, Tsoukernik admitted to making changes.
Most noticeably, players will be able to sit down to play cash games in Euros instead of having to exchange currencies for Czech Koruna. Many players are already based in Europe and have easy access to Euros. Tournament buy-ins will also be accepted in Euros.
Tsoukernik also brought in a team of staff members from King's, which has about 700 employees, to help organize and run the poker room. PokerStars will run the tournaments for the EPT, but his staff will take over the cash games. He asserted that they will be easier to access, to change tables, to find limits, and to find help at the cashier cage.
"We'll run the cash games differently from the previous owners, who were a more slot-oriented company," Tsoukernik said. "They were a casino, but they focused on slot revenue rather than live cash poker revenue."
For the future, Tsoukernik plans a "major reconstruction" to provide as much comfort for poker players. "I want to bring the King's Casino look and atmosphere to Prague," he said.
That renovation will likely start in 2020, but the casino is ready for EPT Prague players as it is.
As we get ready for the #EPTPrague 🇨🇿 festival starting this Friday:

📋 Here's everything you need to know: https://t.co/sey4hz2H6A

Plus…

✏️ An exclusive interview with new Hilton Casino owner Leon Tsoukernik: https://t.co/UVHYKmdj8B pic.twitter.com/YKI5vX5xcN

— PokerStarsBlog (@PokerStarsBlog) December 4, 2019
EPT Prague Begins
The first official day of play at this year's EPT Prague is this Friday, December 6. Players can begin the action with a €10K buy-in NLHE 8-Handed tournament with a single reentry or a €1K buy-in NLHE Freezeout.
Some of the main attractions for tournament players will be:
–Event 4 (Dec 7-11):  €1K NLHE EPT National with 3 flights, single entry per flight

–Event 11 (Dec 9-10):  €300 NLHE EPT Cup with 2 flights, single reentry per flight

–Event 12 (Dec 9-11):  €49K NLHE EPT Super High Roller with unlimited reentries

–Event 20 (Dec 11-17):  €5K NLHE EPT Main Event with 2 flights, single reentry

–Event 39 (Dec 15-17):  €10K NLHE EPT High Roller with single reentry
The festival of 46 tournaments will then wrap on Tuesday, December 17. The final table of the Main Event will play to a winner, as will the High Roller and a €2K NLHE Deepstack. The very last event will be a €200 NLHE Turbo with unlimited reentries.
The full schedule is available on the PokerStars website.
Other features of EPT Prague will be a Christmas party for the players on December 11 – complete with Santa Claus bearing PokerStars giveaways – and a meet-and-greet session with meme hero "Hide the Pain Harold" on December 12 and 13.
We are approaching that most beautiful time of the year: EPT Prague. From sightseeing ideas to restaurant tips; schedule details to past results, here's all you need to know about the next major event on the @PokerStarsLIVE calendar: https://t.co/cnXfeXngDn pic.twitter.com/RXg3Bf4zBo

— PokerStarsBlog (@PokerStarsBlog) November 26, 2019
Related Articles