Rosenstein Resigns: What Does That Mean for DOJ Wire Act?
By
May 2nd, 2019 | Last updated on May 15th, 2019
Home
»
Poker News
»
Rosenstein Resigns: What Does That Mean for DOJ Wire Act?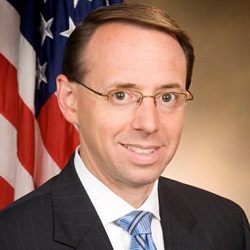 US Deputy Attorney General Rod Rosenstein had been planning to retire for months. It wasn't his age or another job opportunity; it was a chaotic and taxing work environment and had been since the start of the Trump administration.
Rosenstein had been at the center of attention for much of his two years at the Department of Justice, mostly due to the special investigation conducted by Robert Mueller, his role in appointing him to that role, and a sometimes-contentious relationship with President Donald Trump.
In February 2019, Rosenstein made known his intention to resign from the DOJ in March, but he decided to stay through the end of the Mueller investigation. But on April 29, he submitted his official letter of resignation with an effective date of May 11.
Trump suggested Rosenstein should be jailed for treason. But today, Rosenstein told Trump that he is "grateful…for the courtesy and humor you often display in our personal conversations." And he signed off with a favorite Trump phrase: "America first." https://t.co/Ri4AktAuLF

— Natasha Bertrand (@NatashaBertrand) April 29, 2019
Normally, the gambling industry wouldn't take much notice of such a move, but Rosenstein has been a key figure in the Wire Act situation that has played out over the past several months. He was the person who put an initial 90-day hold on any implementation of the decision and issued another delay in response to the New Hampshire Lottery Commission lawsuit.
A Man of Delays
Rosenstein paid close attention to the Wire Act decision and the reactions to it from various states. It could've been under his purview all along, but it also could've been a result of the revolving door to the office of the US Attorney General at the time. AG Jeff Sessions tendered his resignation in early November 2018, putting Rosenstein in charge of the DOJ pending the process of nominating and voting in a new AG.
Former United States AG William Barr, who had served in that position from 1991 to 1993, was nominated by Trump in December 2018, and Barr was confirmed in early February 2019. Barr was sworn in on February 14.
The transition – and surrounding chaos – from one AG to another put Rosenstein in the center of the DOJ for much of the past six months.
When the DOJ's Office of Legal Counsel made its Wire Act opinion public in January 2019, Rosenstein immediately released a letter directing DOJ attorneys to refrain from applying the new interpretation for 90 days so the Criminal Division's Organized Crime and Gang Section could review and approve the Wire Act changes.
Deputy Attorney General Rod Rosenstein Issues Memo to U.S. Attorneys on the Recently Published OLC Opinion "Reconsidering Whether the Wire Act Applies to Non-Sports Gambling" https://t.co/DLjIm1m7je

— Justice Department (@TheJusticeDept) January 16, 2019
Not long after, the New Hampshire Lottery Commission filed its lawsuit against the DOJ and Barr in the US District Court, and NeoPollard filed its own suit. The two were combined, and numerous other states weighed in via amicus briefs on behalf of their lotteries. Judge Paul Barbadoro spoke with attorneys in the case and requested another delay so the case wouldn't be rushed, and that prompted Rosenstein to issue another memo, this time to delay the Wire Act's implementation by another 60 days.
At this point, the DOJ will be able to fully enforce its Wire Act opinion by the middle of June.
New DOJ OLC Wire Act opinion now delayed to mid-June per Rod Rosenstein to accommodate New Hampshire court challenge. A judge made him do it. https://t.co/buI4IQVaXI pic.twitter.com/Qy0xsXgDEJ

— LegalUSPokerSites (@legal_poker) March 5, 2019
Latest Actions
On April 11, Barbadoro heard oral arguments in the Wire Act case. Lawyers for the DOJ were tasked with providing another memo to detail its intentions regarding state lotteries, which was submitted by the end of April. New Hampshire attorneys must still respond.
When Barbadoro is satisfied with all of the information, he will consider all arguments and render his decision. It is likely to happen sometime in May.
Even so, that US District Court decision will likely lead to an appeal. Barbadoro already called the Wire Act a "mess of a statute" and "one of the most challenging statutory constructions I've seen in my 26 years on the bench." He also noted, "I have a strong feeling that however I resolve the case, or however the First Circuit resolves the case, it is likely going to be resolved by the US Supreme Court either way."
Possible Resignation Repercussions
By the time Barbadoro delivers his decision, Rosenstein may be gone from the DOJ. This leaves several possibilities on the table.
Trump is likely to nominate a new person for the US Deputy Attorney General position before Rosenstein leaves on May 11. It is unclear where this person may stand on the Wire Act or its interpretations.
If the Wire Act case is appealed to a higher court after Barbadoro's ruling, it could delay any certainty in the way the DOJ will enforce the Wire Act indefinitely. Rosenstein's replacement or Barr could issue another delay any implementation with regard to state lotteries and online gambling indefinitely. Another option is that the DOJ could decide how it wants to enforce the Wire Act and follow through with action, which could instigate an even more contentious legal battle.
However the case moves forward, Rosenstein's departure from the DOJ puts all affected – or potentially affected – by the Wire Act in precarious positions.
Related Articles